10 New Action-Packed Films to See This 2017
Superheroes, secret agents, and an atomic blonde are set to pack punches this year.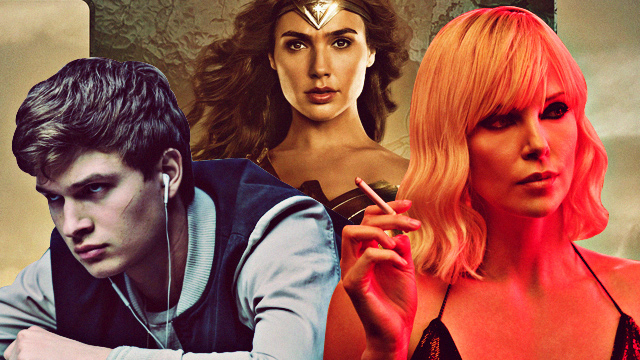 (SPOT.ph) It's been an exciting first half of 2017 in terms of action films, with Wonder Woman saving the world and the DCEU, Logan's last stand, John Wick's second chapter, another solid entry into the Fast and Furious franchise, monster movie madness with Kong: Skull Island, and so much more.
With the second half of 2017 closing in upon us, you can expect more superheroes, more secret agents, and more mind-blowing action coming to cinemas. Now that we've covered horror and romance, here are 10 more action films to see this 2017!
Spider-Man: Homecoming
Directed by: Jon Watts
Release date: July 6
While this may be the superhero's third iteration on the big screen, it's the first that is officially part of the Marvel Cinematic Universe. Taking place after the events of Captain America: Civil War, Homecoming's version of Peter Parker (Tom Holland) is a 15-year-old high school kid with all the Spider-Man powers you know and love. Tony Stark (Robert Downey Jr.) tries to mentor Peter, but all the latter wants to do is use his powers for good. When he gets the chance to showcase his skills against a new foe (Michael Keaton as The Vulture), he puts his life and his loved ones' lives in danger. Now a member of Team MCU, this Spidey may just be the most exciting version yet.
War for the Planet of the Apes
Directed by: Matt Reeves
Release date: July 12
In 2011, Rise of the Planets of the Apes reinvigorated and reinvented the long-running blockbuster franchise. Using cutting-edge visual effects and offering a darker and more impactful take on the series, Rise was a smash hit, and its 2014 sequel Dawn of the Planet of the Apes was even better. With War for the Planet of the Apes, director Matt Reeves caps off this fantastic trilogy with the most signficant chapter in the Apes story. An all-out war has broken out between the remaining Apes and the remaining humans, ultimately determining the fate of the Earth.
ADVERTISEMENT - CONTINUE READING BELOW
Valerian and the City of a Thousand Planets
Directed by: Luc Besson
Release date: July 20
Luc Besson is best known for directing unique action films like The Fifth Element, Lêon: The Professional, and Lucy, as well as writing the ultra-popular Taken series. Here's hoping that Valerian, a sci-fi actioner, is among his best work. Dane DeHaan and Cara Delevingne star as special space operatives who try and keep order among humans, but are dragged into a much bigger universe, whose existence is threatened by dark forces. The film also stars an impressive cast that includes Ethan Hawke, Clive Owen, and a shape-shifting Rihanna.
CONTINUE READING BELOW
Recommended Videos
Atomic Blonde
Directed by: David Leitch
Release date: July 26
Charlize Theron has found a new career path as an action star. After kicking ass as Furiosa in Mad Max: Fury Road and playing the villain in The Fate of the Furious (aka Furious 8), she now gets to lead her own action film. David Leitch's (co-director of the cult phenomenon John Wick) new offering has Theron playing an undercover MI6 agent tasked to take down a spy ring in Berlin during the Cold War. The star-studded cast also includes James McAvoy, John Goodman, Bill Skarsgard, Toby Jones, and Sofia Boutella.
The Dark Tower
Directed by: Nikolaj Arcel
Release date: July 28 (U.S.)
The Dark Tower is a lot of things. It's an adventure-fantasy film, yet it's also a sci-fi with a western influence. No matter the genre, it promises to deliver insane action sequences. Set in the world of Stephen King's novels (though not a direct adaptation), The Dark Tower is about a Gunslinger (Idris Elba) who protects the world from a mysterious Man in Black (Matthew McConaughey). Monsters, gun fights, and magical powers—The Dark Tower may be the most unique action film this year.
ADVERTISEMENT - CONTINUE READING BELOW
Baby Driver
Directed by: Edgar Wright
Release date: August 2
Baby (Ansel Elgort) is a uniquely skilled getaway driver with a hearing problem; to compensate, he uses music to block out the ringing in his ears as he drives criminals out of the sketchiest of situations. When he meets the love of his life (Lily James), Baby decides to leave his life of crime—but not before one more big heist led by Kevin Spacey's Doc and alongside Jon Hamm and Jamie Foxx. Baby Driver promises pulse-pounding music matched with high-energy action directed by Edgar Wright; what more could an action fanatic want?
Kingsman: The Golden Circle
Directed by: Matthew Vaughn
Release date: September 20 (U.S.)
The unexpected box-office performance of Matthew Vaughn's Kingsman: The Secret Service in 2014 practically guaranteed a sequel. This time around, the Kingsmen join forces with the Statesmen—their American counterparts (which include Channing Tatum and Jeff Bridges)—after their headquarters is destroyed by a mysterious group called The Golden Circle, led by Julianne Moore's villainess. Both Taron Egerton and Colin Firth reprise their roles.
Thor: Ragnarok
Directed by: Taika Waititi
Release date: November 2 (U.S.)
We finally know why Thor (Chris Hemsworth) missed out on all the fun in Captain America: Civil War. It turns out that he was taken captive on a strange planet where he's forced to combat his old friend, the Hulk (Mark Ruffalo) in order to save the Asgardian civilization. As previewed in 2016's Doctor Strange, Benedict Cumberbatch makes his first cross-over MCU appearance here. We also see new villains in the form of Hela (Cate Blanchett) and the Grandmaster (Jeff Goldblum).
ADVERTISEMENT - CONTINUE READING BELOW
Justice League
Directed by: Zack Snyder and Joss Whedon
Release date: November 16 (U.S.)
The DC Extended Universe has been criticized for its emotionless take on DC's most popular characters, but Wonder Woman's glowing reception across the board has finally given fans some much-needed hope. Batman (Ben Affleck), Wonder Woman (Gal Gadot), The Flash (Ezra Miller), Cyborg (Ray Fisher), and Aquaman (Jason Momoa) come together to thwart off an extraterrestrial army invading Earth. Zack Snyder directed most of the film, but after dealing with some personal issues, handed the film off to The Avengers director Joss Whedon, and it will be most interesting to see how their styles merge (or clash) in the final product.
Star Wars: The Last Jedi
Directed by: Rian Johnson
Release date: December 15 (U.S.)
Now with two new box-office hits under its belt, it's safe to say that Star Wars remains as popular as ever. The anticipation is through the roof and into space with the second installment of the third trilogy and eighth overall in the franchise. In The Last Jedi, we follow Rey (Daisy Ridley) after she finds Luke Skywalker (Mark Hamill) exiled on an island, and that's about all we know plot-wise. We do know that Kylo Ren (Adam Driver), Finn (John Boyega), Poe (Oscar Isaac), and several others from The Force Awakens are back, as well as the late Carrie Fisher's Leia, who completed filming before her death.
Share this story with your friends!
---
Help us make Spot.ph better!
Take the short survey
Load More Stories