(SPOT.ph) Over the past few years, Netflix's TV shows have been a constant—even dominating—presence in pop culture, filling our weekends, Facebook feeds, and even daily conversations. And while the streaming giant has also somewhat dabbled in film, nothing quite stands out, unless you count the Golden Globe-nominated Beasts of No Nation in 2015. Now, almost two years later, Netflix has struck gold with Okja. It packs a punch in star power, production value, and storytelling just as well as any major film studio—proving that there is a formidable place for streaming within traditional cinema.
Not everyone seems to agree, though; just ask the folks at the 2017 Cannes Film Festival. Then again, its rocky start didn't deter Okja from winning critics over—a quality that is incidentally reflected in its fictional heroine, Mija (newcomer Ahn Seo Hyun). This young farmer girl is the devoted caretaker of the lovable Okja, a massive, genetically modified super-pig who is destined for the slaughterhouse.
ADVERTISEMENT - CONTINUE READING BELOW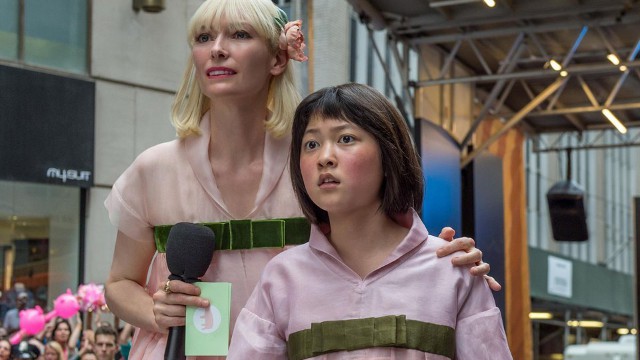 Everyone, from Mija's grandfather to the dastardly corporation that breeds these super-pigs as a "healthy, eco-friendly" alternative, knows of Okja's fate—except Mija. Her naiveté is quickly shattered when representatives of Mirando Corporation show up at her doorstep to take Okja away to America, and she's determined to do anything to bring her best friend home.
The story quickly picks up from there, filling the screen with exhilarating and stunningly choreographed chase sequences (the truck and mall scenes are genuinely edge-of-your-seat stuff) and sharp commentary on factory farming, capitalism, activism, and idealism. Anyone who is familiar with director Bong Joon Ho's filmography—with Snowpiercer being his most popular work to date—will know that his skill lies in satirizing society with powerful (and rather macabre) imagery.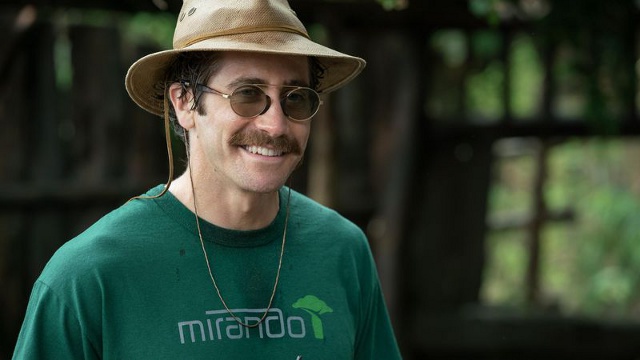 ADVERTISEMENT - CONTINUE READING BELOW
There's Tilda Swinton as CEO Lucy Mirando, the very picture of deceptive, under-the-table corporate greed. We're introduced to her in the very first frames of the film and she grabs the audience's attention immediately. She's loud, optimistic, and utterly cheerful—to the point that it's actually unsettling, even creepy. There's Jake Gyllenhaal as a screechy, self-proclaimed animal lover who is in bed with the enemy. Even hypocritical activism is given a face in the form of Paul Dano, Lily Collins, and Steven Yeun—members of a peaceful animal rights group who are set on saving Okja from being eaten.
If all this sounds over-the-top to you, that's probably the point. Okja doesn't sanitize its multitude of messages and there are plenty of layers here to dissect, depending on how you want to look at it. Capitalism kills and you may not even know it. Animal abuse is disturbing and prevalent. Activism, even at its loudest and proudest, can still be hollow. Its underlying theme, however, largely centers on the value of trust, what it means, and what justifies breaking it. We see how everyone around Mija tries to exploit her naiveté, but the film never loses sight of her sincerity nor mocks her for it. Instead, her purity and strong-willed spirit becomes the anchor that holds the movie's many, many threads together.
ADVERTISEMENT - CONTINUE READING BELOW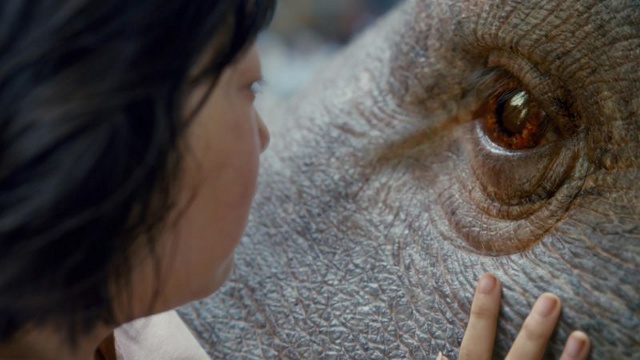 With a story that spans across continents, cinematic genres, and multiple themes, it's easy for a film like this to stumble or even lose sight of what it's trying to say. Okja, in all its audacious ambition and risk-taking, succeeds—the kind of material that only a thoughtful and detail-oriented filmmaker like Bong can skillfully weave. His colorful and arresting visuals, as always, are a wondrous sight to behold; it's almost a shame that majority of its audience is limited to a laptop or wide-screen TV.
ADVERTISEMENT - CONTINUE READING BELOW
Okja is hardly subtle—and frankly, it could sometimes do with a little subtlety—but there is a value in its on-the-nose approach. It's rare to see a complex film with such a strong moral, even political, standpoint that still manages to have commercial appeal. In a movie landscape where many blockbusters exist merely to entertain, we are all the more impressed with Bong's ability to capture his audience, make them laugh or cry, and force them to grapple with the ugliest side of themselves. 
Rating: 4.5 out of 5 spots
Okja is now streaming worldwide on Netflix.
Your guide to thriving in
this
strange new world.
Share this story with your friends!
---
Help us make Spot.ph better!
Take the short survey
More Videos You Can Watch
Load More Stories