The 15 Best Films of 2017 So Far
Amid superheroes, horrors, and romance, which films stood out from the pack?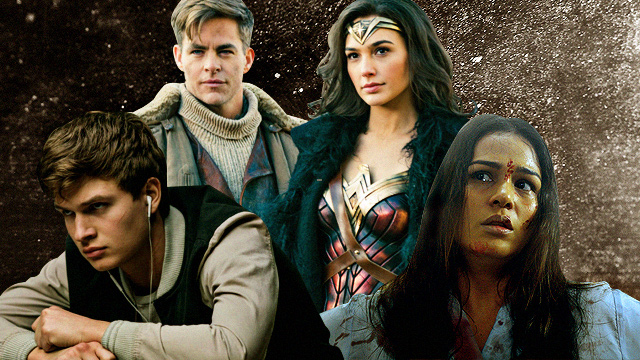 (SPOT.ph) We're only halfway into 2017, and movie fans have already been gifted with fantastic and memorable films across all genres. From the first live-action film revolving around one of the greatest female superheroes ever to a third-time rebooted web slinger and even a genre-bending and racially charged horror movie, we take a look back at some of the best films in 2017.
This list is arranged by Philippine release date, and only considers films that have been screened or released in the Philippines until July 25.
Split
Directed by: M. Night Shyamalan
A return to form for horror aficionado M. Night Shyamalan, Split is about a man with 23 unique personalities—some of which are dark and sinister. While he's struggled recently with flops and critical failures, Split showcases what Shyamalan does best: simple, creeping thrillers built with tense moments and coupled with mind-bending twists. James McAvoy is terrific as Kevin, Dennis, Patricia, and the other alternate personalities; the film is worth seeing just for his bravura performance alone.
The LEGO Batman Movie
Directed by: Chris McKay
The LEGO Movie was such a great surprise of a film that any spin-off sequel would have had a difficult time following it. The LEGO Batman Movie may not be as great as its predecessor, but it's not too far behind. Boasting big laughs, an impressive voice cast led by Will Arnett, an overflowing amount of witty pop-culture references, a creative use of the LEGO brand, and a touching story to boot, LEGO Batman was the Batman movie we all deserved.
ADVERTISEMENT - CONTINUE READING BELOW
John Wick: Chapter 2
Directed by: Chad Stahelski
The Keanu Reeves renaissance is upon us and while it may have begun with the 2014 bone-crunching action film John Wick, it's the sequel that really solidifies the fact that Reeves is back in the game in a big way. Featuring creatively choreographed action sequences and non-stop thrill, Chapter 2 builds on its predecessor's already weird and distinct world, and somehow makes it even more compelling and awe-inspiring.
I'm Drunk, I Love You
Directed by: JP Habac
Raw and relatable, JP Habac's I'm Drunk, I Love You is the rare Filipino romantic drama that doesn't rely on soap opera tropes or big, showy gestures. Instead, it takes a more grounded approach to the realities of finding yourself after graduating college, recklessly drinking the nights away, and experiencing the heartbreak of being in love with someone you can't have—or even worse, doesn't love you back. The electrifying chemistry between Maja Salvador and Paulo Avelino is as intoxicating as the alcohol they consume.
CONTINUE READING BELOW
Recommended Videos
Logan
Directed by: James Mangold
Shattering the genre walls of what a superhero movie should be, Logan replaces colorful CGI battles and big blockbuster scenes with gritty and emotionally heavy dialogue, coupled with bloody and violent action sequences. The film ditches the larger-than-life superhero spectacle as it portrays Logan (a never-better Hugh Jackman) as a weakened and tired old man just trying to survive his final days, and we've never seen Wolverine as heart-wrenching as this.
Get Out
Directed by: Jordan Peele
ADVERTISEMENT - CONTINUE READING BELOW
On the surface, Get Out looks like your run-of-the-mill horror film about a strange suburban community, but this is a film that draws you in to look closer. In comedian Jordan Peele's directorial debut, Chris (Daniel Kaluuya) meets the family of his girlfriend (Allison Williams), and things just seem a little off. What follows is a twisted, mind-blowing, highly original, and entertainingly horrifying tale that brilliantly weaves in some much-needed commentary on racial tensions in America.
2 Cool 2 Be 4gotten
Directed by: Petersen Vargas
Petersen Vargas' dark take on the high-school movie doesn't hit you with its surprising twists until midway through the film. Then again, even the way the film is presented already reels you in. Filmed with a 4:3 aspect ratio and with what could be a 1990s filter on Instagram, 2 Cool 2 Be 4gotten steps out of the box and defiantly keeps away from it while telling a touching story about a confused teenager (Khalil Ramos) finding his sexuality, trustworthy friends, and his place in the world.
Guardians of the Galaxy Vol. 2
Directed by: James Gunn
Picking up where its surprisingly amazing predecessor left off, Guardians of the Galaxy Vol. 2 feels all too familiar, but that's not a bad thing when a movie is this hilarious, entertaining, and unique. We join the Guardians (including Chris Pratt's Star-Lord) on another adventure across the galaxy, as he tries to reconnect with his father (Kurt Russell). Of course, it helps that the second installment still features an amazing, head-bopping soundtrack.
ADVERTISEMENT - CONTINUE READING BELOW
Bliss
Directed by: Jerrold Tarog
In this mind-bending psycho-sexual thriller, an actress (an incredible Iza Calzado) is injured on set and starts seeing things she can't quite explain. This complex film blends reality and fiction and we, as an audience, never quite get a full grasp of what's going on. It won't be for everyone, in fact it might even be for a very niche group of people, but it's a brave and exciting step for director Jerrold Tarog, who is always looking to push the boundaries of commercial and indie Philippine cinema.
Wonder Woman
Directed by: Patty Jenkins
It only took decades, but Wonder Woman finally made it to the big screen with her own standalone film. A movie of hope and belief in the good, it thankfully does away with the DCEU's dark and depressing thematic world and goes its own, bright way. Patty Jenkins and her team allow us to enjoy and cheer for Wonder Woman, and Gal Gadot is so effortlessly charming that she actually single-handedly saved the DCEU from itself. We can only hope that Diana's critical and box-office success will open more doors to well-rounded stories featuring female superheroes.
Okja
Directed by: Bong Joon-ho
If you're familiar with Bong Joon-ho's work (Snowpiercer, The Host), he never does things half-way. He is go big or go home, and cinema is all the better for his bold ideas and creative yet meaningful stories. His latest, a tale about a girl and her super-pig and the companies after them (including Tilda Swinton in another incredible Bong role), is a topsy-turvy and over-the-top adventure that takes down capitalism and makes a strong message against the treatment of animals in our world. It's a complex film that makes clear, moral points, but still manages to be entertaining on all fronts.
ADVERTISEMENT - CONTINUE READING BELOW
Spider-Man: Homecoming
Directed by: Jon Watts
This may be the third incarnation of Spider-Man in just 15 years (and the sixth film featuring this comic book hero), but it might just be the most faithful adaptation of all. Choosing to focus on the "friendly neighborhood" aspect and keeping things very small scale, Homecoming gets to explore the fun and charming side of Spidey (an excellent Tom Holland, who could very well be the best Spidey incarnation). Instead of having a distracting villain bent on world destruction, we have the Vulture (Michael Keaton), a man who's just trying to provide for his family. It's a fun and youthful take on the web slinger, as well as a very much welcome addition to the MCU world.
War for the Planet of the Apes
Directed by: Matt Reeves
War for the Planet of the Apes is an excellent ending to an already perfect trilogy. Set after the events of Dawn of the Planet of the Apes and with only a few humans and apes left, a collision to rule the world is inevitable. When a colonel (Woody Harrelson) makes it his mission to eliminate Caesar (the great Andy Serkis) and all apes from existence, things get personal. War for the Planet is a ruthless but emotionally powerful epic of a film, featuring some of the best visual effects ever.
Dunkirk
Directed by: Christopher Nolan
Dunkirk is a war movie done Christopher Nolan-style, meaning it's gorgeously choreographed, expertly mind-bending, and leaves you stunned. In what might be his best film from a technical standpoint, Nolan brings together amazing cinematography, sound, score (by the great Hans Zimmer), costume, and editing to create one of, if not the most immersive and intense film of the year so far.
ADVERTISEMENT - CONTINUE READING BELOW
Baby Driver
Directed by: Edgar Wright
A getaway driver named Baby (Ansel Elgort) wants out of the crime business after he falls in love with a waitress (Lily James), but gets dragged back in for one final heist that puts his loved ones' lives in danger. Director Edgar Wright's latest film is a comedy, a drama, a romance, an actioner, a heist, and a musical all colliding into one insanely and meticulously edited film. Expertly choreographed car chases, a cast of colorful characters (including Jamie Foxx's "Bats", Jon Hamm's "Buddy", and Kevin Spacey's "Doc"), and a pulse-pounding soundtrack of songs fill this energetic and exciting caper that showcases everything this filmmaker is good at. 
Share this story with your friends!
---
Help us make Spot.ph better!
Take the short survey
Load More Stories