MOVIE REVIEW: Dunkirk Is a Cinematic Masterpiece You Shouldn't Miss
Director Christopher Nolan orchestrates his most magnificent film yet.
(SPOT.ph) Christopher Nolan has had a great career so far, helming some of the most memorable and popular films in recent memory. He changed the superhero genre with The Dark Knight trilogy, he bended reality with the mind-blowing Inception, and he played with cinematic time in interesting ways with films like Memento and Interstellar. It seems like we've seen it all from the visionary director, but Nolan shocks us all with probably his best technical, cinematic achievement yet in Dunkirk. This heart-racing film about war and survival is a complete masterpiece on all fronts.
During the early stages of the WWII, British, French, and other Allied soldiers were forced to land in the beaches of Dunkirk, France, as they were cornered by the German army. With 400,000 people practically like sitting ducks on the beach as German troops narrowed in, the British army and their allies hoped for a savior but felt as if death was inevitable. This magnificent true story is where Nolan draws inspiration from to tell his version of the events that took place in 1940.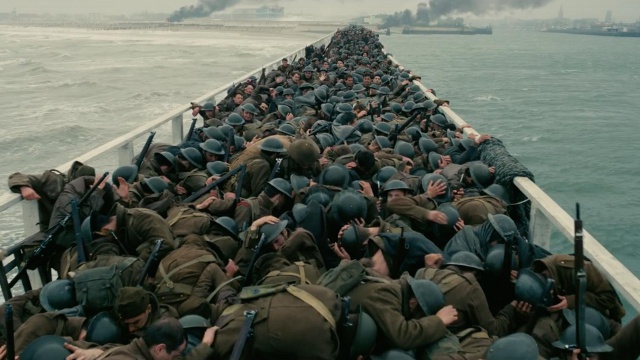 ADVERTISEMENT - CONTINUE READING BELOW
The story unfolds in three distinct points of view: the land, the sea, and the air. On land, hundreds of thousands of soldiers, including young Timmy (impressive newcomer Fionn Whitehead) and other fellow young men (which counts singer Harry Styles among them) are stranded on a beach waiting for a ship to safely arrive. Across the sea, a civilian man (Mark Rylance) sails his boat towards the beaches of Dunkirk in the hopes of lending a hand. In the air, fighter pilots (including Nolan regular Tom Hardy) try to take down and eliminate bombers trying to destroy the people and ships below.
CONTINUE READING BELOW
Recommended Videos
These three stories, told over three different time-frames with three different protagonists may sound confusing, but Nolan and his team make it work. It'll take a little bit before you really start to grasp what the film is trying to do but once it clicks, it makes everything all the more impressive. Nolan, already an expert director in this kind of storytelling, pulls back on the dialogue (the film is nearly wordless) and instead, focuses on details to tell its hopeful yet heart-rending tale.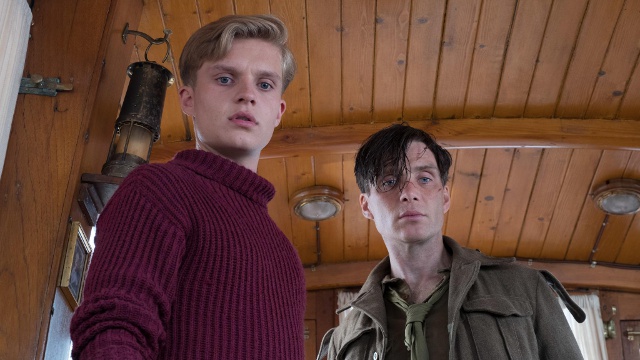 ADVERTISEMENT - CONTINUE READING BELOW
By mixing timelines and stories, Nolan faces the tough task of making everything understandable and not too complex that you're lost at sea. To do this, he showcases the immense talents of his team, from the gorgeous cinematography by Hoyte van Hoytema to the pulse-pounding score by genius Hans Zimmer, and solid production and sound design. This is film synergy among its departments at its finest. The tick-tocking score of Zimmer steadily builds and heightens, creating mood and tension all throughout. Hoytema's cinematography makes incredible use of the space and scenery. Editor Lee Smith had one of the tougher jobs as he makes sense of Nolan's multiple storylines and cuts them in a way that you just feel it's all heading to some big, defining moment.
Nolan directs in a way that puts us right into the middle of the action, with a camera that often twists, turns, and rushes up to the sand, sky, and sea. The camerawork is so sleek that you'll feel as though you're actually trying to run for cover, and the sound design certainly helps. Instead of simply telling purely emotional tales with his characters, Nolan uses the concepts of basic human survival, the everyday kindness of others, and the need for hope as his emotional plot points. The film may be a technical beast, but certain scenes at the end will still hit emotionally hard.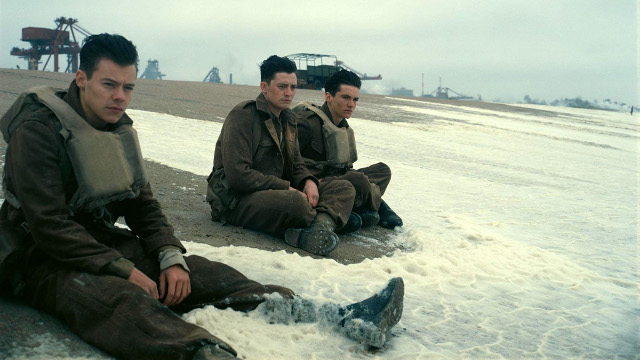 ADVERTISEMENT - CONTINUE READING BELOW
Nolan crafts a frighteningly immersive experience that leaves viewers breathless, and it's punctuated by the convincing fear and bravery shown on the faces of the cast members, especially the likes of veteran actors in Rylance, Kenneth Branagh, and Cillian Murphy. For those wondering, yes, Styles does quite a good job and he'd have a solid career if he decides to pursue acting instead. In fact, he's actually one of the few cast members that gets a big emotional scene, and he nails it.
Dunkirk is a movie meant to be experienced on the biggest screen possible with the best audio you can find. It's a harrowing and intense spectacle that builds slowly but does not, at any point, take its foot off the gas. It becomes more and more intense as time passes and at just over an hour and forty minutes (short by Nolan standards), it goes by quick but not quite painless. Emotionally heavy, breathtakingly intense, and magnificent all throughout, Dunkirk is not for those looking for an action-packed war combat movie. This film is about survival, human resiliency, and hope; it's about the brave souls that stayed alive on that beach, and the innocent ones who went out of their way to help. Dunkirk is not just Nolan's best film from a technical standpoint; it's also his most mature and triumphant film yet.
RATING: 5 out of 5 spots
Dunkirk is now showing in cinemas. Photos courtesy of Warner Bros. Pictures.
Share this story with your friends!
---
Help us make Spot.ph better!
Take the short survey
Load More Stories