10 Underrated K-Dramas for Your Next Marathon
Are you ready for more sleepless nights?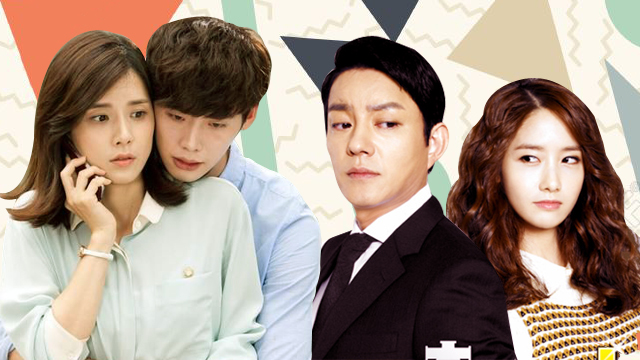 (SPOT.ph) There's no doubt Korean dramas have captured the hearts of Filipinos—from the endless swoon-worthy lines to the intense drama scenes that keep you on the edge of your seat.
But with numerous dramas to choose from (and the hype surrounding hit series like Goblin and Full House), people tend to forget that there are other equally amazing TV shows out there that deserve just as much love. They may not be as popular as Descendants of the Sun, The Heirs, or Weightlifting Fairy Kim Bok Joo, but these underrated Korean dramas are still worth seeing. Be warned: You probably won't see daylight in a long, long time!
Little Girl K
Number of episodes: Three
Straying away from your everyday romantic comedies, this TV series is filled with heart-pumping fight scenes despite having only three episodes. Chae Yeon Jin (Han Groo) may look like an innocent high school student, but she's actually a professional assassin hell bent on seeking vengeance for her mother, who was killed in front of her.
ADVERTISEMENT - CONTINUE READING BELOW
My Shy Boss
Number of episodes: 16
Eun Hwan-Ki (Yeon Woo-Jin) is the CEO of a public relations company but has an extremely introverted personality, while Chae Ro-Woon (Park Hye-Soo) is the opposite. It turns out that Ro Woon blames the former for the death of her sister but just like real life, nothing is quite what it seems.
Ms. Temper and Nam Jung Gi
Number of episodes: 16
Most K-Dramas often have a strong alpha male with a slightly submissive and timid leading lady, but this show turns the trope in on its head. Nam Jung Gi (Yoon Sang Hyun) is a kind-hearted marketing manager, while his co-worker Ok Da Jung (Lee Yo Won) is a feisty and hot-tempered woman who seems to only get annoyed with Jung Gi. Naturally, personalities clash and a swoon-worthy romance ensues.
CONTINUE READING BELOW
Recommended Videos
The Master's Sun
Number of episodes: 17
If you're not one for mushy love stories, then this show is for you. Joo Jong Won (So Ji Sub), is a wealthy and snobbish CEO, while Tae Gong Shil (Gong Hyo Jin) is a promising student until an accident gives her the creepy ability to see ghosts. Their paths cross one stormy night and after the encounter, Gong Shil realizes that ghosts would disappear whenever she touches Jong Won. She resolves to find ways to always be near him which, of course, brings them closer together.
ADVERTISEMENT - CONTINUE READING BELOW
The Prime Minister and I
Number of episodes: 18
Nam Da Jung (Im Yoon Ah) is a tabloid reporter who would do anything to get a scoop. When she is assigned to cover the life of South Korea's youngest Prime Minister ever, Kwon Yul (Lee Bum Soo), things take an unexpected turn and she ends up pretending to be his girlfriend. She is ridiculed and bullied for her lack of class, but her quirky yet likable attitude and unconditional love for her elderly father melts the heart of the Prime Minister.
I Hear Your Voice
Number of episodes: 18
Despite her difficult childhood, Jang Hye Sung (Lee Bo Young) manages to finish her schooling and become a lawyer. Meanwhile, Park Soo Ha (Lee Jong Suk) is a high school senior with the unusual ability to read other people's thoughts. When Soo Ha was 10, his father died from a car accident, but Hye Sung's testimony revealed that it was a planned murder. This unlikely duo must then work together to solve a case using some very unconventional methods.
ADVERTISEMENT - CONTINUE READING BELOW
Padam Padam
Number of episodes: 20
Yang Kang Chil (Jung Woo Sung) has served 16 years in prison for a murder he didn't commit. Before his release, he survives a near-death experience and his guardian angel, Gook Soo (Kim Bum) says he will encounter three more. After being released, Kang Chil falls in love with Ji Na (Han Ji Min), but their relationship is tested when he learns her uncle was the victim in his murder case.
49 Days
Number of episodes: 20
Up for watching a fantasy drama? This show is right up your alley. Nam Gyu-ri plays Shin Ji-hyun, whose perfect life is shattered when an accident leaves her in a coma. Before being rushed to the hospital, she meets the "scheduler" Song Yi Soo (Jung Il Woo), who tells her it's not her time to die just yet. She is then given 49 days to gather three teardrops shed out of pure love from three people unrelated to her. To do this, she must live in the body of Song Yi Kyung (Lee Yo Won), a suicidal woman who lost her boyfriend and discovers that not everyone has been true to her.
ADVERTISEMENT - CONTINUE READING BELOW
Emergency Couple
Number of episodes: 21
It's one thing to bump into your ex at the mall, but having to actually work with them is another challenge altogether. Dietitian Oh Jin Hee (Song Ji Hyo) and medical student Oh Chang Min (Choi Jin Hyuk) met while they were in school, fell in love, and decided to get married at a very young age despite their parents' wishes. They eventually went their separate ways after a very rocky marriage; six years later, the two ex-lovers meet again as interns in a hospital.
History of a Salaryman
Number of episodes: 22
This intriguing K-Drama blends a murder mystery with a satire comedy. Here, Yoo Bang (Lee Beom Soo) is an ordinary salaryman who joins a test trial in order to steal information about a new drug. During the 10-day trial, both Yoo Bang and the director of his rival company (Jung Gyu Woon)—who is also undercover—have no access to the outside world and some very strange things begin to happen.
ADVERTISEMENT - CONTINUE READING BELOW
Share this story with your friends!
---
Help us make Spot.ph better!
Take the short survey
Load More Stories