10 Essential Teen Movies for Your Throwback Marathon
We'll take you back to the 2000s.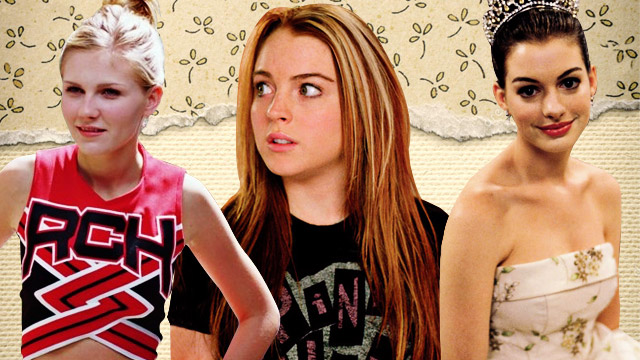 (SPOT.ph) Teen movies from the '80s and '90s all had their distinct flavor to them, but when it came to the 2000s, the genre began to really branch out. Some were more experimental, others were throwbacks to the classics, and several were as foul-mouthed as can be.
No matter the setting or storyline, however, all these movies expressed an important—even relatable—point of view that will take you straight to your teenaged years. We bet you can still recite some of them by heart, too.
This list only includes films released from 2000 to 2010.
Bring It On (2000)
Directed by: Peyton Reed
What's more high school than cheerleading? Here, a newly minted cheerleading captain (played by Kirsten Dunst) learns that their trophy-winning routines were actually stolen from an inner-city school's squad (led by Gabrielle Union). These days, Bring It On is an extremely quotable cult classic for a good reason. This light and irreverent film may have spoofed the world of cheerleading, but it slyly took on race and economic issues in America, too.
The Princess Diaries (2001)
Directed by: Garry Marshall
A normal and somewhat geeky teenager named Mia suddenly learns that she's the heir to the throne of the fictional kingdom of Genovia. The Queen Dowager (Julie Andrews) tries to teach her the ways of royalty, all while Mia deals with classic teen movie stereotypes like a nefarious cheerleading bully (Mandy Moore) and a friend who may be something more (Robert Schwartzman). The Princess Diaries didn't just make our princess dreams come true (and give us one of the best makeover sequences ever); it also introduced the world to Anne Hathaway!
ADVERTISEMENT - CONTINUE READING BELOW
Ghost World (2001)
Directed by: Terry Zwigoff
Not all teen movies are about mean girls, jocks, and going to prom; some of them revolve around the weird outcasts just trying to get by. Based on a comic book long before it was the big thing to do, Ghost World is about two close friends, Enid (Thora Birch) and Rebecca (a teenage Scarlett Johansson) who are both unpopular and directionless. Their paths begin to diverge when Enid falls for an odd, older man (Steve Buscemi) and Rebecca starts being into boys and fashion.
Save The Last Dance (2001)
Directed by: Thomas Carter
CONTINUE READING BELOW
Recommended Videos
Fresh off the success of another classic teen movie, 1999's 10 Things I Hate About You, Julia Stiles plays a ballerina who moves to Chicago after her mother's death. At her new high school, she meets Derek (Sean Patrick Thomas), who has a rough past of his own. Together, they share a deep love for dance, while also navigating the perils of being in an interracial relationship.
Freaky Friday (2003)
Directed by: Mark Waters
Remember when Lindsay Lohan was the queen of teen movies? In her first big teen role, Lohan held her own against veteran actress Jamie Lee Curtis as a mother-daughter duo with a strained relationship. When a strange spell causes them to switch bodies, they must both experience life through each other's eyes. Funny, frenetic, and still very much watchable, this teen movie set up Lohan as the biggest star among her Disney peers.
Mean Girls (2004)
ADVERTISEMENT - CONTINUE READING BELOW
Directed by: Mark Waters
Thanks to a superbly written screenplay by Tina Fey and fantastic performances across the board, Mean Girls remains one of the very few teen movies that has stood the test of time. High school Queen Bee Regina George (Rachel McAdams) takes a new schoolmate Cady Heron (Lindsay Lohan) under her wing, but doesn't realize that the latter is actually working with Janis (Lizzy Caplan) to take down the mean girls of the school. The film has become one of the biggest—and most quotable—cult classics of the 2000s, all while sharply skewering teen comedy clichés and the high school experience.
Napoleon Dynamite (2004)
Directed by: Jared Hess
An awkward 16-year-old named Napoleon (Jon Heder) passes the time by making up stories and being generally weird. The film's quirky and oddball lead character is what makes this teen movie so different from the usual fare. Subtly funny while still embracing weirdness over typical love stories and high school troubles, Napoleon Dynamite became the unusual success story of the 2000s.
She's The Man (2006)
Directed by: Andy Fickman
Mixing a charmingly funny teen movie with Shakespeare, She's the Man is about Viola (Amanda Bynes), a soccer player who plays for an all-girls team. When the said team is cut from her school due to budget issues, she passes herself off as her twin brother, Sebastian, and tries to join his all-boys soccer team to prove a point. There, she falls for the handsome star soccer player (Channing Tatum), which puts "Sebastian" in some pretty hilarious situations.
ADVERTISEMENT - CONTINUE READING BELOW
Juno (2007)
Directed by: Jason Reitman
Juno isn't your typical teen movie and some may not even categorize it as that, but it does center heavily on teenage pregnancy and other coming-of-age troubles. Sixteen-year-old Juno (Ellen Page) finds out she is pregnant with the baby of her friend Paulie (Michael Cera), and questions if she should abort or bring it to full term. As the film goes on, Juno deals with her "relationship" with Paulie, telling her parents, and all the issues that have thrown her prematurely into adulthood.
Superbad (2007)
Directed by: Greg Mottola
Written by Seth Rogen and Evan Goldberg when they were just 13, Superbad is crass and crude but in the best way possible. Two high schoolers (Jonah Hill and Michael Cera) plan to lose their virginity before they graduate, which gets them into a lot of hilarious situations with their friend, the one and only McLovin (Christopher Mintz-Plasse). A foul-mouthed and raunchy approach to the genre began with the likes of American Pie, but most films of the 2000s took a softer approach—that is until Superbad changed the game, sans the cutesy love stories and petty teen drama.
Share this story with your friends!
---
Help us make Spot.ph better!
Take the short survey
Load More Stories