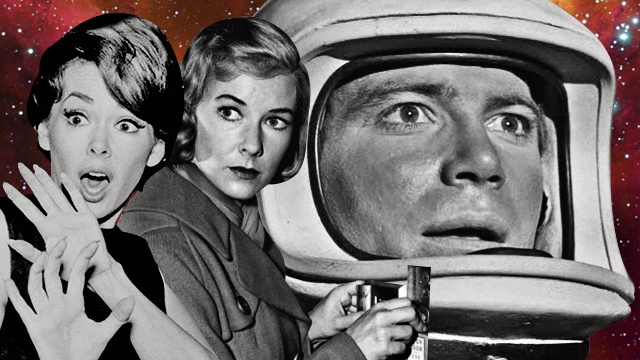 (SPOT.ph) Before the rise of book and superhero adaptations, the TV landscape was filled with anthology shows that leaned towards a genre or a theme. Because each weekly episode was a standalone, you could watch them without having to follow a complex storyline that played out for the entire season.
Thanks to cable TV, syndication, and video streaming, some classic shows have gathered a cult following years after its initial run. With new shows such as Stranger Things and Black Mirror paying homage to the sci-fi shows of old, it seems that now is a good time to revisit the source material.
The Twilight Zone
Airing years: 1985 to 1989
Number of episodes: 110
The Twilight Zone is the first revival of the original black-and-white series created by Rod Serling, which originally ran from 1959 to 1964. Like its predecessor, the show focused on gripping stories with sci-fi, horror, mystery, fantasy, and psychological themes. Several episodes were based on the works by established science fiction authors such as Harlan Ellison, Roger Zelazny, Arthur C. Clarke, Theodore Sturgeon, and Ray Bradbury. There were even a few episodes written by Game of Thrones author George R.R. Martin. Famous actors who have appeared on the show include Bruce Willis, Helen Mirren, Morgan Freeman, Frances McDormand, and Lukas Haas.
ADVERTISEMENT - CONTINUE READING BELOW
Often thought-provoking, The Twilight Zone stories also usually came with an unexpected twist ending, recognized as one of the series' trademarks.
Tales From the Darkside
Airing years: 1984 to 1988
Number of episodes: 90
Tales from the Darkside was created by the late, legendary horror director George A. Romero. Stories of the macabre and supernatural were mixed with speculative and sci-fi storylines throughout the show's 90-episode run.
In "Mookie and Pookie," a girl discovers that her dead brother still exists in a computer. "The Impressionist" has a stand-up comedian trying to communicate with a seemingly hostile alien. An alien visitor arrives on earth and studies humans by disguising himself as a photographer in "Going Native."  A few episodes of the show were based on stories by Stephen King, Frederik Pohl, and Clive Barker. The show's creepy intro can still give you goosebumps when you're watching the show alone at night.
Amazing Stories
Airing years: 1985 to 1987
Number of episodes: 45
The show is best known as the brainchild of filmmaker Steven Spielberg, who wrote a majority of the stories for the first season. The show's name comes from the first magazine devoted to science fiction. Spielberg was even able to convince major Hollywood movie directors such as Martin Scorsese, Irvin Kershner, Joe Dante, and Robert Zemeckis to helm several episodes.
Amazing Stories was also known for its movie-like special effects and storylines that usually ended with an upbeat note. The show's equally memorable opening soundtrack was composed by none other than John Williams.
The Ray Bradbury Theatre
Airing years: 1985 to 1992
Number of episodes: 65
Of all the anthology series listed here,The Ray Bradbury Theatre stands out because all 65 episodes were written by beloved sci-fi and fantasy author Ray Bradbury. The stories were all based on the author's short stories and novels; some of them were even expanded for television. Bradbury himself appears as the show's narrator who does a brief intro for each episode.
ADVERTISEMENT - CONTINUE READING BELOW
Standout episodes include "The Veldt," "Mars is Heaven," "The Toynbee Convector," and "A Sound of Thunder." Famous stars such as Drew Barrymore, Jeff Goldblum, William Shatner, and Lucy Lawless have also appeared on the show.
The Outer Limits
Airing years: 1995 to 2002
Number of episodes: 154
Unlike The Twilight Zone which featured stories that meandered outside the sci-fi genre, The Outer Limits focused heavily on stories that dealt with a particular scientific concept and its repercussions. The series was a revival of an original series from the '60s; it's also famous for its oft-quoted intro that begins with line "There is nothing wrong with your television." The mind-bending stories on the show were written by sci-fi greats such as A.E. van Vogt, Larry Niven, and Richard Matheson.
The trademark of the show was its dark and foreboding look and open-ended storylines that loosely connected to other episodes.
Share this story with your friends!
---
Help us make Spot.ph better!
Take the short survey
More Videos You Can Watch
Load More Stories