PHOTOS: Phoenix Ignites Manila With a Spectacular Light Show
We're still humming "1901" in our heads, TBH.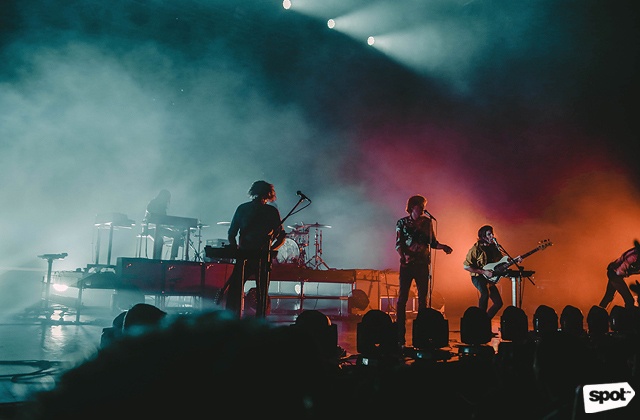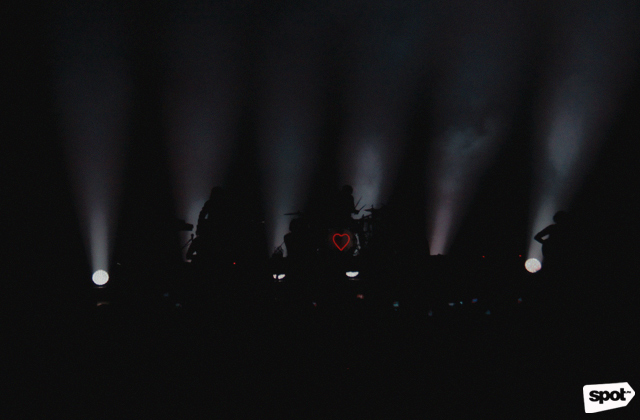 (SPOT.ph) There was a rush in the air when you stepped onto Kia Theatre's sidewalk. There were long lines by the ticketing booth, even longer lines at the entrance, and the main hall was packed with concertgoers, their eager voices talking over one on another.
ADVERTISEMENT - CONTINUE READING BELOW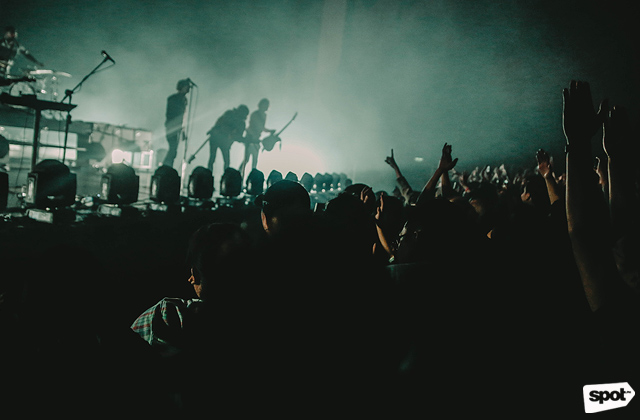 CONTINUE READING BELOW
Recommended Videos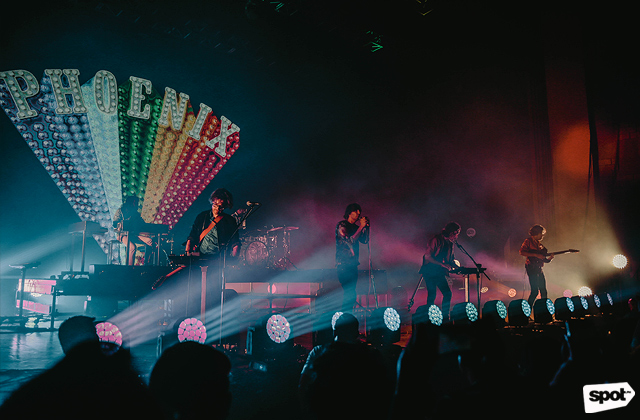 Although a much smaller venue compared to the originally planned Smart Araneta Coliseum, nobody seemed to mind the change of plans. Save for the occasional smartphone in the air, the new venue allowed everyone an unobstructed—even intimate—view to everything Phoenix has to offer: boundless high energy and show-stopping visuals that had fans audibly gasping.
ADVERTISEMENT - CONTINUE READING BELOW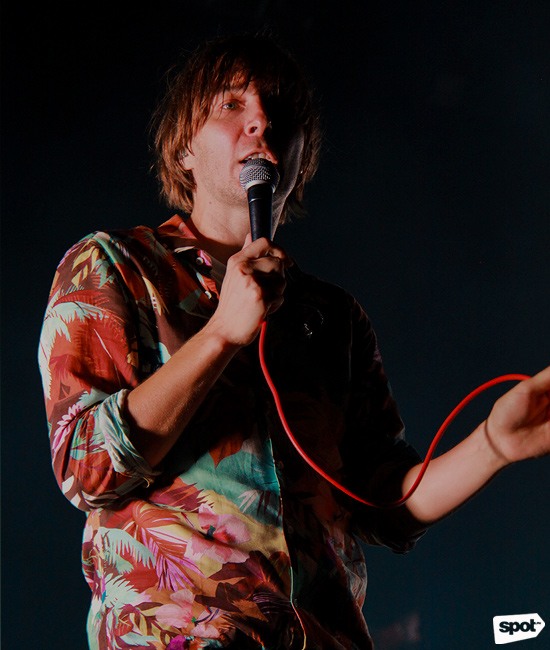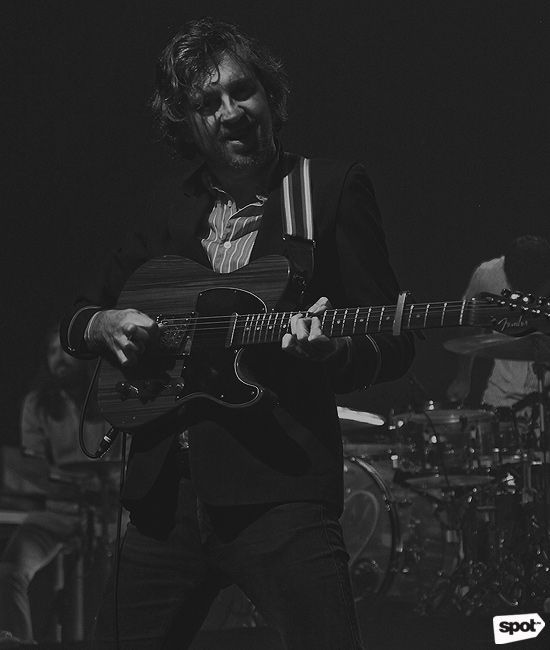 Although primarily a seated venue, every concertgoer immediately leapt to their feet once the lights dimmed; not a single seat remained occupied that night, as eyes were transfixed on the flashing LED display. The band kicked off with a rousing performance of "J-Boy", the latest track off their sixth studio album, Ti Amo. 
ADVERTISEMENT - CONTINUE READING BELOW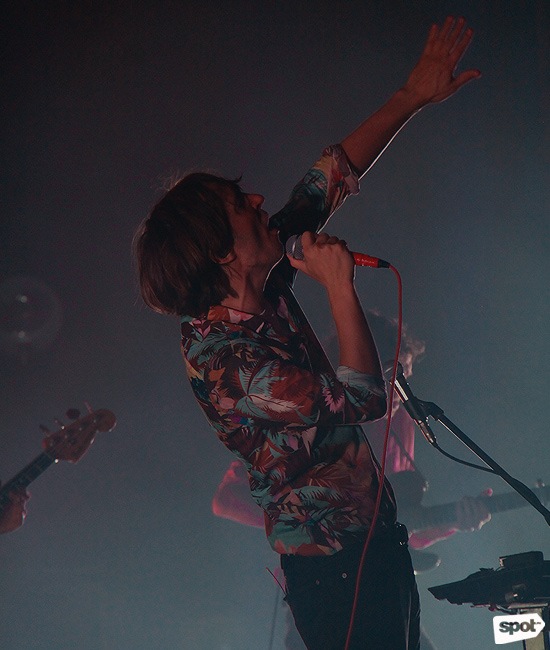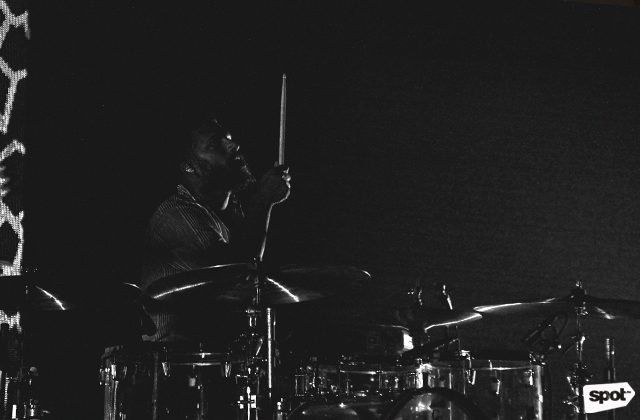 Frontman Thomas Mars, a natural, high-energy performer whose charisma extends into the very far back of the venue, immediately launched into familiar, dance-y tracks like "Entertainment" and "Lasso," eliciting excited cheers. The latter's blindingly red visuals quickly transitioned into dim lights and a foggy stage, putting the spotlight on an easy crowd-favorite, "Lisztomania." The screen lit up at every chorus, with stage lights flashing to the beat as the audience sang every word in unison.
ADVERTISEMENT - CONTINUE READING BELOW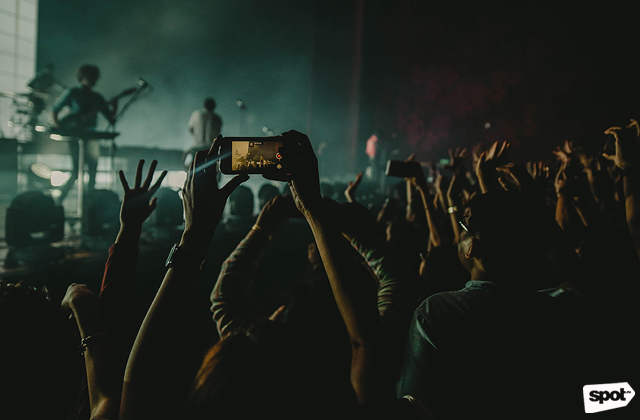 After quickly panting out a "salamat" and "thank you," Mars and the rest of the band performed a setlist bound to make everyone happy, interweaving old-favorites ("Trying to Be Cool," "Girlfriend") with newer releases ("Role Model," "Tuttifrutti," and the head-bopping electro track "Goodbye Soleil"). Naturally, fans were quick to raise their phones the moment the first notes of older songs began to play, eager to capture the precious moment for social media. 
There were genuine showstoppers, too, like a hypnotic performance of "Love Like a Sunset Pt. I & II," which came with spectacular visuals of pink smoke, twinkling constellations, and a steady build-up of flashing colors and finally, soft gold lights.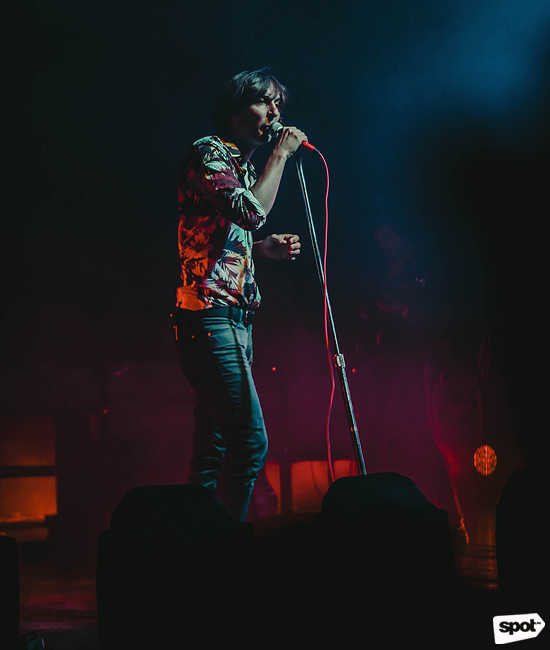 ADVERTISEMENT - CONTINUE READING BELOW
When he wasn't bounding from one end of the stage to the other, Mars was engaging the crowd every chance he got. "We are extremely happy to be back," he exclaimed, slightly out of breath. "We loved the first [show] so much, we decided to come back early this time."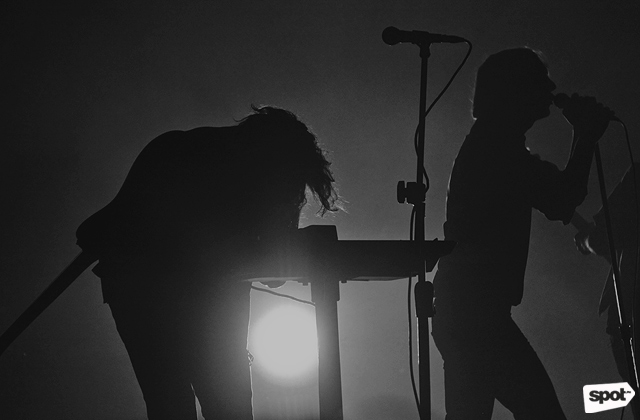 The band launched into some of their much older songs like "Long Distance Call" ("This is one of the earliest songs we've ever written," he said) and "If I Ever Feel Better" ("I messed up. This is the oldest song we ever wrote," he added sheepishly). "Ti Amo," an exhilarating release from their latest album, came with a breathtaking backdrop that flashed in sync with the infectious chorus; it was quickly followed up with "Armistice" and "Rome."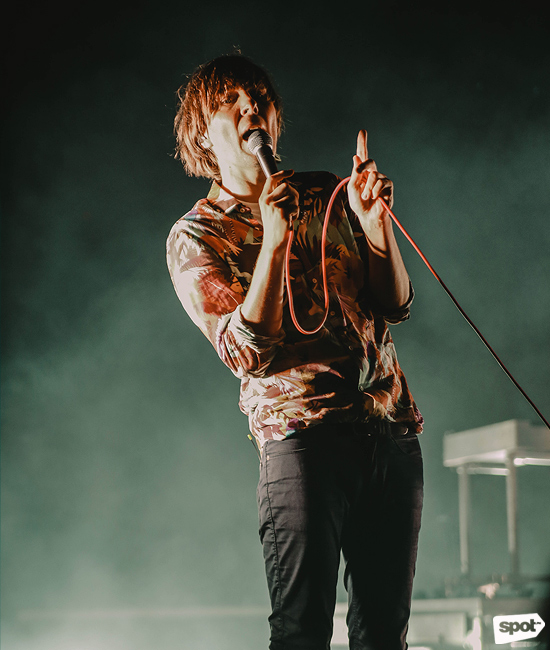 ADVERTISEMENT - CONTINUE READING BELOW
As the main set came to a close, the crowd began to chant "We want more!"—to which the band gladly obliged, with Mars running to the fevered audience, saying, "You have been so good to us, you deserve a treat." That treat came in the form of reverberating intermission and finally, the sentimental, even romantic, "Fior Di Latte." (Really, you probably would have wanted a significant other to hold hands with at this moment.)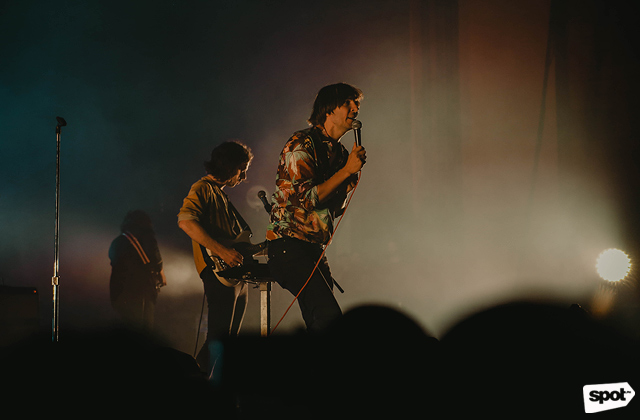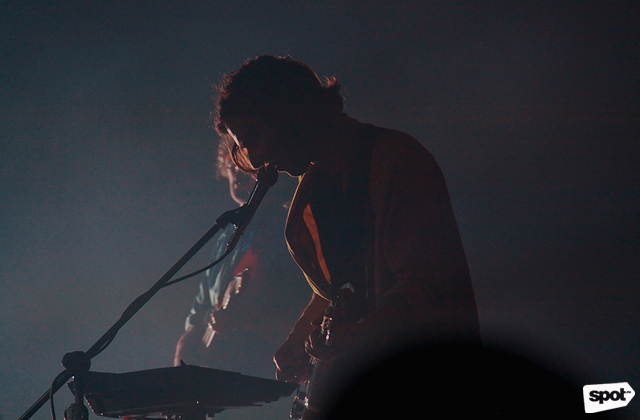 ADVERTISEMENT - CONTINUE READING BELOW
A quick check at the clock and we knew that this special night was coming to a close. Meanwhile, Mars continued to thank the crowd profusely, truly and genuinely grateful to be under one roof with his fans. "Thank you for knowing all the lyrics. They don't know all the lyrics back home like this," he said with a laugh. "You're the best. The best singing crowd." 
As if to prove his point, he launched into "1901"—to rapturous, ear-splitting screams from the crowd, who drowned out Mars' own vocals with chants of "hey, hey, hey, hey, hey" and "fold it, fold it, fold it."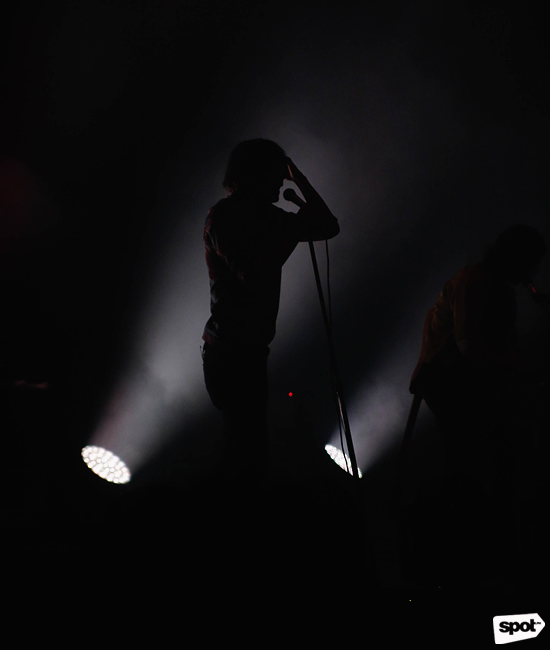 At this point, the audience was preparing for the show to close; groups began to chat about post-concert plans, and phones were pulled out of pockets (presumably to contact friends or even book a ride home). Then came the magic words: "Can everyone back up a bit?" Everyone looked to the stage, confused at the commotion onstage as the band talked amongst themselves. Was Mars planning to crowd surf? Were they going to pull audience members up on stage?
ADVERTISEMENT - CONTINUE READING BELOW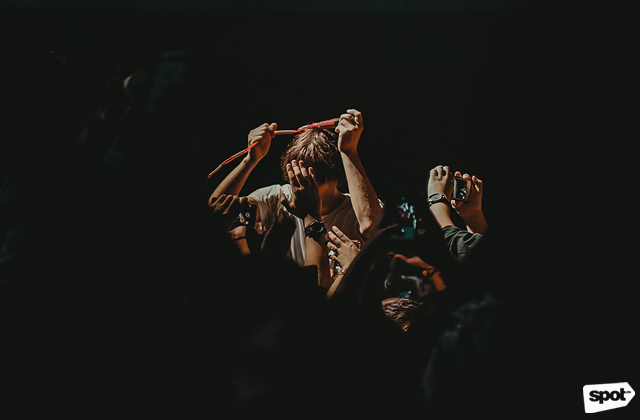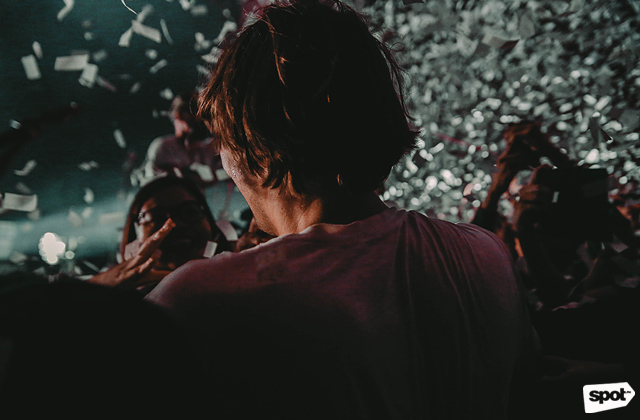 There was a near-deafening silence as the crowd waited with bated breath to see what happens next. Carefully steadying his mic, Mars leapt deep into the audience, braving some serious hand-grabbing, surprise hugging, and even selfies from lucky fans that were close enough to touch him. A reprise of "Ti Amo" played behind him, like a mesmerizing soundtrack to the chaos.
ADVERTISEMENT - CONTINUE READING BELOW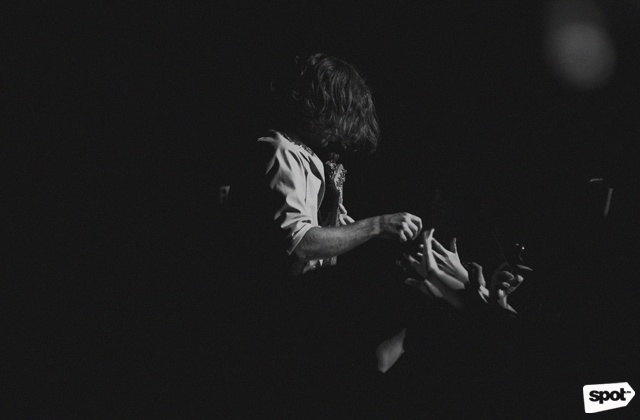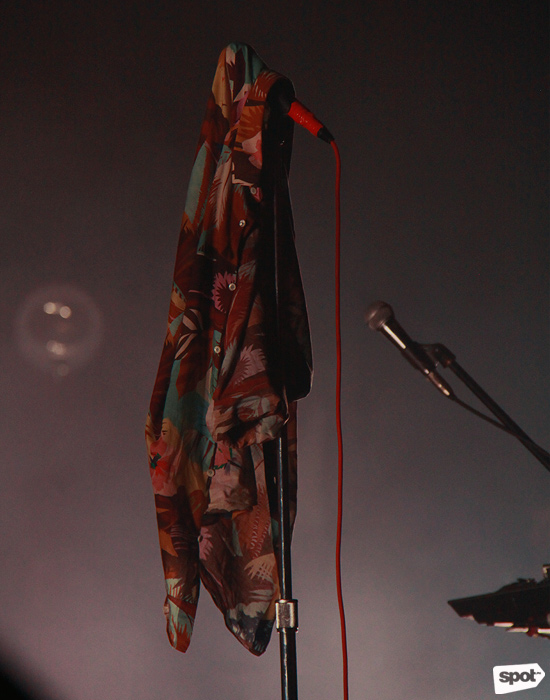 See, here's the thing with Phoenix. Their songs are unbelievably catchy, even if they require plenty of dedicated lyrics-googling before you can sing them like a pro. Said lyrics probably even sound like gibberish (Mars once said they have multiple meanings and thus require some mental interpretation), but who cares when a show is this electrifying?
ADVERTISEMENT - CONTINUE READING BELOW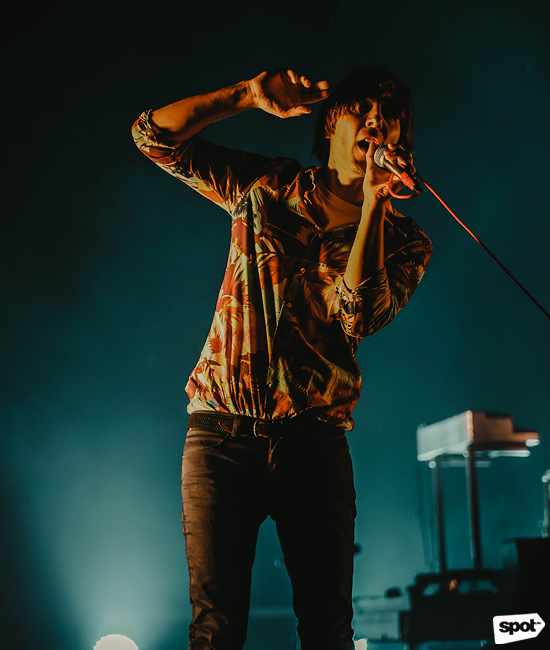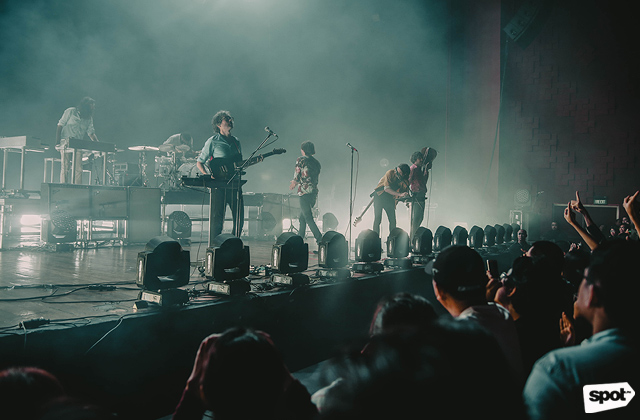 Sure enough, the Filipino audience sang every line on cue and danced to every infectious beat. And as the lights dimmed for the final time and the last shred of confetti fell to the ground, the exhilarating energy remained. Slowly, the crowd began to trickle out of Kia Theatre, satiated, out of breath, and united in a shared love for a little band from Versailles.
ADVERTISEMENT - CONTINUE READING BELOW
Photos by Warren Espejo and Criselda Carreon
Share this story with your friends!
---
Help us make Spot.ph better!
Take the short survey
Load More Stories