Meet the Young Filmmaker Behind the Award-Winning Indie Film Birdshot
For starters, he joined Cinemalaya at 17.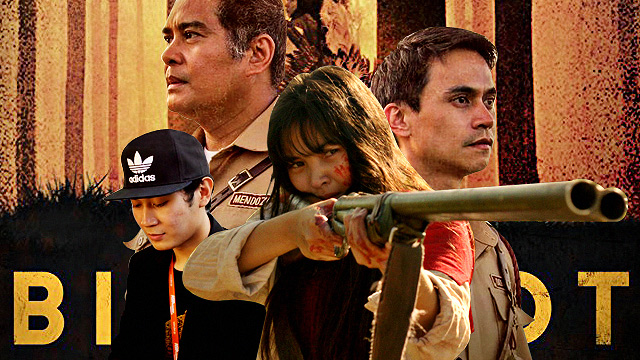 (SPOT.ph) More often than not, our early 20s are plagued with uncertainty and questionable decisions. While most of us are still trying to figure out who we are and what we want in life, 25-year-old Mikhail Red is already hopping from one international film festival to the next as he promotes his new film, Birdshot.
The film primarily centers on Maya, who is embroiled in a police manhunt when she mistakenly shoots and kills an endangered Philippine eagle. Leading the said manhunt is an idealistic rookie cop named Domingo and his corrupt veteran superior, Mendoza; together, they both stumble upon a horrific discovery that's bigger than they ever imagined.
Sure, it's an interesting plot that begs for you to buy a ticket immediately, but it's also a story that touches on real-life events. "I was inspired by a news article about a Bukidnon farmer that shot, cooked, then ate a Philippine eagle. He was jailed, but he claimed that he was unaware it was a crime," explains Red. "As a storyteller, I was intrigued and fascinated by a situation where someone would do such a thing just to survive. I'm always drawn to stories and conflicts where you don't know whom to root for, there's no 'good guy' or 'bad guy'...just people who are victims of circumstance."
Even its subplot—which revolves around an abandoned bus with passengers that have mysteriously gone missing—somewhat references familiar news headlines, particularly the Maguindanao Massacre, Hacienda Luisita, and the disappearance of the Malaysia Airlines plane in 2014. Red is quick to add, however, that they purposely removed certain details. "We really kept it vague," he says. "There's a balance between the realism of the film with the more fictional side."
ADVERTISEMENT - CONTINUE READING BELOW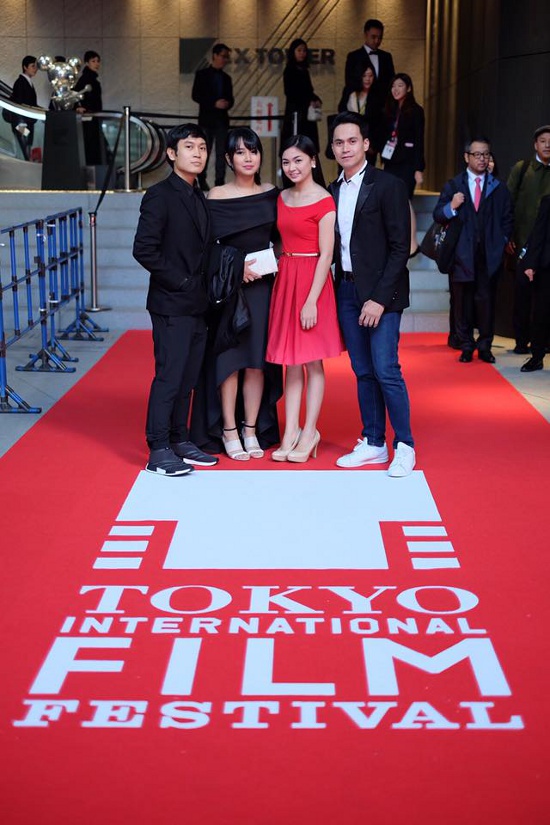 CONTINUE READING BELOW
Recommended Videos
The director with producer Pamela Reyes, actress Mary Joy Apostol, and actor Arnold Reyes
The long road to Tokyo
As with any film, especially a local independent one, the road to the big screen is paved with financial problems. Red and his producer, Pam Reyes, set their sights on the prestigious Doha Film Institute, a competitive grant for filmmakers across the globe.
Red admits that he initially had a different story set for his second feature film—one that was already three years in development—but he was advised to change his concept to fit the institute's sensibilities. After writing the script with his cousin Rae Red, Birdshot eventually won the coveted P3.5 million funding; this opened doors for more investors, including Korea's CJ Entertainment and TBA Studio, the same production company behind Heneral Luna, I'm Drunk, I Love You, and Bliss.
Now armed with a budget of about P14 million, Red was determined to make a film on his own terms, even if it meant painstakingly creating storyboards for every detail possible. "We researched and prepared for all the props, maraming pegs, maraming presentations from each department," he explains.
ADVERTISEMENT - CONTINUE READING BELOW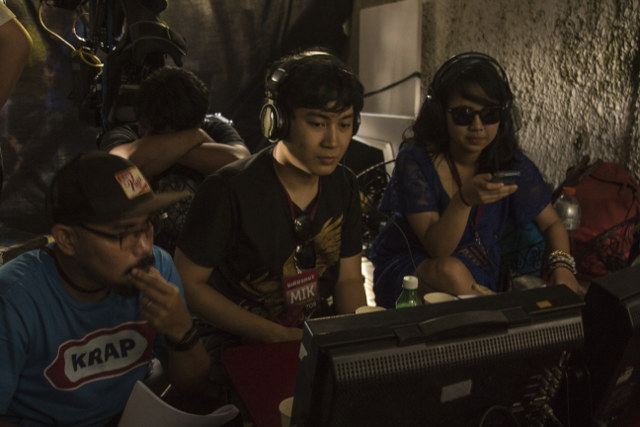 He applied that same level of precision in searching for the perfect shooting location with the help of the Department of Agriculture. He wanted wide open spaces without power lines, corn fields "for a Western look," mountains in the background, and a lone kubo in the middle. They were pointed to Isabela—though it wasn't entirely perfect.
They actually asked local farmers to plant the corn field just for the movie; it ended up growing three feet higher than Red had expected, so he had to rework his final confrontation scene. Even the tiny kubo was made from scratch and it had to be sturdy enough to withstand several people and heavy equipment inside. Domingo's house also had to be repainted in entirely earth tones to match the film's specific color palette. The rest of the filming locations in Rizal, Fairview, and Davao required rigorous editing and deliberate framing to ensure everything looked seamless in the final product.
ADVERTISEMENT - CONTINUE READING BELOW
Red's attention to detail, he says, was borne out of his "frustrations" with his debut feature film, Rekorder, which premiered at the Cinemalaya Film Festival in 2013. He calls the whole process an "ambush" of sorts, saying, "We got in January or February, we shot in the summer, and then we premiered in July. You sign a contract that you have to finish your film by the deadline kahit wala ka pang investors, and you have that P500,000 [film grant] that comes in trenches. You don't get it all at once."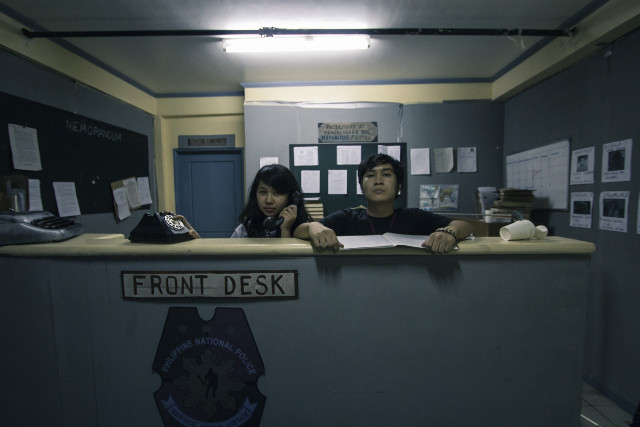 "[Cinemalaya] was a boot camp and learning process for us, but it opened doors so we can make Birdshot," he tells us. Although his first film received mixed reviews at the local festival, he later got an e-mail from the renowned Tokyo International Film Festival. Rekorder was screened in the festival's Asian Future section; three years later, Birdshot was screened in the same section, where it won Best Film.
ADVERTISEMENT - CONTINUE READING BELOW
As of writing, Birdshot has made the rounds in 16 festivals around the world, and there are still more screenings to come in 2018.
When asked about his toughest hurdle throughout the entire experience, it's not the struggle of financing, storyboarding, or finding the right people to bring his stories to life. "[It's] the waiting game," he confesses. "When you submit a script, and you're just waiting [for feedback]. Minsan, it's a film that you submit to a festival, and you're just waiting for it. Para sa akin, ang sakit ng process na 'yon kasi every day, you're waiting for a call or an e-mail, refresh ka nang refresh."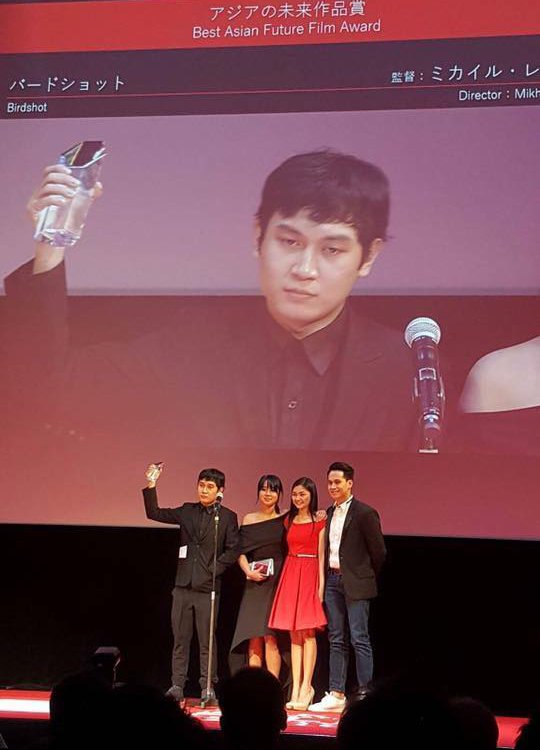 Accepting the Best Film trophy at TIFF
Still, that doesn't deter the ambitious filmmaker, who already has so many intriguing stories up his sleeve. His next flick, Neomanila, is slated for QCinema this year; Eula Valdez will play an assassin, so that tidbit alone is bound to keep you intrigued until then. He's also working on a long-gestating supernatural horror called Eerie scheduled for 2018.
ADVERTISEMENT - CONTINUE READING BELOW
Growing up with films
In case you haven't already figured it out by now, he's the son of Cannes-winning filmmaker, Raymond Red, which meant practically growing up with an innate love for cinema. He tells us about some of his favorite movies, from art-house flicks (he notes Gus Van Sant's Elephant really "resonated" with him) to more commercial releases like Pixar's Wall-E ("It's a perfect film") and Ridley Scott's Gladiator ("You're completely entertained, but it's well-executed").
It also meant being exposed to cinema in a more hands-on way. He was only 12 when he joined his first filmmaking workshop with Marilou Diaz-Abaya ("Ka-batch ko noon si Gino Santos, he was like 14 at the time," he candidly adds).
He made his first short film when he was just 14, which landed him a spot in a German film festival—his first foray in the international circuit. At 16, he made another short film for a different workshop, Filipino Pictures, which starred Lav Diaz as an aging cameraman. That one went on to win first prize in Gawad CCP; he later used the prize money to make Harang, his first short film that wasn't a workshop requirement. It became his first Cinemalaya film at the age of 17.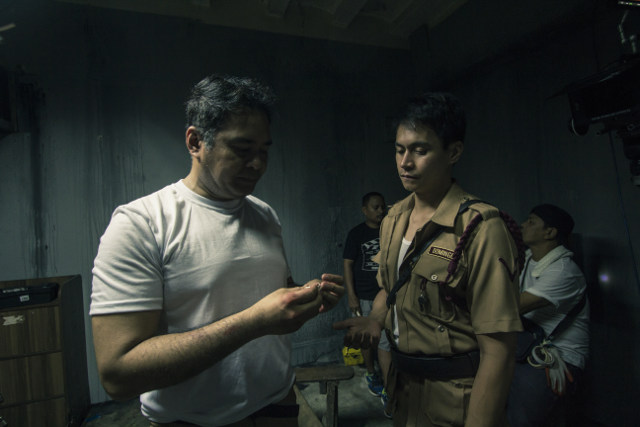 ADVERTISEMENT - CONTINUE READING BELOW
John Arcilla and Arnold Reyes play the cops who investigate the case
Red began work on Birdshot when he was 22, and celebrated his 23rd birthday while on set. That was two years ago.
"That's the funny thing. A lot of people consider me as a 'young filmmaker' but whenever I try to recall my experiences or my career, I feel like I started early," he shares. It's clear that he doesn't want to be defined by his youth and instead, wants Birdshot—and its many layers of societal issues—to speak for themselves.
"I want [Birdshot] to be timeless. That's why there's no specific social issue, specific setting, or time frame," says Red. "I hope it stays relatable 10 or 20 years from now. That's my dream, na pinapanood pa rin siya."
When asked what he wants to achieve as a filmmaker, he replies that he just wants to prove that Filipino films don't have to be "pigeonholed" in certain genres or styles. Birdshot, for one, is a hybrid of many genres, from coming-of-age to horror, police procedurals, and even contemplative cinema.
ADVERTISEMENT - CONTINUE READING BELOW
"I want to make a film that sells here, but also sells abroad. That's very rare, parang sina Erik Matti lang nag-attempt noon," he tells us. "That's my goal: To push boundaries and show that we can make a Filipino film that expands the market."
Birdshot was originally part of Pista Ng Pelikulang Pilipino, which ran from August 16 to 22. You can still watch extended screenings in select cinemas across the country.
Share this story with your friends!
---
Help us make Spot.ph better!
Take the short survey
Load More Stories