10 Must-See Japanese Animated Films That Aren't Studio Ghibli
They deserve some love, too!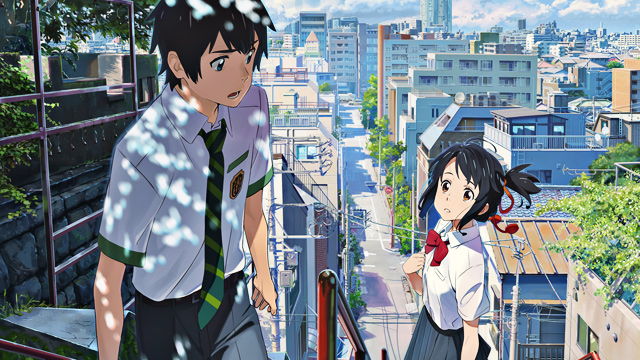 (SPOT.ph) Take a moment to think of some popular Japanese animated flicks, and chances are, they were produced by Hayao Miyazaki's acclaimed Studio Ghibli. We all love Spirited Away and Howl's Moving Castle, but in more recent years, animated films created by other equally amazing production houses have also started gaining ground internationally.
With the incredible twists and magical turns these Japanese storytellers are known for, even the most casual viewer won't regret giving these movies a shot. 
Your Name (2016)
Studio: CoMix Wave Films
This film made waves when it first premiered in Los Angeles and later, Japan—but it definitely made a lasting impact well into present day. The story sounds simple at first: a high school girl, Mitsuha, living in rural Japan finds herself in the body of a high school boy, Taki, who lives in the city. All the body-swapping allows them to make a difference in each other's lives and eventually, share a unique relationship. However, Mitsuha and Taki soon realize that distance isn't the only thing that's keeping them apart.
In This Corner of the World (2016)
Studio: MAPPA
In This Corner of the World has garnered plenty of awards, thanks to its raw and emotional storytelling. It centers on a young woman named Suzu who has to deal with the tragedies of World War II. After marrying a naval citizen and moving away from her hometown in Hiroshima, Suzu soon learns that food shortage and air-raid training is the least of her problems. The film follows her struggle to maintain the will to live amidst the terror and losses of a war-torn Japan.
ADVERTISEMENT - CONTINUE READING BELOW
The Girl Who Leapt Through Time (2006)
Studio: Madhouse
As the title suggests, we follow the story of Makoto, a high school girl who finds out she has the ability to travel back in time at will. She uses her newfound powers for some seemingly petty, though personal, reasons. Little does she know, however, that her time leaps may have grave effects on the people around her, especially her best friends.
Wolf Children (2012)
Studio: Studio Chizu and Madhouse
This film revolves around the peculiar little family of Hana, comprised of—you guessed it—children that are half-wolves. The sudden death of her werewolf husband forces Hana to take her strange children to the mountains, where they learn to find and accept their own paths in life, whether it be as humans or werewolves.
CONTINUE READING BELOW
Recommended Videos
5 Centimeters Per Second (2007)
Studio: CoMix Wave Inc.
This slice-of-life three-part film follows Takaki as he navigates the world of romance and lost loves. Hung up on his first love from when they were young, Takaki lives his life composing letters he never sends, staring off into space for something he can't find, and pining for someone he knows he can't reach. The movie is also easy on the eyes with its incredibly stunning and award-winning animation.
Paprika (2006)
Studio: Madhouse
Dreams and reality converge in this hit animated film that centers on a research psychologist named Atsuko Chiba. Under the guise of her alter-ego, Paprika, her unconventional therapy sessions take place in the world's most unpredictable location: Her patients' dreams. When the technology that makes this dream therapy possible gets stolen, Atsuko has to team up with her closest friends to uncover the mystery that's putting the real world in danger.
ADVERTISEMENT - CONTINUE READING BELOW
Tokyo Godfathers (2003)
Studio: Madhouse
Tokyo Godfathers tells the story of three strangers—an alcoholic, a former drag queen, and a runaway—who stumble upon an infant abandoned in the trash on Christmas Eve. As the unlikely trio band together with a common goal, they'll find more than just clues that lead them back to the baby's parents. The film will remind you of life's little coincidences and how everyone's connected one way or another.
The Boy and the Beast (2015)
Studio: Studio Chizu
This movie won Animation of the Year at the 37th Japan Academy Prizes, so you can expect a great story told with gorgeous animations and eye-popping special effects. Ren is a young boy who runs away from home to escape life under his legal guardians. He is later found by a warrior from the Beast Kingdom, who takes him under his wing as an apprentice. Don't discount this coming-of-age tale: It's entertaining, inspiring, and heartwarming for any age.
Nausicaä of the Valley of the Wind (1984)
Studio: Topcraft
Okay, maybe we're cheating a little with this one since it was written by Miyazaki even before he founded Studio Ghibli but trust us! Some people say this is one of the all-time greatest animated films in history. Considering that it was released in the '80s, you can say it was pretty ahead of its time, with rich themes, characters, and animations. You'll see what people mean when you watch how the princess named Nausicaä desperately struggles to stop a war between two nations that might destroy their dying planet.
ADVERTISEMENT - CONTINUE READING BELOW
Ghost in the Shell (1995)
Studio: Kodansha (in association with Bandai Visual, Manga Entertainment, and Production I.G.)
Before Ghost in the Shell had a controversial live-action adaptation starring Scarlett Johannson, it was an animated film that, like Nausicaä of the Valley of the Wind, is arguably one of the greatest of all time. It's hard not to see why, as it makes use of vividly stunning and creative animations to tell the story of a cyborg cop named Motoko Kusanagi as she tracks down the Puppet Master, a notorious hacker wreaking havoc in the city.
Share this story with your friends!
---
Help us make Spot.ph better!
Take the short survey
Load More Stories