The SPOT.ph Guide to the 2017 Korean Film Festival
These films will warm your heart or make you laugh out loud.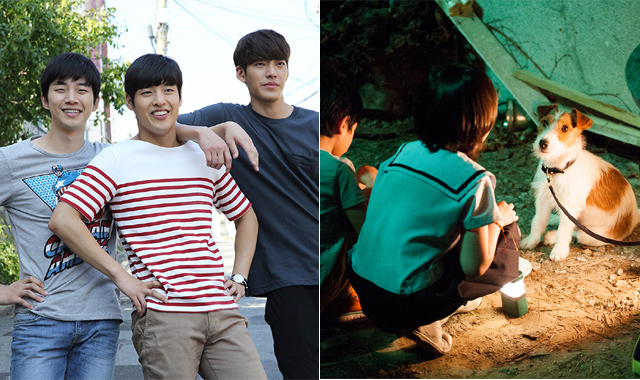 (SPOT.ph) If you still haven't had enough of K-Dramas and K-pop, then the Korean Film Festival might be right up your alley. With the theme, "Boldness of Youth," five Korean films will be shown at different cinemas across the country.
In addition to screenings at SM Megamall's Cinema 6 from September 7 to 10, the films will also be shown at  SM Lanang in Davao (September 14 to 17), SM City Iloilo (September 21 to 24), SM City Cebu (September 28 to October 1), SM City Clark (October 5 to 8), and SM City Dasmariñas (October 12 to 15).
You have more than a month to catch all the films—for free! We've listed them down so you can plan which one to see first.
Very Ordinary Couple (2013)
Directed by: Roh Deok
Screening Schedule: September 8, 3:00 p.m.; September 10, 12:00 p.m.
Based on the director's own experiences and circle of friends, this romantic comedy depicts what life is like when two exes have to see each other every day at the bank where they both work. After being in an on-again-off-again relationship for three years, they finally break up only to get back together—then maybe break up again, just like any other typical couple.
How to Steal a Dog (2014)
Directed by: Kim Sung-ho
Screening Schedule: September 7, 7:00 p.m.; September 9, 6:00 p.m.
Based on a novel of the same name, this award-winning film revolves around a girl who hatches a plan to steal a dog then "return" it to its owner for the reward money, hoping that the cash would be enough to save their failed pizza business and bring her father back.
ADVERTISEMENT - CONTINUE READING BELOW
My Brilliant Life (2014)
Directed by: E J-yong
Screening Schedule: September 8, 6:00 p.m.; September 10, 3:00 p.m.
Based on the novel, My Palpitating Life by Kim Aeran, the film depicts the life of a boy born with a rare genetic disorder that makes him age faster than the normal rate. As he reaches his 17th birthday with the physical capabilities of an 80-year-old man, he writes the story of how his parents fell in love and had him when they were only 17.
The King of Jokgu (2014)
Directed by: Woo Moon-gi
Screening Schedule: September 8, 12:00 p.m.; September 9, 3:00 p.m.
In his successful directorial feature debut, Woo Moon-gi gives a comedic take on the sport of Jokgu, which puts together elements of volleyball and basketball. In the film, Hong Man-sub (Ahn Jae-Hong) returns from his military service only to find that the Jokgu court has been removed. He goes on a quest with an unlikely group of friends to try and get it back.
Twenty (2015)
Directed by: Lee Byeong-heon
Screening Schedule: September 9, 12:00 p.m.; September 10, 6:00 p.m.
A coming-of-age film, Twenty explores what life is like for three good friends with different personalities and goals in life. There's Chi-ho (Kim Woo-bin) the playboy, Kyung-jae (Kang Ha-neul) the prim and proper goody-two-shoes, and there's Dong-woo (Lee Junho) the aspiring cartoonist who faces the challenge of being his family's breadwinner.
For more information, visit the Korean Cultural Center in the Philippines' Facebook page.
Load More Stories