10 New Songs to Add to Your Playlist This September
Listen to Taylor Swift, Foo Fighters, The Killers, Autotelic, and more!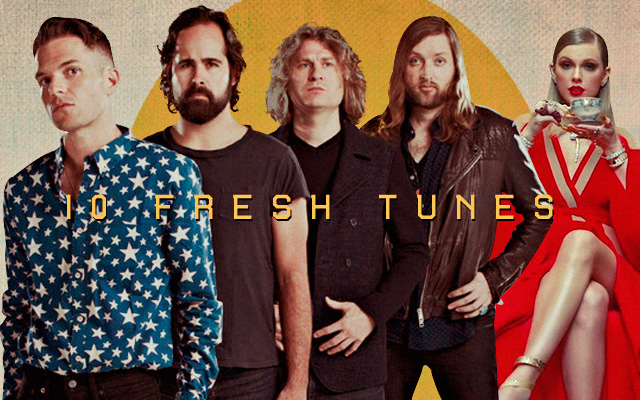 (SPOT.ph) It's the start of the -Ber months, but we're not recommending Christmas songs just yet. For our September playlist suggestions, we have Taylor Swift's second single, Foo Fighters' newest track, The Killers' danceable rock release, Miguel's smooth collaboration with Travis Scott, and The National's melancholic tune. Local acts Autotelic, Moira Dela Torre, Keiko Necesario, Mr. Bones and the Boneyard Circus, and Rob &The Hitmen are out to impress, too.
Song: "...Ready For It?"
Artist: Taylor Swift
Taylor Swift's latest single, just like "Look What You Made Me Do," is a clear departure from her old sound. The feisty, electro-laced, and bass-heavy "...Ready For It?" sounds like your usual club banger, but with a more aggressive Swift that raps the verses. Listen and judge for yourself.
Fun fact: This is the second single from Swift's forthcoming album titled Reputation, due for release on November 10.
Song: "Languyin"
Artist: Autotelic
Autotelic's third single off their record Papunta Pabalik is a heartfelt and groovy synth-pop ditty with a charming hook. With this kind of refreshing sound, we can't wait to hear what else this band has to offer.
Fun fact: The music video was shot in Baler.
Song: "The Sky Is A Neighborhood"
Artist: Foo Fighters
"The Sky Is A Neighborhood," off the band's forthcoming album titled Concrete and Gold, was recorded in a single afternoon. The traditional rock n' roll track, with the classic Foo Fighters' sound and swagger, reminds us why the band is one of the greatest rock acts on the planet.
ADVERTISEMENT - CONTINUE READING BELOW
Fun fact: Grohl himself directed the music video, and it stars his two daughters, 11-year-old Violet and eight-year-old Harper.
Song: "Torete"
Artist: Moira Dela Torre
Moira Dela Torre's own take on the Moonstar88 original "Torete" opens with delicate piano and violin, followed by acoustic guitar. The cover is made more unique by the singer's soulful vocals.
Fun fact: This version is the official soundtrack for Julia Barretto and Joshua Garcia's movie, Love You to the Stars and Back, directed by Antoinette Jadaone.
Song: "Run For Cover"
Artist: The Killers 
The Killers' upbeat rock tune, "Run For Cover," is nothing short of delightful with its electronic touch and danceable arrangement. The radio-friendly song features an explosive chorus and is basically everything you would expect a Killers track to be.
Fun fact: The song is the second single from the band's forthcoming fifth studio album, Wonderful Wonderful, which drops on September 22.
Song: "Smoke"
Artist: Keiko Necesario
This newly penned track was recently shared on the singer-songwriter's Facebook page. Keiko Necesario flawlessly delivers the acoustic ballad with her trusty acoustic guitar and raw vocals. Watch the video and see her talent at work.
Fun fact: Necesario crowdsourced ideas for the song title, and "Smoke" was the winning suggestion by fellow musician Vin Dancel.
Song: "Sky Walker"
Artists: Miguel feat. Travis Scott
Singer-songwriter Miguel teamed up with rapper Travis Scott to produce "Sky Walker," a dreamy celebratory track featuring the former's effortless vocals and the latter's spot-on verses. The trap-inspired hip-hop number is a must for your next long drive or house party.
ADVERTISEMENT - CONTINUE READING BELOW
Fun fact: Miguel and Scott had previously worked together for the track "Waves."
Song: "Take Me Down"
Artist: Mr. Bones and the Boneyard Circus
The local act's newest single shows us what "rock horror" is all about. The darkness, mystery, and theatrics that the band is known for are all captured in this high-energy number.
Fun fact: The music video for "Take Me Down" was recently launched at 19 East.
Song: "Day I Die"
Artist: The National
American indie rock band The National is out with the fourth single from their forthcoming album, Sleep Well Beast. "Day I Die" is another masterpiece by the group, with a few things that truly stand out: Matt Berninger's melancholic vocals, Bryan Devendorf's drums, and the cathartic guitar riff.
Fun fact: The music video for "Day I Die" was directed by Casey Reas and features over five thousand time-lapse images captured by photographer Graham MacIndoe during The National's practice sessions.
Song: "Don't Be Shy"
Artist: Rob & The Hitmen
Need some pick-me-up music? We suggest Rob & The Hitmen's new, funk-pop track. The danceable melodies, electronic touches, and overall playful feel of the song are sure to get you in a good mood.
Fun fact: Rob Sugue, Earl Garcia, Miguel Cid, and Jiggy Ilagan make up the band.
Load More Stories