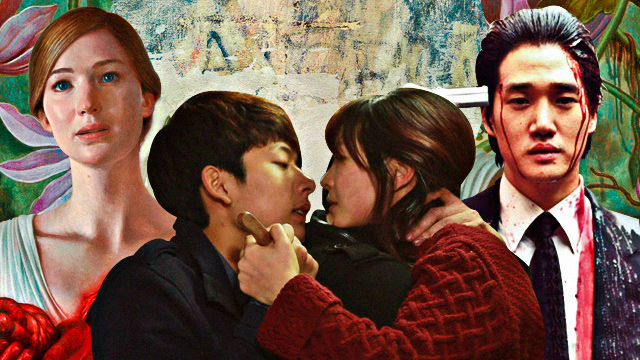 (SPOT.ph) When we first set out to make a list of 10 of the most disturbing films that you should totally see, we discovered that there is no shortage of upsetting, spine-chilling, and distressing films out there for you to "enjoy." (If you dare, that is.)
Whether it be a cannibalistic cult or just a messed-up family in an even more messed-up home, the 10 films below are just some of the most controversial and divisive titles in cinematic history. Are you ready to give them a shot?
10. Kill List (2011)
Directed by: Ben Wheatley
In Ben Wheatley's dark and twist-filled film, a soldier named Jay (Neil Maskell) returns from duty and becomes a hitman. Given a "kill list" by a mysterious client, he goes on his way to kill the three people on the said list. What follows is a brutal 90 minutes of dismembered limbs, disembowelment, human sacrifice, sickening murders, and a horrifying ending that will have you questioning your choices.
9. mother! (2017)
Directed by: Darren Aronofsky
Darren Aronofsky's latest film has made headlines for being controversial and polarizing. Outrageous and audacious, it commits to the crazy and doesn't take its foot off the pedal once it gets going. Jennifer Lawrence and Javier Bardem star as a couple living in the middle of nowhere until unwanted houseguests arrive to disrupt their lives. Full of religious and spiritual symbolism, as well as trademark-distressing Aronofsky imagery (including an unforgettable scene featuring a newborn baby), mother! is a film that you have to see to believe.
ADVERTISEMENT - CONTINUE READING BELOW
8. Moebius (2013)
Directed by: Kim Ki-duk
South Korean director Kim Ki-duk is no stranger to the genre. His symbolism-filled arthouse approach to taboo subject matter is always filled with tons of explicit sex and violence, with films like Pieta, The Isle and The Bow. In Moebius, Kim tackles themes of sexual abuse, satisfaction, and infidelity in this haunting tale about a woman driven mad by her cheating husband—so mad that she castrates her own son. It's a nasty piece of cinema that was so disturbing that in its first cut, it was restricted from ever screening in South Korean theaters (a shorter, re-cut version eventually did). The film recently made headlines again, as Kim has been accused of maltreating an actress who eventually dropped out of the film.
7. Irreversible (2002)
Directed by: Gaspar Noe
Think of this experimental French drama as Memento, but far, far more difficult to watch—or even stomach. Events unfold over a single night in reverse-chronological order, and follows two men (Vincent Cassel and Albert Dupontel) as they avenge a brutally raped girlfriend (Monica Bellucci). There are plenty of cringe-inducing scenes, but its most infamous and unbearably violent sequence is the 11-minute rape scene that makes Irreversible one of the most controversial films in cinematic history.
6. Cannibal Holocaust (1980)
Directed by: Ruggero Deodato
This insanely gruesome Italian flick is one of the most tortuous films of all time, so morbid and brutal that it would make you want to wash your eyes out after seeing it. With a title like Cannibal Holocaust, it's not hard to imagine what it's about: During a trip to the Amazon, a professor discovers the lost footage of a missing documentary film crew. The grand-daddy of found-footage horrors that became famous decades later (think Blair Witch Project and Paranormal Activity), Holocaust was so horrifyingly realistic that the filmmakers were taken to court to prove that nothing in the film was real.
ADVERTISEMENT - CONTINUE READING BELOW
5. Dogtooth (2009)
Directed by: Yorgos Lanthimos
Abuse, incest, and troublesome familial relationships are delivered in the most deadpan manner by Greek director Yorgos Lanthimos. Dogtooth takes place within a house where a controlling married couple have kept their children within their sprawling house, ignorant of the outside world. Their only regular visitor is a woman named Christina, an employee hired to relieve the son of his sexual urges. Beyond that disturbing idea, the central family is so unsettling that it'll be hard to shake this movie off after you've seen it.
4. Salò, or the 120 Days of Sodom (1975)
Directed by: Pier Paolo Pasolini
Salò is about a group of wealthy Italians who kidnap 18 teenagers and subject them to brutal, almost vomit-inducing sexual, mental, and physical torture. Scene after scene of hard-to-watch sadism takes place in Pier Paolo Pasolini's film, which is still banned in several countries even today. With loads of horrific violence and nudity—some of the cast were even disturbingly depicted as minors—the perverse and shocking film remains controversial to this day, but has been lauded for its filmmaking excellence by historians and critics alike.
3. Raw (2016)
Directed by: Julia Ducournau
A vegetarian is seduced into joining a sorority; during a hazing ritual, she is forced to eat raw meat for the first time as she attempts to fit into this weird but enticing cult of people. Soon, she begins to develop an uncontrollable taste for raw meat. Filled with plenty of stomach-churning gore, Raw is a brutal display of cannibalism that still manages to be visually well-crafted. The film was reportedly so intense that during its first screenings, people were said to have been escorted out by paramedics.
ADVERTISEMENT - CONTINUE READING BELOW
2. Oldboy (2003)
Directed by: Park Chan-wook
Perhaps the most recognizable title on this list, Oldboy is a twisted and incredible film that has challenged viewers for years. This brilliant but brutal story of revenge is unrelentingly violent, as it revolves around a man who has been imprisoned for 15 years. He is mysteriously released and he seeks out to find his captors, only to get caught up in a disturbing web of lies and shocking plot twists. Masterfully directed by South Korean auteur Park Chan-wook, Oldboy surprisingly leaves you wanting more even after it makes you sit through some genuinely horrifying imagery.
1. A Serbian Film (2010)
Directed by: Srdan Spasojevic
A Serbian Film isn't exactly a "good" movie, but it's perfect if you're just looking for something that will make you want to curl up into a ball and forget the world because of the horror you just went through. It centers on an aging porn star who chooses to do an "art film" without knowing that it's actually a snuff film (a movie where someone is actually murdered on-screen) with horrible themes like necrophilia. This is the type of movie that will make you feel so gross and dirty, you'd want to take 10 showers after.
Share this story with your friends!
---
Help us make Spot.ph better!
Take the short survey
Load More Stories