10 Stephen King Films Every Movie Buff Needs to See
Creepy clowns, haunted hotels, and a fantastic prison movie.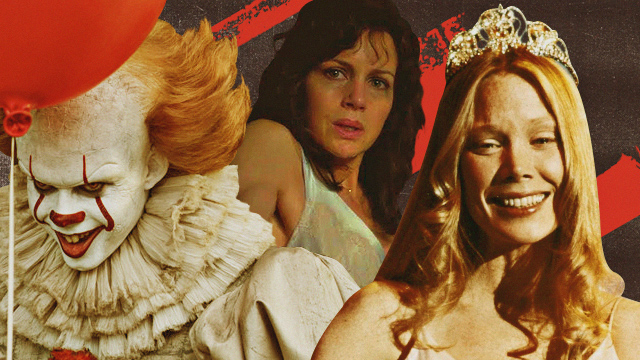 (SPOT.ph) Even if you aren't the biggest reader, the name "Stephen King" will ring a bell—even conjure some of the most nightmare-inducing movies you've seen from your childhood. More recently, however, there has been a "Stephen King" renaissance of sorts, with stories like The Dark Tower and 1922 being adapted into movies. Even the TV landscape is filled with his work, from the currently airing The Mist to homages like Stranger Things.
We decided to look back at the many, many movies over the decades that have brought his books to life and narrowed the list down to the very best ones. You'll definitely sleep with the lights on or even be pleasantly surprised; either way, these titles are a must-see for any movie fan—even if you don't like horror.
It (2017)
Directed by: Andres Muschietti
One of the most recognizable Stephen King works to date, the 1986 novel spanned over a thousand pages and unfolds over the course of two time periods. The book was first adapted into a 1990 miniseries, which was praised by critics and audiences alike. So the pressure was naturally on for the 2017 adaptation, which stars Bill Skarsgard as the shape-shifting clown, alongside Finn Wolfhard, Sophia Lillis, Jaeden Lieberher, and more as the group of outcasts that Pennywise haunts. Considered one of the most faithful adaptations of King's books yet, It is now hailed as the highest-grossing R-rated horror movie of all time, as well as the second highest-grossing horror next to The Sixth Sense. A sequel, which will feature the characters as adults, is slated for 2019.
ADVERTISEMENT - CONTINUE READING BELOW
Misery (1990)
Directed by: Rob Reiner
Kathy Bates took home the Best Actress trophy from the Oscars for a very good—and terrifying—reason. In this 1990 movie, she plays a former nurse who saves her favorite novelist (James Caan) after a serious car crash. She brings him to an isolated cabin to recover, where her obsession takes a seriously dark and twisted turn. Despite a remarkably small cast and just one setting, Misery's claustrophobic and genuinely chilling frights still stand the test of time, even today.
The Shining (1980)
Directed by: Stanley Kubrick
Based on the 1977 novel, The Shining tells the story of Jack (Jack Nicholson), who heads to an isolated hotel with his family to work as a caretaker over the winter. There, terrifying spirits reside and influence Jack into horrific violence, while his psychic son (Danny Lloyd) has visions of the hotel's bloody past. Despite King's infamous dislike of the admittedly unfaithful adaptation, it's still widely considered a must-watch for horror fans and avid movie buffs alike.
CONTINUE READING BELOW
Recommended Videos
Stand By Me (1986)
Directed by: Rob Reiner
King's extensive repertoire of stories isn't just about spine-chilling horror. His 1982 short story is a classic coming-of-age tale centering on four friends (River Phoenix, Wil Wheaton, Corey Feldman, and Jerry O'Connell) who set out to find the body of a missing child. Their journey, which eventually serves as a defining moment in their young adult lives, is filled relatable teenage angst, unlikely adventures, and the kind of friendship everyone wishes they had growing up.
ADVERTISEMENT - CONTINUE READING BELOW
The Shawshank Redemption (1994)
Directed by: Frank Darabont
Look at IMDb's "Top Rated Movies" chart and you'll see this film sitting comfortably at the top with a 9.2 rating, surpassing the likes of The Godfather and The Dark Knight. That's pretty impressive for a movie with a vague title and a history of initially tanking at the box-office. Based on the novella Rita Hayworth and the Shawshank Redemption, the story revolves around a successful banker (Tim Robbins) who is wrongfully imprisoned for two consecutive life sentences. There, he befriends a fellow inmate, Red (Morgan Freeman), as they try to survive harsh prison life. It's a small-budget film with no CGI effects or action scenes and yet, it's the rare type of drama that has aged well through the decades.
Carrie (1976)
Directed by: Brian De Palma
Shield your eyes from the disappointing 2013 remake. If you really want to experience a Stephen King classic, look no further than this Oscar-nominated horror. Centering on a bullied high-school student named Carrie (Sissy Spacek) and her abusive relationship with her mother (Piper Laurie), Carrie is a little bit of everything: A tense supernatural horror, a family drama, a coming-of-age story, and an edge-of-your-seat thriller. Masterfully directed by Brian De Palma—who would later blow movie fans' minds with 1983's Scarface—this adaptation is a solid genre classic with one of the most memorable prom scenes in cinematic history.
The Mist (2007)
Directed by: Frank Darabont
After directing Stephen King non-horrors like Shawshank and The Green Mile in the '90s, Frank Darabont went on to helm the tension-filled and aptly named The Mist. A sleepy town in Maine falls into total chaos when a mysteriously thick fog descends upon its residents. A group of ordinary folks is trapped in a grocery store as they try to survive the creatures hiding in the fog—and each other. In true King fashion, the horror is less about the supernatural and more about the people around you.
ADVERTISEMENT - CONTINUE READING BELOW
Dolores Claiborne (1995)
Directed by: Taylor Hackford
Kathy Bates makes a second appearance on this list with this titular role, a housekeeper accused of violently murdering her wealthy employer (Judy Parfitt). The news eventually reaches Dolores' estranged daughter, Selena (Jennifer Jason Leigh), who tries to uncover the truth behind the accusations. Her investigation soon leads to horrifying revelations about the murder and her own childhood.
The Dead Zone (1983)
Directed by: David Cronenberg
Director David Cronenberg has built a career in the "body horror"—raw and visceral films that explore the characters' fears through physical and psychological transformation. (Think memorable movies like 1983's Videodrome or 1986's The Fly). His Stephen King adaptation is no exception. Christopher Walken plays a schoolteacher named Johnny, who awakens from a coma to discover that he can see a person's future with just a touch. When he shakes the hand of an aspiring politician, he envisions the danger and destruction he would later bring, and resolves to assassinate him.
Gerald's Game (2017)
Directed by: Mike Flanagan
If you've ever dared to read the 1992 suspense novel, then you already know you're in a for f*cked-up ride in its movie adaptation. Netflix's latest original movie stars Carla Gugino and Bruce Greenwood as a couple who drive to their secluded cabin for a romantic weekend getaway. Their attempts to spice up their relationship takes a deadly turn when she accidentally kills her husband during a kinky game. Handcuffed to the bed and with little hope of rescue, she begins hearing strange voices and seeing even stranger visions.
ADVERTISEMENT - CONTINUE READING BELOW
Share this story with your friends!
---
Help us make Spot.ph better!
Take the short survey
Load More Stories