Why Is This Drama-Free Reality Show So Addicting?
We break down why Terrace House deserves a spot on your binge-watch list.
(SPOT.ph) When you think reality shows, you think screaming matches, tearful confessions, and crazy-bordering-on-ridiculous challenges. While these tried-and-tested staples have kept audiences hooked for years (and will most likely continue to do so), there's also something to be said about understated drama. The kind that organically develops with only the subtlest of assists from the people running the show.
This is the quiet appeal of Terrace House, a Japanese reality show from 2012 rebooted by Netflix in 2015, which throws together three men and three women of varying ages and backgrounds in one gorgeous house. They're free to come and go as they please, and the camera follows them as they go to work or school (trust the Japanese to maintain social order), visit their friends and families, and of course, go on dates with each other.
They are, by no means, cut off from the outside world; they're allowed to check and post on social media as the cameras roll, they can invite whomever they want to the house, and they even have the unique perspective of seeing themselves as the rest of the world sees them when they watch aired episodes (so meta!). If they want to leave the house, they can pack up and go anytime, and their slot will be filled by a new housemate of the same gender (all straight so far). All this freedom typically not seen in reality shows allows them to move about as naturally as possible, giving audiences a real slice of life.
ADVERTISEMENT - CONTINUE READING BELOW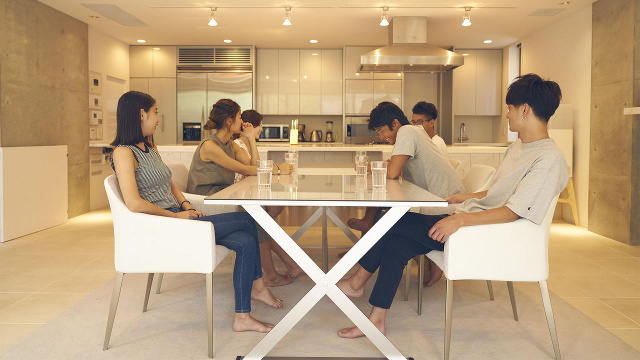 CONTINUE READING BELOW
Recommended Videos
House Dynamics
We highly recommend starting with Terrace House: Boys & Girls in the City, the series set in Tokyo that really establishes its anti-everyday reality show dynamics. It starts out slow with polite introductions—so polite that the awkwardness is palpable with the absence of upbeat music or gimmicks. A tap dancer, a hairstylist, a barista, students freelancing in different fields—these are the housemates in the first arc. Like college roommates meeting for the first time, they get a feel for their new space, call dibs on bunk beds, and surreptitiously scope out the dating scene.
Long stretches of, well, nothing happening lull you into a relaxed state of mind, giving you time to properly invest in their lives. This pace makes the audience attuned to tiny ripples of friction, from the girls finding out that they are all interested in the same guy, to a guy breaking the bro code, to a career talk that ends with a couple of people in tears. Unfailingly polite, the housemates (usually) address and resolve issues calmly using their inside voices. And when all is said and done, they are there for each other, whether it's helping each other look for job leads, build a pop-up store, or gain confidence for a public performance.
ADVERTISEMENT - CONTINUE READING BELOW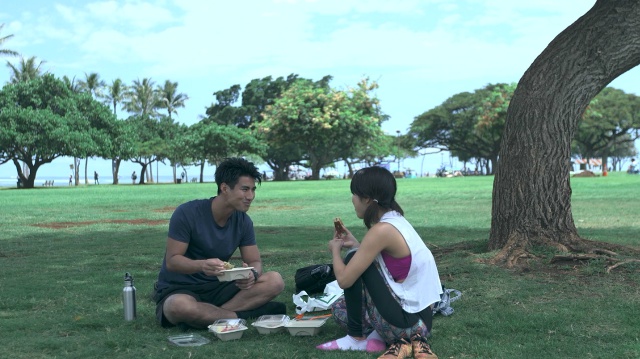 Relationships and Intimacy
Similar to the local dating scene, there's the typical courtship ritual of going out to defining the relationship to becoming an official couple. What's interesting, of course, is what happens in between those steps. For instance, there's the infamous omurice incident. One girl, frustrated by the pace of her relationship with a housemate, cooks omurice for him with the word "coward" spelled out in ketchup on top—a sweet gesture with a passive-aggressive punch that spurs the guy in question into action.
You'll also find that the Japanese take holding hands and kissing very seriously, particularly in Tokyo-set Boys & Girls in the City. For all their conservative values, they have a progressive side, too; coupled-up housemates have the option of rooming together, but any action shown on camera is strictly PG.
Food Porn
Okonomiyaki, omurice, Spam musubi, grilled steak, curry, chirashi bowls, hamburgers, rice balls, bento boxes—these are just some of the mouthwatering dishes that the housemates somehow have time to cook from scratch even on busy weeknights. You'll definitely crave whatever they're cooking, not to mention all the food that they eat so heartily when they go out.
ADVERTISEMENT - CONTINUE READING BELOW
What adds an extra layer of umami to meal prep scenes is that they are never just meal preps: it's someone trying to impress a date, it's a group effort for a farewell dinner, it's the boiling point of a couple's simmering fight (see: The Meat Incident in episode 22).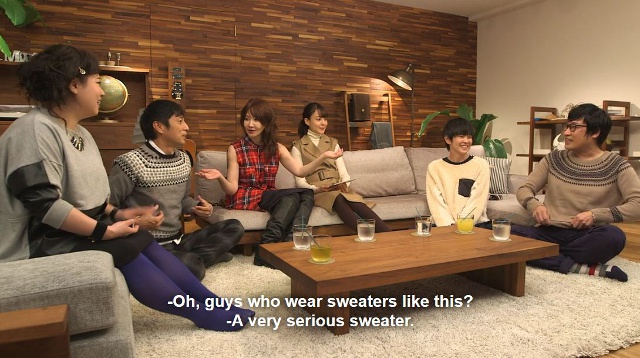 Notes From the Panel
Cutting through the relaxed pace of the show are intermittent breaks to commentators who help you unpack each episode. The panel's varying ages, backgrounds, and degrees of conservativeness and #thirst, make for hilarious and insightful discussions. They help viewers make sense of the housemates' actions, explaining the nuances and meanings that might escape those who are not familiar with Japanese culture.
Who's Who
To talk about fan-favorite housemates would be to spoil what made them so endearing (and whom they ended up with, if any!), so here's a sneak peek of the colorful personalities you'll meet in both the Tokyo- and Hawaii-set series.
ADVERTISEMENT - CONTINUE READING BELOW
Mizuki Shida
When the sweet, kawaii barista from Boys & Girls in the City left the house, her place of work became a sort of pilgrimage for fans of the show. It's where Up Dharma Down's management was able to get in touch with her in the hopes of casting her in their latest music video, "Sigurado." Apparently, there were plans to ask another Terrace House member to appear in the music video, but when it didn't pan out, they changed the concept to the kilig first-person POV of a date with Mizuki.
Yuto Handa
The architect and designer always has kind and wise words to share with fellow housemates in Boys & Girls in the City. He's the voice of reason in the midst of some of the tense moments in the house. Interestingly enough, he's the only member who joined Terrace House while he was in a relationship.
Lauren Tsai
You'll relate to the awkwardness of the 19-year-old model, whose illustrations and effortless cool girl vibe have made her one of the most famous members from Aloha State.
Arman Bitaraf
The Hawaii-raised aspiring firefighter joins the Tokyo gang about a quarter into Boys & Girls in the City. Throughout his stay (and even beyond), he acts as an anchor for both his fellow housemates and the audience.
Chikako Fukuyama
Still carrying baggage from her recent divorce, the spa receptionist becomes the center of some of the most dramatic and romantic moments in the house.
ADVERTISEMENT - CONTINUE READING BELOW
Taishi Tamaki
The aspiring Hollywood actor enters the house with one goal: "To find a love worth dying for." There's no trace of irony and nothing lost in translation in his bold statement—the panelists even made merch for his quest! You'll have to finish Aloha State (or click on his Instagram for spoilers) to see if he did find that love worth dying for.
Terrace House is available for streaming on Netflix.
Your guide to thriving in
this
strange new world.
Share this story with your friends!
---
Help us make Spot.ph better!
Take the short survey
Load More Stories