(SPOT.ph) At this point, we are deep into the Marvel Cinematic Universe's Phase Three (which began with Captain America: Civil War, with Thor: Ragnarok being the third Marvel Cinematic Universe (MCU) film this year already, following Guardians of the Galaxy Vol. 2 and the Spidey reboot Spider-Man: Homecoming. You'd think there would be Marvel fatigue by now, but Thor: Ragnarok is the perfect film to end MCU's year. It's a bright and exciting film that set out to be the funniest MCU movie ever...and it largely succeeds.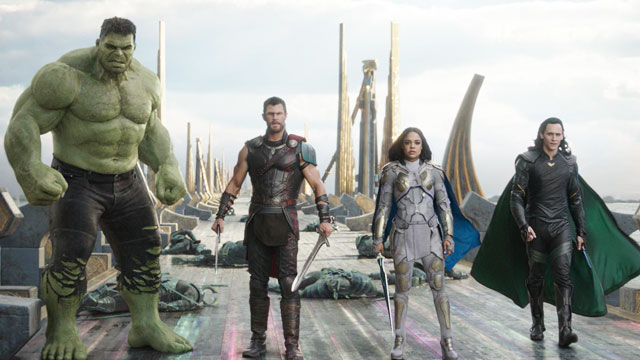 Unlike Guardians which finds humor in the weird and wild, Ragnarok is a bit more subtle, dry, and witty. The first two Thor movies aren't great, bogged down by layers of mythology, characters who are hard to connect with, and bland family drama. Thor: Ragnarok breaks through that creative wall, making for not only the most entertaining and funniest Thor film to date, but the best one.
ADVERTISEMENT - CONTINUE READING BELOW
We last saw Thor (Chris Hemsworth) in Avengers: Age of Ultron where he left earth to try and find out more about an oncoming destruction and the all-important plot device Infinity Stones, so it's been a while. Missing the Iron Man vs. Captain America battles in Civil War, the God of Thunder was on his own mission. When he returns to his home in Asgard, Thor confronts his brother Loki (Tom Hiddleston, back for another round as the God of Mischief), who had been ruling Asgard disguised as their father Odin (Anthony Hopkins). The two brothers search for their father after he'd been exiled by Loki after Loki faked his death in The Dark World.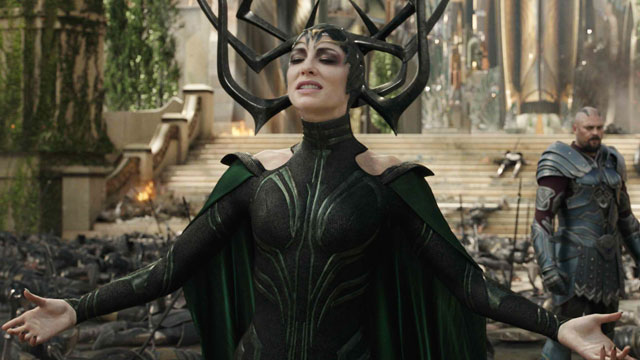 As Thor and Loki go off on an adventure in the galaxy, new villain Hela (a deliciously evil Cate Blanchett) comes to take Asgard for herself. Thor and Loki try to get back to Asgard, but along the way cross paths with the quirky, psychotic Grandmaster (Jeff Goldblum in a terrific Goldblum role), the Valkyrie (Tessa Thompson), and Thor's friend from work, the Hulk/Bruce Banner (Mark Ruffalo). The band of Revengers looks to take Asgard back from the hands of Hela, and to prevent Ragnarok, which means a different thing here, but for our characters, it's the end of Asgard's world.
CONTINUE READING BELOW
Recommended Videos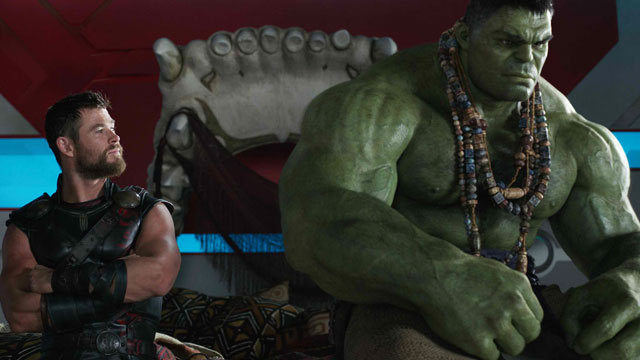 What sets Thor: Ragnarok apart from all previous Thor films is its humor. With New Zealand director Taika Waititi behind the wheel, it was sure to be a more comedic affair. Waititi's previous films like What We Do in the Shadows, Boy, and Hunt for the Wilderpeople are filled with sharp wit, wry observational and character-driven comedy, and Thor: Ragnarok is no different. Hemsworth gets to show off his great comedic talent in spades, which we first got to really see in the Vacation and Ghostbusters reboot. There are jokes upon jokes and jokes, skits, silly character interactions, and more from everyone and everything, and it's such a joy. Throughout the film, there are laughs like no other MCU film has done before—not Iron Man, not Guardians—this is a straight-up comedy and it's wonderfully weird and absurd.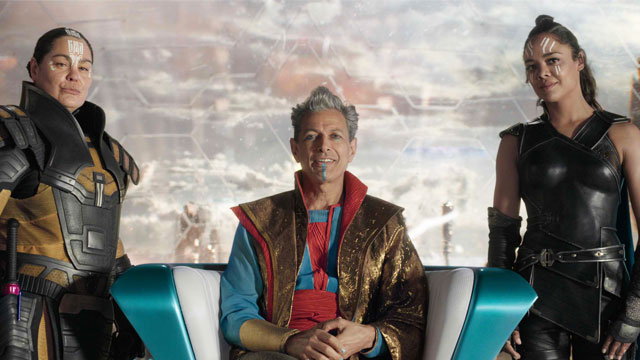 ADVERTISEMENT - CONTINUE READING BELOW
The funniest bits are more character-related, with the likes of Thor and Loki, or Thor and Hulk, or Thor, Hulk and Valkyrie bouncing off each other with such hilariously infectious energy. Sometimes the comedy goes very old school, with some slapstick bits and jokes you know are coming (there's a  "Get help!" bit late in the film is such an old joke but it's so perfectly used), but because of how they're set up, how the world is, and how they're placed within this superhero Marvel world, it works, and elicits the biggest laughs.
Everyone in the cast brings their A-game. This is Hemsworth's best Thor outing yet, and Hiddleston brings an older, less maniacal Loki into the mix—more of a scavenger at this point, just trying to get by and have fun as he too seems tired of his old tricks. Ruffalo as the Hulk/Banner gets to play around more than usual, with a grumpy child-like demeanor in Hulk and a confused, Woody Allen-esque jittery act as Banner. There's also Idris Elba making a return as the all-seeing Heimdall and Hopkins as Odin who both do what they can with little material.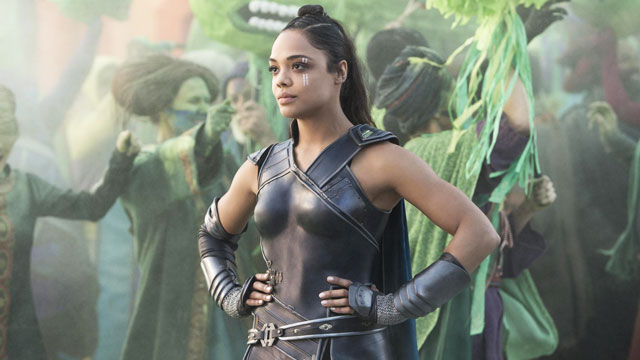 ADVERTISEMENT - CONTINUE READING BELOW
Of the new characters, Karl Urban's Skurge, an Asgardian torn between serving Hela or saving his people, has the most complete storyline, and Urban is pretty fantastic in it. The godly Blanchett is delightful as the cruel Hela, despite being saddled with another one-note villain and bad villain-dialogue like "I will destroy you!" and "Kneel before your queen!" Goldblum is as Goldblum as he can be as the weird Grandmaster. Waititi has a small mo-cap role as Korg, a friendly and kind but powerful alien that Thor meets along the way. Finally, there's Tessa Thompson's Valkyrie, who really shines whenever she's on screen. Thompson, who you may recognize from Creed among other things, is a rising star, and her work here as the hard-drinking, ass-kicking, take-no-prisoners Valkyrie is, for lack of a better word, a marvel. The way she saunters in to destroy a bunch of bad guys is applause-worthy, and then she gets to even show off some of her comedic talents playing off Ruffalo and Hemsworth.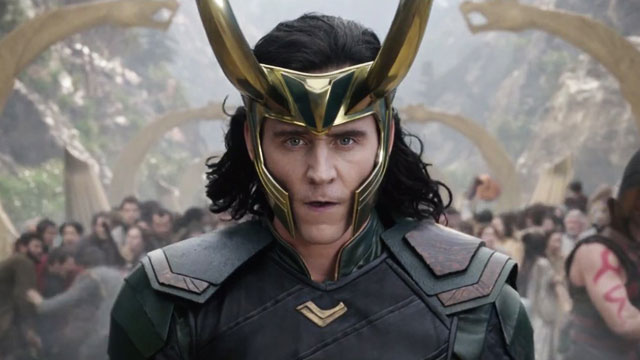 ADVERTISEMENT - CONTINUE READING BELOW
The story's cosmic world is a wacky, colorful place, most of which takes place on Asgard and the Grandmaster's junk-filled home planet Sakaar, and as with all Marvel films, the craftsmanship on the props, the sets, the costumes, the make-up, and the CGI is top shelf. Ragnarok isn't the prettiest or most eye-catching of MCU films, but it's well-made and striking nonetheless. Of course, this is still a Marvel film, and worse than that, a Thor film, so behind all the laughs is still the need to go through some bland family drama and mythology, and cliché hero-versus-villain dialogue. When the film moves away from the characters to deliver some heavy exposition, its almost as if Waititi and co. are just trying to get it out. The more tragic, heavier moments are done with a steady hand, and a smart use of silence.
Thor: Ragnarok succeeds in making the world laugh. This is MCU's funniest film to date, and it saves the Thor series from being a less interesting, less fun section of the MCU. This isn't all funny—there's great action, great characters, and some very heartfelt beats about trust, family, and friendship. Ragnarok may not have the heftiest of storylines or the most affecting of dramas, but it's ready to entertain and make you laugh, and bring joy to a dark world.
RATING: 4.5 out of 5 spots
Thor: Ragnarok is now showing in cinemas nationwide. Photos courtesy of Marvel Studios.
Share this story with your friends!
---
Help us make Spot.ph better!
Take the short survey
Load More Stories