10 Song Covers That Will Get You Into the Christmas Spirit
LSS season is upon us.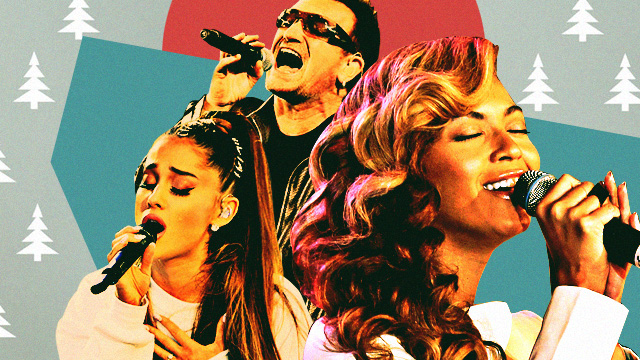 (SPOT.ph) It's finally time to swap scary masks with reindeer headbands, trendy costumes with a timeless Santa belly, and gory props with shiny Christmas decor. The spookiest time of the year is over and that means the holiday season is about to be in full-swing a.k.a. Jose Mari Chan songs playing nonstop on the radio. In anticipation of you getting LSS to the many songs that will be on repeat from now until the end of the year, we round up 10 songs covered by some of your favorite artists that will get you in the Christmas spirit.
ADVERTISEMENT - CONTINUE READING BELOW
"Have Yourself A Merry Little Christmas" by Sam Smith
Originally sung by: Judy Garland
You don't need to listen to Sam Smith's new single to know that he's got the perfect voice for a slow but steady tune. His soulful rendition of "Have Yourself a Merry Little Christmas" seems like it's best paired with a cup of hot chocolate while reading a book during your well-deserved holiday break.
"Little Drummer Boy" by Pentatonix
Originally sung by: Trapp Family Singers
Originally entitled "Carol of the Drums," the song with Czech origins has already been covered by a number of artists like Johnny Cash, Stevie Wonder, Jimi Hendrix, The Jackson 5, and Boyz II Men to name a few. But what's impressive about Pentatonix's version is the irony of singing "Little Drummer Boy" without a drum. Being an a cappella group, they sang the carol without accompaniments and used only harmonies of their voices.
ADVERTISEMENT - CONTINUE READING BELOW
"Ave Maria" by Beyoncé
Composed by: Franz Schubert
While it's not specifically a Christmas song, "Ave Maria" is still usually performed on religious occasions. In Beyoncé's heartfelt live performance of the song during a Christmas show, she sings about wanting to be with a significant other and being in love despite being apart from each other.
"Last Christmas" by Ariana Grande
Originally sung by: Wham!
The holidays are all about spending quality time with all of your loved ones. But of course, this song is here to remind you that about the sawi, hugot-filled ones who'll be having a cold Christmas. Grande's upbeat take on the song will have you dancing—instead of crying—your heart out.
"Baby It's Cold Outside" by Lady Gaga and Joseph Gordon-Levitt
Composed by: Frank Loesser
This unlikely duo made up of one of pop's most-known artists and one of Hollywood's leading men was formed for a holiday special of the Muppets. They performed the conversational song (where usually it's the man asks the woman to stay and not go home) with the roles reversed. It's Gaga asking Gordon-Levitt to stay behind and spend the night, resulting in a memorable and amusing cover.
ADVERTISEMENT - CONTINUE READING BELOW
"Let It Snow" by Michael Bublé
Originally sung by: Vaughn Monroe
Fun fact: This song isn't even supposed to be a Christmas song. It was written when lyricist Sammy Cahn and composer Jule Styne were suffering from a heat wave in California back in 1945. They were literally begging for it to snow. It was then recorded by baritone singer Vaughn Monroe and it's been covered by a lot of artists since. Michael Bublé's jazzy deep voice makes his version of the song just as timeless.
"O Holy Night" by John Legend
Composed by: Adolphe Adam
John Legend is known for his musical prowess and his wonderful voice. That's why even if he's only accompanied by a piano in his cover of "O Holy Night," he doesn't fail to bring forth the emotion and soul of the classic song.
"Christmas (Baby, Please Come Home)" by U2
ADVERTISEMENT - CONTINUE READING BELOW
Originally sung by: Darlene Love
There are some covers that find the right balance between being different from the original but still similar enough to make you feel familiar with the song. This cover by U2 is one of those. The song was actually recorded during a soundcheck in Glasgow during their tour back in 1987. Darlene Love, the original singer, even sang backup vocals.
"All I Want for Christmas Is You" by Fifth Harmony
Originally sung by: Mariah Carey
Back when there were still five members in girl-group Fifth Harmony, they covered Mariah Carey's ultra-famous modern classic. They released it as part of the Christmas EP in 2014. Their version doesn't stray very far from the original, but the contrast and harmony of their five voices are a notable difference.
"Do They Know It's Christmas?" by Band Aid 30
Originally sung by: Band Aid
This song was originally written and composed as a charity record raising money for the famine in Ethiopia back in the '80s. The composers put together a supergroup of artists including Bono, Phil Collins, George Michael, and Sting, to perform the song. A new group of artists was once again tapped to record a 2014 version of the song to raise money for the Ebola crisis. Artists included Chris Martin, Ed Sheeran, Sam Smith, One Direction, Rita Ora, and much more.
ADVERTISEMENT - CONTINUE READING BELOW
Recommended Videos
Load More Stories