10 New Songs to Add to Your Playlist This November
This month, we suggest the freshest from Taylor Swift, Sam Smith, St. Vincent, and more!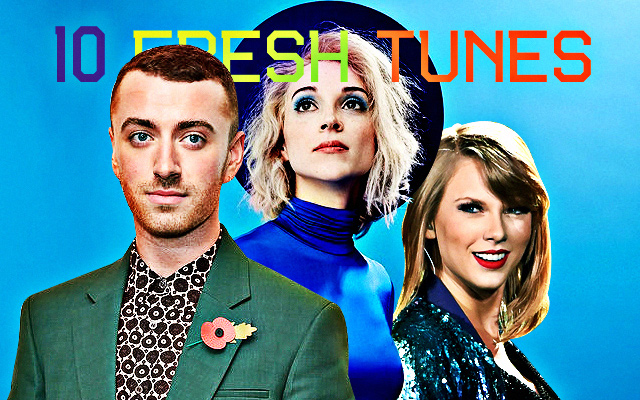 (SPOT.ph) The end of the year isn't falling short on bringing us some fresh tunes. For this month's playlist suggestions, we bring you Taylor Swift's subdued love song, Sam Smith's tender ballad, St. Vincent's dark yet playful track, Phoenix's funky single, and MGMT's goth-inspired offering. We also have surefire hits courtesy of local acts UDD, Ben&Ben, Lions and Acrobats, IV Of Spades, and Maude. Happy listening, Spotters!
Song: "Call It What You Want"
Artist: Taylor Swift
Taylor Swift continues to tease her forthcoming album with the release of her fourth single, "Call It What You Want." Swift slows down things in this relaxed, electro-pop love song. The gentle track, with its saccharine lyrics, is a sweet break from the aggressive singles earlier released by the pop star.
Fun fact: Reputation, Swift's new album, is due for release on November 10.
Song: "Sigurado"
Artist: UDD
In "Sigurado," UDD tackles love in a more lighthearted mood. The tune is a brighter and funkier sound for the band, and it could be a sign of what to expect on their fourth album. The single was also inspired by Japanese city pop from the '70s and '80s.
ADVERTISEMENT - CONTINUE READING BELOW
Fun fact: The music video for the song was filmed in Tokyo and stars Terrace House actress Mizuki Shida.
Song: "Burning"
Artist: Sam Smith
Sam Smith opens the third single off his The Thrill of It All record with a flawless acapella verse, followed by a divine piano melody. Smith delivers another poignant track and captures heartbreak through his powerful vocals and honest songwriting.
Fun fact: In an interview with BBC Radio 1, Smith admitted that "Burning" is his favorite track from the new record and called it "the most personal song" he's ever written in his life.
Song: "Maybe the Night"
Artist: Ben&Ben
One of today's fastest-rising local acts is out with a new single. "Maybe the Night" is a heartfelt love song that, although insanely sweet, doesn't get overly sappy. This one can easily become your new favorite.
Fun fact: Ben&Ben, formerly known as The Benjamins, was formed in 2015.
Song: "Pills"
Artist: St. Vincent
The third track from St. Vincent's Masseduction is a playful number with a rather sinister theme. "Pills" features heavy percussion paired with rich synths, but this fun sound transforms into a slow ballad toward the end. Watch for the soulful saxophone courtesy of Kamasi Washington.
Fun fact: The song includes backing vocals from Jenny Lewis and Cara Delevingne.
Song: "Cloud"
Artist: Lions and Acrobats
Lions and Acrobats just released their music video for "Cloud." The first single off their new record is a mid-tempo rock ballad that climaxes in an explosive, guitar-led chorus toward the song's final minute.
ADVERTISEMENT - CONTINUE READING BELOW
Fun fact: Lions and Acrobats' new, 11-track record titled Mundane is now available on Spotify.
Song: "Ti Amo"
Artist: Phoenix
The title track off Phoenix's latest record is a glossy pop tune meant to make you dance. The retro feel adds to the appeal of this indie-pop gem. But don't be fooled by its sugary sound: "Ti Amo" speaks of unrequited love and unreciprocated desire.
Fun fact: Ti Amo is Phoenix's sixth album.
Song: "Where Have You Been, My Disco?"
Artist: IV Of Spades
Indie-funk band IV Of Spades is bringing freshness to the local music scene with their new single. In "Where Have You Been, My Disco?" the group delivers funky disco beats complete with falsetto vocals that are impossible to resist.
Fun fact: IV Of Spades members include Badjao De Castro, Blaster Silonga, Unique Salonga, and Zild Benitez.
Song: "Little Dark Age"
Artist: MGMT
MGMT is back with a slightly different sound. In "Little Dark Age," the duo's bright synths are replaced with goth pop and brooding melodies. The end of the track allows us to indulge a little bit as the lyrics give way to the groovy electronic melody.
Fun fact: The electronic-pop duo's long-awaited fourth album is set to arrive in early 2018.
Song: "Cloud Nine"
Artist: Maude
Maude's "Cloud Nine" is a smooth listen, despite its gloomy lyrics. Luis Azcona's cool vocals glide throughout the guitar-heavy tune, which ends with a solid instrumental. 
Fun fact: "Cloud Nine" is off the band's upcoming second studio album.
ADVERTISEMENT - CONTINUE READING BELOW
Load More Stories