(SPOT.ph) They say you never forget your first—your first love, your first heartbreak, your first time, your first anything. A first love can be the most obvious and straightforward or the most baffling and complicated, or, as is the case of the two lovers in the genuine and complex Call Me By Your Name, it can be a wonderfully messy combination of both. Luca Guadagnino's film adaptation of André Aciman's novel brilliantly and beautifully captures the aches of first love, lust, and heartbreak.
During the summer of 1983 in Northern Italy, 17-year old American-French-Italian Elio (Chalamet) spends his days reading books, hanging out with his friends, swimming, and biking around this old Italian countryside. Breaking this idyllic summer is the arrival of an American named Oliver (Armie Hammer), a student who is spending six weeks with their family to train and help Elio's father (Michael Stuhlbarg) with some of his academic paperwork.
ADVERTISEMENT - CONTINUE READING BELOW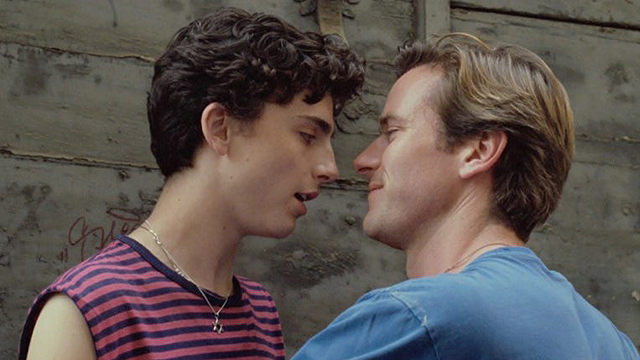 While finding Oliver unlikable at first, Elio starts to spend more time with him as they swim, dance, and bike through the gorgeous sunlit Italian summer. The two begin to become more drawn to each other, despite Elio starting a sexual relationship with Marzia (Esther Garrel). Elio and Oliver explore their relationship more and more, and as the weeks go on, their love starts to blossom.
ADVERTISEMENT - CONTINUE READING BELOW
Recommended Videos
Director Guadagnino and screenwriter James Ivory only adapt one part of the novel, but they do not disappoint nor does it feel like they don't tell a complete story. Running at just over two hours, we're shown this natural growth of attraction between Elio and Oliver; even better, it's done in a way that's not exploitative, explicit, predatory, or boring, no matter how delicately paced it is. Instead, we're treated to an intoxicating tale of first love, one that feels incredibly genuine and truthful to what it feels like to be in love. It goes without saying that it's also an honest look at a young man discovering strong feelings for another man.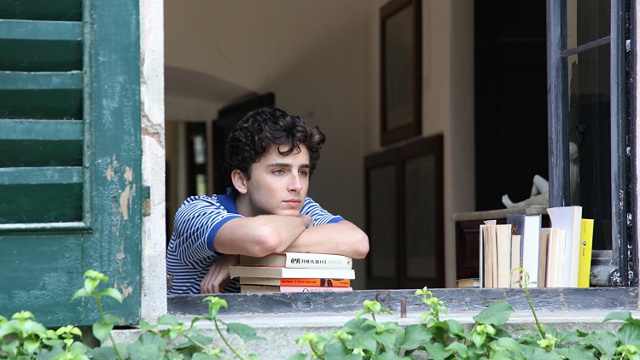 ADVERTISEMENT - CONTINUE READING BELOW
Central to this whole film is the young Timothée Chalamet. This young actor has been working for a few years, and you may have seen him in films like Christopher Nolan's Interstellar (but you may want to check out his performance in the wonderful little film Miss Stevens) or on TV's Homeland. He most definitely gets his big breakout moment here. Displaying an array of talents like speaking three languages (English, French, Italian), playing guitar and piano, and of course acting the heck out of playing Elio, Chalamet has a bright future ahead. Manic yet charming, and playing the romantic, comedic, and dramatic parts ever so perfectly, Chalamet embodies not just Elio, but someone so in love that he doesn't really know what to do with all the energy in his body.
Alongside Chalamet is The Social Network's Armie Hammer, who's an excellent part of Elio's coming-of-age story. Tall and muscular, he dwarfs the thin and lithe Chalamet, but their chemistry is undeniable, and it works almost surprisingly well. More steady and assured, Hammer's Oliver is a perfect companion to Elio. Also wonderful is Michael Stuhlbarg, who plays Elio's father. He spends most of the film on the sidelines, but when he gets to play his major parts in the story, his scene will genuinely make your heart ache.
ADVERTISEMENT - CONTINUE READING BELOW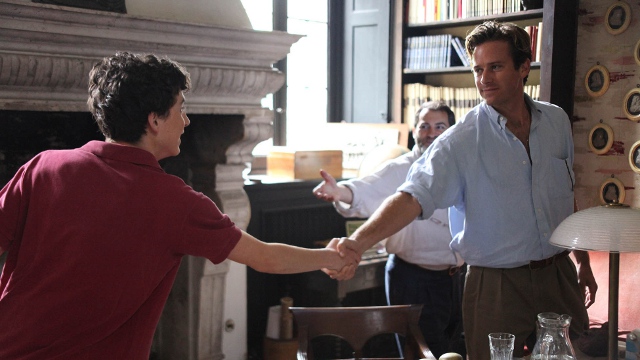 Call Me By Your Name is part of Guadagnino's "Desire" trilogy, which also includes the two Tilda Swinton-starring films I Am Love and A Bigger Splash, and while those two are decadent and gorgeous, the storytelling and emotion really come together in his latest effort. Keeping us right in the middle of Elio and Oliver's love story, whether while the sun is beating down, or the two are meeting in the dark at midnight, everything is done with care, respect and understanding. Nothing about his direction seems intrusive: It simply showcases the delights and torment of sex and love. Even the tiniest bits, like a scene where Elio climbs out of the water and he's suddenly wearing a certain something special, makes an incredible impact. There's a five-minute close-up of Chalamet's face that is easily one of the most fantastically filmed and acted scenes of the year.
ADVERTISEMENT - CONTINUE READING BELOW
Another beautiful thing about this film is the music, both original and otherwise—done by singer-songwriter Sufjan Stevens. With classic orchestrations and the most hauntingly beautiful songs dropped into the film at the most pitch-perfect sequences (original songs "Mystery of Love" and "Visions of Gideon" are sure to be played over and over by romantics everywhere), Stevens makes an already stunning movie even better.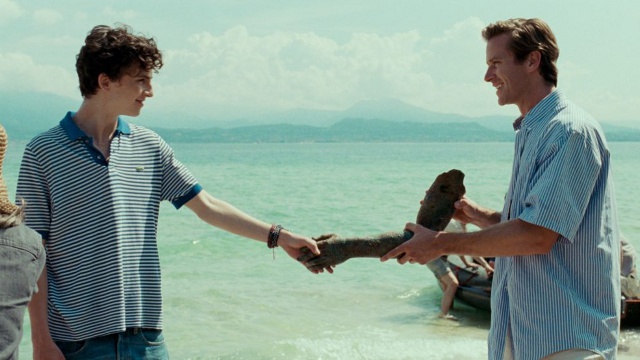 ADVERTISEMENT - CONTINUE READING BELOW
It's easy to compare this film to something like Brokeback Mountain, Moonlight, or Blue is the Warmest Color. While it does earn its place among those cinematic LGBTQ+ love stories, Call Me By Your Name is a romance and coming-of-age film done right and outside of the sexuality of its protagonists. We're deeply immersed in Elio and Oliver's summer of love and we're all the better for it because it takes us back to a time we're all too familiar with—how easy and how hard, how joyous and how painful it is to be in love.
RATING: 5 out of 5 spots
Call Me By Your Name is part of the Cinema One Originals Film Festival, which runs until November 28. Photos courtesy of Sony Pictures Classics.
Share this story with your friends!
---
Help us make Spot.ph better!
Take the short survey
Load More Stories