10 Beautiful Cinemas Around the World That You Can Actually Visit
Film buffs, add these to your bucket list.
(SPOT.ph) Going to the movies should be a great experience that goes beyond what's playing onscreen. It should be magical, as movies hope to transport you to their world. Nowadays, however, most theaters lack any sort of grandeur. Instead of good food and a genuinely fun time, we mostly get stale popcorn, sticky floors, and a seatmate who refuses to turn off their phone.
Still, there are several theaters around the world that want to make the movie-going experience special, whether with a unique theme, gorgeous design, or just great service. Below, we've compiled 10 movie theaters you can visit around the world that will make your movie experience special again.
ADVERTISEMENT - CONTINUE READING BELOW
The Castro Theatre
429 Castro Street, San Francisco, California, U.S.A.
www.castrotheatre.com
This popular movie theater is basically a historic landmark that dates all the way back to 1922. Its stunning Spanish Colonial-style facade is eye-catching even from a mile away, with a large, glowing neon sign. Walk inside and discover an elegant and breathtaking theater with an extravagantly decorated ceiling and Art Deco stylings. Floor-to-ceiling paintings adorn the walls, the floors are entirely carpeted, and the lush interiors include a main floor and balcony. In short, you're in for one of the most decadent movie-going experiences ever.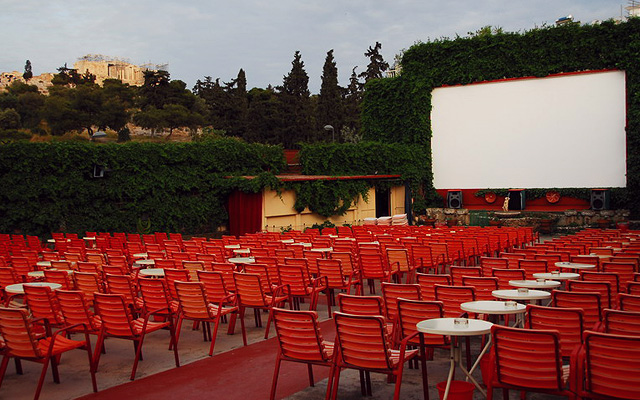 ADVERTISEMENT - CONTINUE READING BELOW
Cine Thisio
Apostolou Pavlou 7, Athina 118 51, Greece
www.cine-thisio.gr
If you ever find yourself in Greece's historic capital, head over to the stunning open-air Thision cinema. Found at the foot of the Acropolis, it's the oldest outdoor cinema in Athens. Take in the newest blockbusters or classic films under the Grecian sky, while also admiring the spectacular view of the Parthenon nearby. Though only open in the summer, this theater makes for an unforgettable experience. Pro tip: Stop by at night, and you'll fall in love with the unobstructed view of the night sky!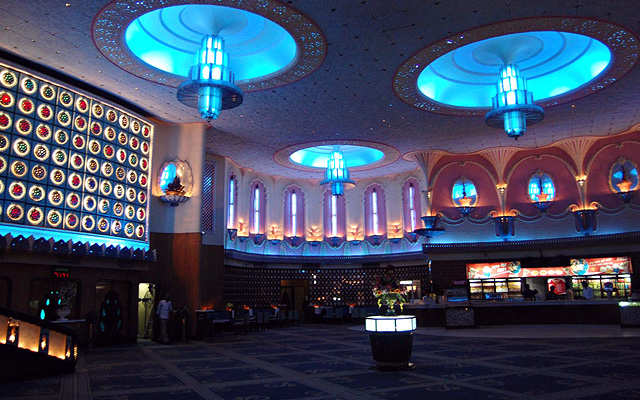 ADVERTISEMENT - CONTINUE READING BELOW
Raj Mandir Cinema Hall
C-16, Bhagwan Das Rd, C-Scheme, Panch Batti, Jaipur, Rajasthan 302001, India
www.therajmandir.com
When it was built in the mid-'70s, Shri Mehtab Chandra Golcha, the mind behind the Rajmandir, wanted a cinema hall that would be appreciated not just for screening movies, but also for its style and elegance—as if you were invited into a magnificent party in the royal palace. With its elegant interiors, elaborate architecture, and awe-inspiring chandeliers, watching a movie here really makes you feel like royalty.
ADVERTISEMENT - CONTINUE READING BELOW
Colosseum Kino
Fridtjof Nansens vei 6, 0369 Oslo, Norway
www.nyecolosseum.no
Built in 1928, the Colosseum Kino's massive and futuristic dome immediately stands out among Oslo's busy streets. This theater boasts a colorful history, including live performances from Louis Armstrong in 1953 and Billie Holiday in 1954, as well as premieres of The Sound of Music and My Fair Lady. Its cinematic experience doesn't disappoint, either: Known as the world's biggest THX auditorium, there are four cinema halls and the largest one has 978 seats!
ADVERTISEMENT - CONTINUE READING BELOW
TCL Chinese Theatre
6925 Hollywood Boulevard, Hollywood, California, U.S.A.
www.tclchinesetheatres.com
Better known as the Grauman's Chinese Theatre, this landmark on Hollywood Boulevard just overflows with cinematic history. This legendary spot has served as the site of premieres of classics like Star Wars in 1977, as well as the famous Forecourt of the Stars—home to over 200 handprints, footprints, and autographs of celebrities. The exteriors are as awe-inspiring as ever, and its theaters have been updated to keep up with modern times. Fun fact: Its luxurious IMAX theater is one of the largest in the world, and seats 932 people!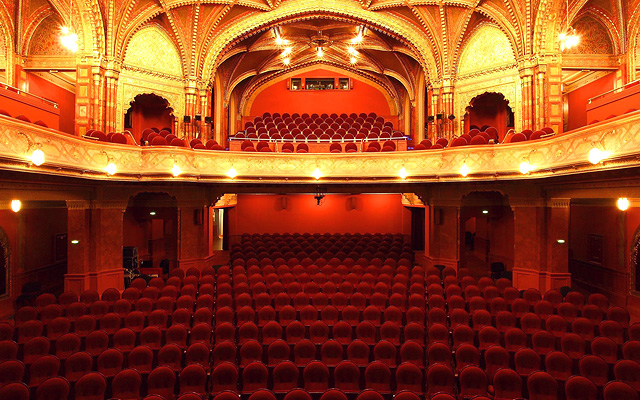 ADVERTISEMENT - CONTINUE READING BELOW
Urania National Film Theatre
Budapest, Rákóczi út 21, 1088 Hungary
www.urania-nf.hu/en
Golden, ornate, and opulent in the most stunning way, the Urania National Film Theatre looks and feels like the most elegant night you'll ever have watching a movie. Look past its unassuming facade and be prepared to take in the glorious interiors that combine Venetian and Moorish architecture. This century-old cinema was originally intended as a nightclub; today, it serves as a venue for film festivals, movie premieres, and the opera.
ADVERTISEMENT - CONTINUE READING BELOW
Cineteca Matadero
Plaza de Legazpi, Madrid, Spain
www.cinetecamadrid.com
This cinema has an unlikely history as a former slaughterhouse-turned-contemporary arts center. The Cineteca's new and restored look has an almost otherworldly feel (almost like you're in a scene from Blade Runner 2049), with surreal yellow lights that fill its hallways and theater walls. If you love documentary films, this cinema is the place to be!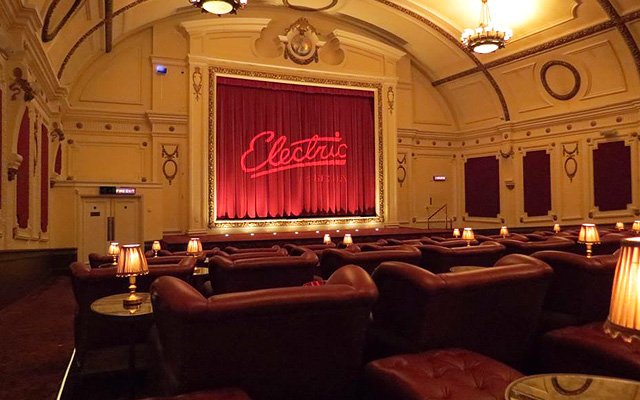 ADVERTISEMENT - CONTINUE READING BELOW
Electric Cinema
191 Portobello Road, Notting Hill, London, United Kingdom
www.electriccinema.co.uk
Cinemas in the U.K. are often beautiful opera houses converted into movie theaters or completely brand-new theaters that are made posh for the modern movie-going experience. The beautiful Electric Cinema finds a gorgeous middle ground, matching a lovely past-London look—antique chandeliers and all—with swanky leather armchairs that come with footstools and side tables. For the ultimate indulgent experience, they also offer two-seater sofas and six double beds that come with individual cashmere blankets!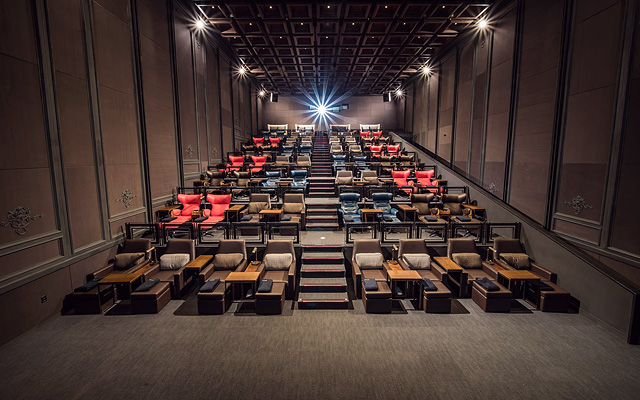 ADVERTISEMENT - CONTINUE READING BELOW
Cine de Chef
45 Apgujeong-ro 30-gil, Gangnam-gu, Seoul, Korea
www.cgv.co.kr
Want amazing food to go with your amazing movie? This luxurious spot serves Italian or French meals prepared by trained chefs while you sit back and watch a movie. Screen A is equipped with reclining chairs and 11.1 surround sound, while Screen B has leather sofas for couples and solo seating for single folks. Want to pamper yourself even more? Make a beeline for their "Tempur Cinema," which feature reclining beds that come with slippers, blankets, and snack tables!
ADVERTISEMENT - CONTINUE READING BELOW
Alamo Drafthouse Cinema
See a list of Alamo Drafthouse Cinema branches
The Alamo Drafthouse promises the ideal movie-watching experience. With it's well-known "no phones" and "no talking" policy, this theater for cinephiles would be the perfect spot to get a comfortable seat, a table to enjoy food, and an annoyance-free time at the cinema. It might not be the most gorgeous or awe-inspiring, but its strict culture and absolute respect for the films and audiences make the Alamo and its 29 locations all over the U.S. a must for every serious movie buff.
Recommended Videos
Load More Stories