10 Classic Taiwanese Dramas That Deserve a Rewatch
You know, while you're waiting for the Meteor Garden reboot.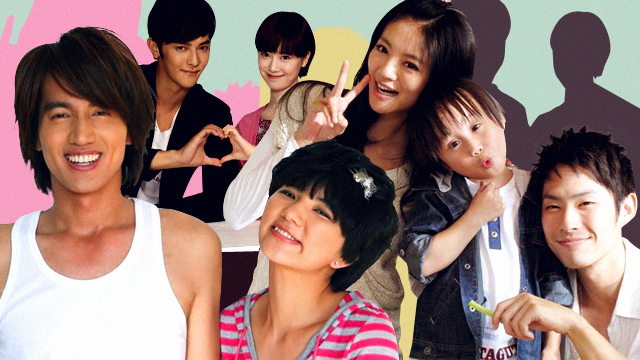 (SPOT.ph) In case you hadn't already heard, Meteor Garden is returning to our TV screens in 2018 with an all-new cast! The beloved series, which first aired in 2001, made waves all over Asia and kickstarted everyone's obsession with Asian dramas—as well as the careers of its handsome F4 quartet.
Below, we look back at the many Taiwanese dramas that made us swoon and fall in love over the years...you know, if you're in the mood for a throwback marathon. 
Hana Kimi (2006)
Number of episodes: 15
Starring singer-actress Ella Chen (of S.H.E fame), Wu Chun, Jiro Wang, and Danson Tang, Hana Kimi is based on the popular Japanese manga, Hanazakari no Kimitachihe. It follows the story of Lu Rui Xi, a young female student who disguises herself as a male student in Ying Kai University so she can meet her idol, teenage athlete Zuo Qi Yuan.
It Started With A Kiss (2005) and They Kiss Again (2007)
Number of episodes: 40 (in total)
In the mood for a swoon-worthy romance? Settle in with It Started With A Kiss, which centers on Yuan Xiang Qin (Ariel Lin), a naive and bumbling high-school student who has fallen for her genius classmate, Jiang Zhi Shu (Joe Cheng). After being publicly rejected and humiliated by Jiang Zhi Shu, things get even more awkward when her family has to move into the former's house after theirs is destroyed by an earthquake. The equally popular 2007 sequel explores their married life with Jiang Zhi Shu studying to be a doctor and Yuan Xiang Qin training to be a nurse. 
ADVERTISEMENT - CONTINUE READING BELOW
Absolute Darling (2012)
Number of episodes: 19
Based on a manga by Yuu Watase (the author of the memorable Fushigi Yuugi), this Taiwanese series revolves around a girl (K-Drama star Ku Hye-sun), who, on a whim, orders a robot designed to be your "perfect lover." The robot turns out to be a hyper-realistic male robot (Jiro Wang) that seems to be deeply in love with her. The problem? He comes with a three-day trial period and a hefty NT $100 million fee, and she must find a way to get rid of him.
Amazing Twins 1 (1999) and Amazing Twins 2 (2002)
CONTINUE READING BELOW
Recommended Videos
Number of episodes: 80 (in total)
If you're up for some serious binge-watching, this lengthy series is right up your alley. Also known as The Legendary Siblings, this was the first Taiwanese drama that aired in the Philippines. Amazing Twins 1 was aired on IBC-13 and the more popular Amazing Twins 2 was broadcast on ABS-CBN. A period drama filled with action and special effects, the story is about Xiao Yu Er and Hua Wuque, the twin sons of adventurer Jiang Feng, who were separated at birth and raised in different circumstances. As they grow up to be talented martial artists, their paths cross and they are pitted against each other.
My MVP Valentine (2002)
Number of episodes: 28
Loosely based on two Japanese manga series, Slam Dunk and MVP wa Yuzurenai, this drama features Taipei basketball star Johnny Yen and has also catapulted Angela Chang, Chen Chiao-En, and members of boy band 5566 to stardom. The plot revolves around different high-school teams competing for national basketball glory. Xiao Xi (Chang), in particular, is determined to transform her school's basketball team from a bunch of losers to the country's best.
ADVERTISEMENT - CONTINUE READING BELOW
Lavender (2002)
Number of episodes: 15
Starring Tammy Chen and Ambrose Hsu, this romantic series is about two childhood sweethearts, Ji Qing Chuan and Liang Yi Xun, who are torn apart after the former must move to the U.S. He gives Yi Xun a bottle of lavender seeds, with a promise to reunite years later when the lavender flowers are in full bloom. Ten years later, Qing Chuan returns, now with a lucrative career as a singer. Although he and Yi Xun rekindle their romance, it turns out that Yi Xun is battling a heart disease that could potentially end her life.
Poor Prince (2001)
Number of episodes: 45
After the huge success of Meteor Garden, Vic Zhou immediately went on to star in Poor Prince, where he plays Tai Lang, an immensely popular student whom everyone believes to be filthy rich. The truth is, he is only making ends meet and lives in a one-bedroom apartment with his mother and six siblings.
Down With Love (2010)
Number of episodes: 16
In this 2010 drama, Meteor Garden alum Jerry Yan plays Xiang Yu Ping, a famous yet cold and detached lawyer. After his brother dies in an accident, he takes in the former's two orphaned children and finds a nanny in his secretary's younger sister (Ella Chen). She soon proves to be a capable babysitter and Yu Ping finds himself falling for her.
Autumn's Concerto (2009)
Number of episodes: 21
Nominated in 2010 at Taiwan's 45th Golden Bell Awards, this Vanness Wu-starrer has also broken records with its high ratings. Here, he plays Ren Guang Xi, a law student who bullies his fellow students and takes advantage of his mother's position in the school. His path crosses with Liang Mu Cheng, a girl with a traumatic past who may just change his life.
ADVERTISEMENT - CONTINUE READING BELOW
Love Storm (2003)
Number of episodes: 21
If love triangles are your thing, zero in on this drama starring Meteor Garden alums Vic Zhou and Ken Chu. Zhou plays the mysterious Ying Feng, who saves the spoiled and wealthy Jia Le from imminent danger. She immediately falls for him and decides to work in his company in order to grow closer to him. It turns out that her childhood friend, Bao Long (Chu), also works there and unbeknownst to her, has been in love with her for years.
Share this story with your friends!
---
Help us make Spot.ph better!
Take the short survey
Load More Stories