Murderers, MILFs, and the Mother of All Mustaches
Murder on the Orient Express is a jolly jaunt into the familiar.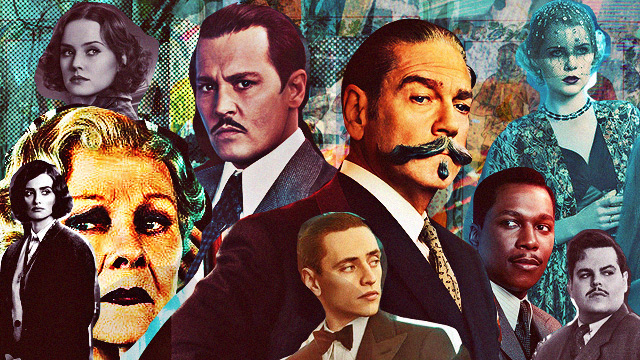 (SPOT.ph) It's amazing how people can marvel over a puzzle, then enjoy all sorts of different ways to demonstrate the same solution to that puzzle. The many incarnations of Sherlock Holmes, with every generation practically taking on the task of taking the same cases with pretty much the same solutions, is an example of this.
Every incarnation, from the funereal-sounding, original deerstalker-wearing and pipe-smoking Basil Rathbone of radio and the golden age of cinema fame, to Peter Cushing with his piercing stare in the '60s, to the buffet of Sherlocks on the big and small screens of today—the verging on the psychopathic portrayal by Benedict Cumberbatch, the zany, manic version of Robert Downey Jr., the quirky, almost autistic, portrayal by Jonny Lee Miller on TV, and the elderly, alzheimer's-addled film portrayal by Ian McKellen—is some sort of dysfunctional, addictive, personality. What a great detective definitely is not, then, is a normal person.
ADVERTISEMENT - CONTINUE READING BELOW
While Sherlock Holmes is the SuperCult, there are devotees of another fictional detective as well: Hercule Poirot, the creation of the Mother of the Detective Novel (as Arthur Conan Doyle was the Father of the Detective Story), Agatha Christie. While Doyle's deductive detective has appeared as a specimen of Victorian life, he has also been turned into a character set in our modern world, and worlds steampunkishly in between; Poirot, in contrast, is much more of a prissy, fussy, dandified, highly-accented period piece. He is a creature of the immediate prewar years, of luxury trains, yachts, of a Europe trembling on the eve of World War yet filled with heiresses in luxury motorcars, brash cash-bulging American tycoons, aristocrats wrapped in furs and faded glory, and a Belgian with a waxed mustache, who is shaped like a pear and tends to waddle like a penguin as he solves mysteries with his "little grey cells."
CONTINUE READING BELOW
Recommended Videos
I was fully expecting Kenneth Branagh's version of Murder on the Orient Express, Agatha Christie's grimmest and most psychological of all the Poirot mysteries, to fail. Two previous film versions marked their eras and claimed to be the definitive take on this tale: In the 1970s, Albert Finney played Poirot, together with a cast of the living Hollywood dead; the big names of Hollywood's heyday paraded in mothballed splendor: Lauren Bacall, the real-life widow of Humphrey Bogart! Ingrid Bergman, who'd starred in Casablanca! Sean Connery, who, the decade previously, had put his indelible mark on James Bond! John Gielgud who was the Archduke of Shakespearean royalty! Anthony Perkins! Vanessa Redgrave! Michael York! The big names of many a marquee! It was that sort of all-star cast, dripping exclamation points, which the trade apparently calls an ensemble.
ADVERTISEMENT - CONTINUE READING BELOW
Agatha Christie herself is quoted as having said the only problem with this 1974 Albert Finney-as-Poirot version, was that "I wrote that he had the finest mustache in England—and he didn't in the film. I thought that a pity—why shouldn't he?" While the next major version, made for TV but for all intents and purposes—included length—is a full-fledged feature film, featured David Suchet, a remarkable actor who played Poirot for 20 years, having been selected by Christie's family for the role, and who read every single story and novel. I am a big fan of the entire encyclopedic effort and of Suchet's portrayal of Poirot: But he has a merely highly-waxed, intensely-controlled, black pointy mustache.
When Kenneth Branagh decided to take on Hercule Poirot, he apparently decided on two things. First, it would be a hyperbolically-exclamation-point-worthy ensemble effort, and second, he would give his Poirot the shall we say, Mother of all Mustaches. It was all that any reviewer could write about in the months leading up to the release of the film. It is a remarkable thing, indeed: Half gravity-defying upper lip cover, and sideburn-slash-beardlike-facial device. Agatha Christie, had she lived to see it, would have passed out. And, most surprising of all, it works. This is not a normal mustache and tells us here is definitely not a normal person.
There are other quirks to remind us of this, and in the process establishes the Branagh brand on Poirot in contrast to Suchet's previous portrayal. This is a more active, more expressive, but still highly-wound-up, Poirot, at times oozing with charm, in other instances, verging on the insulting but never crude. He is, most of all, always entertaining, in the small and big things, and if there's one thing the movie never is, is boring. It entrances you and uses the ensemble cast of Hollywood exclamation points to great effect.
ADVERTISEMENT - CONTINUE READING BELOW
The effect being that we love certain stars because we have come to identify them with certain types of onscreen behavior. Judy Dench is the grouchy grande dame! Penelope Cruz is neurotic! Willem Dafoe is sinister! Johnny Depp is sinister and weird! Derek Jacobi is velly, velly British, worried, and repressed! Daisy Ridley is fresh-looking and charming! Michelle Pfeiffer is not a mere MILF, but one with ice water in her veins! Joshua Gad is sleazy yet tragically likeable! And so on—and you get crowd-pleasing performances from each of them and the entire cast. Together with what everyone wants in a certain kind of mystery story: Beautiful costumes, luxurious sets, stunning vistas of period-adapted famous sites, a Cole Porter-inspired film score.
The critics seem to resent all of this because it's precisely a crowd-pleaser that does not put pressure on your brain but which expertly tugs at your heartstrings when required, makes you chuckle at all the right moments, and draws you along so that by the end of it you feel pleased you splurged on a ticket and set aside time to gallop to the cinema with your friends. Which, in this day and age, is just about the right thing to expect, at a time of looming apocalyptic holiday traffic, and before the big, booming Star Wars and Marvel blockbusters that will mark the holiday season. Catch Poirot catching murderers while you can.
Share this story with your friends!
---
Help us make Spot.ph better!
Take the short survey
Load More Stories