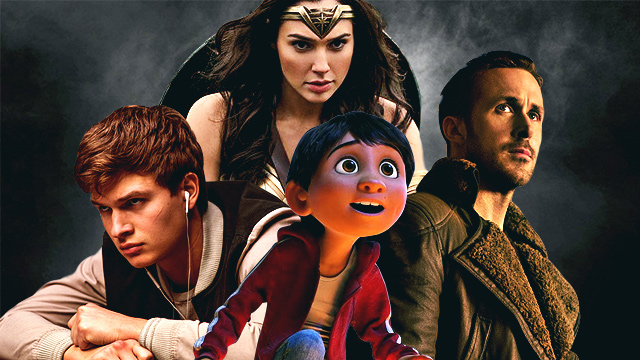 (SPOT.ph) To say that 2017 has been a stressful year is an understatement, but thankfully, we had plenty of new movies to give us a momentary escape from reality. More than just a means of distraction, however, there were also a good number of films that gave audiences a new and more meaningful perspective on the complicated world we live in.
As 2017 comes to an end, we look back at the 25 movies that we feel deserve recognition, from genre-breaking horrors to thought-provoking sci-fi thrillers and daring independent cinema.
This list is unranked and focuses on films released theatrically in Philippine cinemas or local film festivals within 2017. As of writing, Metro Manila Film Festival 2017 entries have not been released in theaters and will not be included.
I'm Drunk, I Love You
Directed by: JP Habac
Release date: February
I'm Drunk, I Love You's story is pretty straightforward: Carson (Maja Salvador) has been in love with her best friend, Dio (Paulo Avelino), for seven years and he still has no idea. What elevates this film, however, is the irresistible chemistry between its two leads, as well as its striking and top-notch cinematography. Throw in a fantastic soundtrack and a heartfelt yet immensely funny script, and you've got an intoxicating little film that will take you back to your carefree walwalan nights in college.
ADVERTISEMENT - CONTINUE READING BELOW
Get Out
Directed by: Jordan Peele
Release date: March
Meeting the parents has never been more frightening than in comedian Jordan Peele's directorial debut. As the crowning jewel in a brilliant year for horror cinema, Get Out was the perfect blend of horror, comedy, suspense, story, and social commentary. When a black man (a star-making turn for actor Daniel Kaluuya) meets his white girlfriend's family for the first time, things don't appear quite normal. Little by little, things start to unravel, and Get Out evolves from a clever horror film into an important piece of cinema.
Directed by: James Mangold
Release date: March
After 17 years and eight films, Hugh Jackman has finally hung up his claws—but not before delivering the best movie featuring Wolverine. Ditching the cartoonish violence and a family-friendly rating, Logan turns up the gore, violence, and cursing for an apt R-rating, and it's all the better for it. In a post-apocalyptic world, mutants are hunted, and Wolverine goes into hiding while protecting the dying Professor X (an amazing Patrick Stewart). When a little girl with destructive powers (Dafne Keen, an excellent discovery) makes her presence felt, Wolverine decides to fight his last battle. Logan is such a perfect ending—not only for his role as Wolverine, but for the story of the mutant himself—that it's hard to see anyone tackling this story again.
Directed by: Patty Jenkins
Release date: June
Year after year, Warner Bros. Pictures tried to tout a superhero movie that could rival the competition both commercially and critically. The only DC Extended Universe film that has achieved this rare feat is Wonder Woman—a shining beacon of positivity, female empowerment, and an absolutely badass Themyscira fight scene. Wonder Woman is solid proof that a DC hero doesn't need to be dark, grim, and cynical to make audiences flock to theaters and actually love what they see.
Directed by: Bong Joon-ho
Release date: July
With films like Memories of a Murder, The Host, and Snowpiercer under his belt, it's clear that South Korean auteur Bong Joon-ho embraces risky storytelling. His latest flick—an original production with Netflix—centers on a young girl named Mija (Ahn Seo Hyun), who must save her genetically modified pet pig named Okja from an evil corporation (led by Tilda Swinton's character, Lucy Mirando). On paper, this quirky story borders on ridiculous and too ambitious for its own good. Bong pulls it off with surprising wit, charm, and unexpected heartache. It helps that his star-studded and immensely talented cast (including Jake Gyllenhaal, Steven Yeun, Lily Collins, and Paul Dano) all embrace the film's off-the-wall approach to hard-hitting social commentary.
ADVERTISEMENT - CONTINUE READING BELOW
Directed by: Matt Reeves
Release date: July
In this supposedly final installment of the most recent Apes trilogy, a crazed and ruthless colonel (Woody Harrelson) hunts down the Apes in a last-ditch effort to have humanity take control, causing Caesar (the unmatchable Andy Serkis) tremendous losses. Caesar's path to revenge is a dark one, but makes for an incredibly emotional and painful film about family, fighting for your rights and your freedom, and the toll of death. War for the Planet of the Apes is a stunning, epic, and action-packed end to this chapter of the apes.
Directed by: Christopher Nolan
Release date: July
Christopher Nolan loves to play with time and space; just look at films like Memento, Inception, and Interstellar. With his latest film, he tinkers with structure yet again but with a story based on real and haunting events. The result is an intense and truly astounding cinematic experience. From the cinematography to the sound, score, and everything in between, Dunkirk feels so intricately and expertly made, making it a technical masterpiece. This war film is everything you'd expect a Christopher Nolan take on the genre to be—and then some.
ADVERTISEMENT - CONTINUE READING BELOW
Directed by: Sigrid Andrea Bernardo
Release date: July
Kita Kita is undeniable proof that local films don't need an everyday leading man—or a run-of-the-mill love team—to make bank in the box-office. (A whopping P300 million after four weeks, to be exact.) Alessandra de Rossi stars as Lea, a blind woman living in Japan who befriends her sweet neighbor, Tonyo (Empoy Marquez). Whimsical, delightful, and hilarious in all the best ways, Kita Kita is a breath of fresh air in an overstuffed genre that has yet to catch up.
Kiko Boksingero
Directed by: Thop Nazareno
Release date: July (Cinemalaya Film Festival)
In a dark and dreary Cinemalaya, Kiko Boksingero shone as a bright ray of hope right in the center. Played with such charm and thoughtfulness by newcomer Noel Comia Jr. (who won the festival's Best Actor trophy), Kiko is a young boy recovering from the death of his mother. Stuck in a sort of haze, Kiko seeks out his father that he barely knows to try and make sense of his currently messed-up world. This film depicts a heartbreaking, yet hopeful tale of a boy coming of age—a piece of cinematic light amidst all the darkness.
ADVERTISEMENT - CONTINUE READING BELOW
Respeto
Directed by: Treb Monteras II
Release date: July (Cinemalaya Film Festival)
No film made a lasting impact at Cinemalaya 2017 quite like Treb Monteras II's fascinating tale of generational clashes. What looks like a rap film in the same vein as 8 Mile turns out to be something much more profound. Like a genuinely good rap song, there's far more to it than a catchy hook and melody. Featuring surprising and impressive performances from Abra (as a young and hopeful rapper caught in a vicious world) and Dido de la Paz (as a long-forgotten poet haunted by the Martial Law era), Respeto takes on authority, change (or the lack thereof), and human rights with just the beauty of words.
Directed by: Jon Watts
Release date: August
Just when you thought the Spider-Man franchise was beating a dead horse, along came the utterly charming Tom Holland, determined to prove that he's a perfect fit for Peter Parker's red-and-blue suit. Homecoming ditches the usual superhero angst and Peter's overplayed origin story, creating a realistic teenage experience that's both refreshing to see onscreen yet relatable for its audience. Peter's problems may be inconsequential in the grander schemes of things in the Marvel Cinematic Universe, but it feels absolutely essential for this hero...and the superhero genre as a whole.
ADVERTISEMENT - CONTINUE READING BELOW
Wind River
Directed by: Taylor Sheridan
Release date: August
After taking writing duties for critically acclaimed films like Sicario and the Oscar-nominated Hell or High Water, Taylor Sheridan helms this emotionally charged film about sexual assault in Native American reservations in the United States. Coming just months before the Harvey Weinstein scandal broke out (Wind River was distributed in the U.S. by The Weinstein Company, mind you), this dark, tragic tale starring Jeremy Renner and Elisabeth Olsen speaks volumes about the very real and very human terrors that are out there—even in the middle of nowhere.
Baby Driver
Directed by: Edgar Wright
Release date: August
Edgar Wright is a filmmaker who isn't afraid to mix genres. Just take a look at his filmography, which includes Shaun of the Dead, Hot Fuzz, and Scott Pilgrim vs. The World. In the critically acclaimed Baby Driver, he blurs the lines between music and film as he tells the story of a talented getaway driver (Ansel Elgort) who tries to leave his life of crime. Stylishly edited, bursting with energy, and fueled by some seriously well-placed music, Baby Driver is cinematic mayhem you won't likely forget.
ADVERTISEMENT - CONTINUE READING BELOW
Directed by: Darren Aronofsky
Release date: September
Darren Aronofsky's latest film made headlines as one of the most controversial and divisive films of 2017. Many will likely find it grotesque, self-indulgent, and over-the-top, while others see it as a brilliantly insane allegorical tale that deserves further discussion. An incredible Jennifer Lawrence stars as a woman married to a disturbing man (Javier Bardem); her life is turned upside down when an unending number of people (including the likes of Michelle Pfeiffer, Ed Harris, and Kristen Wiig) storm her house. This audacious film references the Bible, the creation of art, and more philosophical concepts, sending viewers on a rollercoaster of emotions both visually and emotionally. mother! is a film that dares to reach out of the screen and shake you, whether you like it or not.
Directed by: Andy Muschietti
Release date: September
Plagued by behind-the-scenes disagreements and a larger-than-life performance by Tim Curry from the '90s, the odds were stacked against the 2017 remake of this Stephen King classic. It is bolstered by a talented and charismatic young cast—a foul-mouthed Stranger Things' Finn Wolfhard is the clear standout—and thankfully, the script gives each of the seven losers their rightful due. This adaptation strikes the perfect balance between an authentic coming-of-age tale and a truly terrifying performance from Bill Skarsgård as the film's titular shape-shifting clown. And yes, there is enough potential in this story to make audiences look forward to the sequel.
ADVERTISEMENT - CONTINUE READING BELOW
Blade Runner 2049
Directed by: Denis Villeneuve
Release date: October
What initially began as a polarizing (and underperforming) adaptation by Ridley Scott in 1982 became a beloved cult classic over the years. Blade Runner's distinct neo-noir look and complex philosophical themes influenced many other sci-fi films, games, and TV series that came later. Despite wowing critics and audiences with Arrival, Sicario, and Prisoners, creating a sequel worthy of the original was clearly no easy feat for Denis Villeneuve—and yet, he miraculously pulled it off. Though quite lengthy and heavier on the dazzling visuals than its themes, Blade Runner 2049 is an incredible showcase of Villeneuve's impeccable storytelling.
The Killing of the Sacred Deer
Directed by: Yorgos Lanthimos
Release date: October (QCinema International Film Festival)
If you've never seen a Yorgos Lanthimos film, then you better prepare yourself. The Greek director of excellent films like Dogtooth and The Lobster has a very distinctive—though perhaps jarring—style: His fictional world is just a bit off and his characters are more than just a bit off. The Killing of a Sacred Deer, starring Colin Farrell, Nicole Kidman, and a terrific Barry Keoghan, is a horror version of a Greek myth. When a man invites a young teenager into his life, he must deal with the devilish consequences that follow. What starts as an uncomfortably funny and disturbing tale about family transforms into a nightmare scenario with a heart-stopping, breathtaking climax.
ADVERTISEMENT - CONTINUE READING BELOW
BPM
Directed by: Robin Campillo
Release date: October (QCinema International Film Festival)
The AIDS epidemic in the 1990s has been the central story of several great films and pieces of art over the last two decades (see Angels in America or Philadelphia). Rarely do we see it outside of the United States context. In Robin Campillo's beautifully written BPM, we're taken back to Paris in the 1990s, when a group of HIV/AIDS activists tries to raise awareness in a troubling time. Taking inspiration from his own experiences with the AIDS crisis at the time, Campillo assembles a cast of energetic and explosive young French actors to deliver his powerful and immensely affecting story.
Directed by: Taika Waititi
Release date: October
Blending quirky indie movie sensibilities with the scope and budget of Marvel's Cinematic Universe, Thor: Ragnarok is a refreshing third outing for Chris Hemsworth's hammer-wielding Thor. The first two films were bogged down by layers of mythology and bland family drama but thanks to Taika Waititi (and a script that makes full use of Hemsworth's comedic talents), the joyous Ragnarok is a wacky and very welcome addition to the MCU.
ADVERTISEMENT - CONTINUE READING BELOW
Directed by: Luca Guadagnino
Release date: November (Cinema One Originals)
Nothing captures the intoxicating thrill—and subsequent heartache—of your first love quite like this sensual adaptation by director Luca Guadagnino. Enlisting the talents of Timothée Chalamet (an absolute star) and Armie Hammer (a revelation and his best role to date), Call Me By Your Name transcends the same-sex dynamic to tell a poignant and heartbreaking love story that's so intense and thoughtfully drawn out that it will hit close to home in more ways than one.
A Fantastic Woman
Directed by: Sebastian Leilo
Release date: November (Cinema One Originals)
Chilean cinema and its filmmakers have steadily risen to fame over the past few years, including this year's Oscars entry from Chile. A Fantastic Woman tells the story of a trans-woman named Marina (trans actress Daniela Vega, fantastic in her own right) after her lover dies. Her attempts to mourn and be part of the service are continuously blocked by the man's first family—the same family he left to be with Marina. The tension, drama, and heartbreak bring out the fighter in Marina, who must constantly battle oppression and transphobia.
ADVERTISEMENT - CONTINUE READING BELOW
Good Time
Directed by: Benny and Josh Safdie
Release date: November (Cinema One Originals)
Shedding his Twilight image for thought-provoking independent cinema, Robert Pattinson impressed critics with his turn in this gripping crime thriller. After a bank robbery goes horribly wrong, a desperate man (Pattinson) must navigate the dangerous criminal underworld to get his brother out of prison. Exhilarating and filled with innovative, edge-of-your-seat sequences, Good Time is Pattinson's best and most nuanced performance to date.
Coco
Directed by: Lee Unkrich
Release date: November
Pixar is best known for animated films that blend family-friendly comedy with heart-wrenching and emotional stories. Their latest effort is no different. Coco takes place in Mexico during the Day of the Dead celebrations and centers on Miguel, a young boy who wants to play music but is banned by his family. His adventures cross him over into the Land of the Dead, where he hopes to find his grandfather so he can return to the living world. This gorgeous love letter to Mexican culture is among Pixar's best originals, packed with pleasant surprises, stunning animation, and a genuinely touching story about family, tradition, and remembering those that came before us.
ADVERTISEMENT - CONTINUE READING BELOW
Directed by: Raya Martin
Release date: December
Although F.H. Batacan's award-winning crime novel is set in the '90s, it's a story that still speaks volumes about today's political climate. At the center of this grim tale is Nonie Buencamino's Father Gus and Sid Lucero's Father Jerome: Two Jesuit priests tasked to investigate the gruesome deaths of young and underprivileged boys in Payatas. Despite taking a few liberties with the source material, Raya Martin's adaptation is a slick and well-edited film that cleverly uses light and shadow to fully immerse his audience in a world we're all too familiar with.
Directed by: Rian Johnson
Release date: December
Rian Johnson managed to shatter all expectations with a film that delves deeper than any Star Wars movie has ever done, digging further into the good-versus-evil dynamic that made the franchise so popular. His heroes (and villains) are defined by more than just their birthright or their morals, and his universe goes beyond the Skywalkers and makes this world feel denser and fully realized. Weaving several narratives into a classic Star Wars set-up, The Last Jedi is a gorgeously filmed piece of cinema that bravely refuses to play by the rules.
ADVERTISEMENT - CONTINUE READING BELOW
Share this story with your friends!
---
Help us make Spot.ph better!
Take the short survey
More Videos You Can Watch
Load More Stories