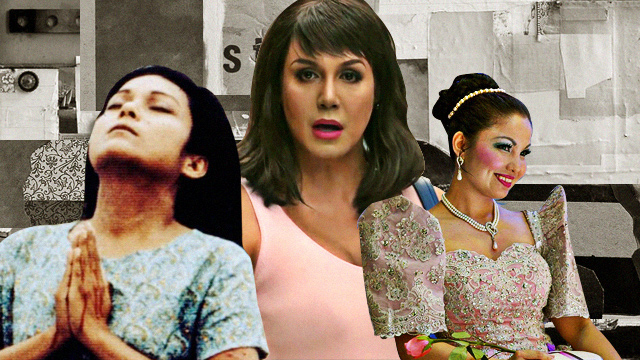 (SPOT.ph) There was once a time when the thought of the Metro Manila Film Festival didn't conjure cringe-worthy images of unnecessary sequels, horrible CGI, and unfunny comedies that double as product placement ads.
Look past all of these, however, and you'll find rare gems filled with social commentary, compelling roles for talented actors, and unforgettable stories that still have the power to engage audiences. Here are 10 of the best films that the annual festival has to offer—all solid proof that Philippine cinema, when done right, has always been worth watching.
Insiang (1976)
Directed by: Lino Brocka
Easily Lino Brocka's most praised (and most recognizable) film, Insiang revolves around Hilda Koronel's titular character, a young woman who suffers under the cruel hand of her domineering mother (Mona Lisa) and the latter's much-younger lover (Ruel Vernal). This intense revenge drama is the first Filipino film to be screened at the Cannes Film Festival, and is seen as such a vital part of Philippine cinema that it was restored by Martin Scorsese's The Film Foundation in 2014.
ADVERTISEMENT - CONTINUE READING BELOW
Ganito Kami Noon, Paano Kayo Ngayon (1976)
Directed by: Eddie Romero
Many films have tackled themes of Filipino identity, though it's Eddie Romero's 1976 musical-comedy that remains memorable to this day. Christopher De Leon plays Kulas, a young and naïve peasant who dreams of an adventurous life. As the Philippine revolution against the Spaniards heightens, he meets the charming Diding (Gloria Diaz), who may just derail his plans.
Die Beautiful (2016)
Directed by: Jun Robles Lana
Die Beautiful is the rare Filipino LGBT+ film that depicts its colorful characters as genuine, fully realized people instead of sidekicks or the butt of the joke. Beautifully played by Paolo Ballesteros (and with a career-making performance from then-newcomer Christian Bables), this side-splitting yet genuinely heartfelt story about a transgender woman's dream to literally die beautifully stands among the MMFF's best of all time.
Kisapmata (1981)
Directed by: Mike De Leon
Blending psychological horror with taboo subject matter, the shocking Kisapmata was universally praised upon its first release and was even presented at the Cannes Film Festival's Director's Fortnight section. Mike De Leon's award-winning film centers on the disturbing relationship of Dadong (Vic Silayan) and his daughter, Milagros (Charo Santos). He even deviously devises ways to keep her and her new husband (Jay Ilagan) under his roof. Challenging traditional Filipino norms of marriage, family, and the patriarchy, Kisapmata is an essential piece of cinema every movie fan should see.
Crying Ladies (2003)
Directed by: Mark Meilly
Though bordering on the absurd, Mark Meilly's 2003 gem never veers into overly ridiculous territory. Instead, it embraces its simple plot about three women (Sharon Cuneta, Angel Aquino, and Hilda Koronel) who are paid to cry in traditional Chinese funerals. What follows is an endearing comedy that remains a feel-good watch to this day.
ADVERTISEMENT - CONTINUE READING BELOW
Karma (1981)
Directed by: Danny Zialcita
These days, many films have run the concept of fate and past lives into the ground, but Danny Zialcita's 1981 classic is filled with terrific performances and amazing one-liner zingers that it still makes for a compelling and entertaining watch. A woman named Sarah (Vilma Santos) postpones her wedding to Alfredo (Tommy Abuel) after she is raped by Eric (Ronaldo Valdez). The plot twist? It turns out Eric and Sarah knew each other in a past life: They were once Enrico and Guada, illicit lovers who were murdered by the latter's husband, Limbo. Writers Ricky Lee and Heidi Castillo keep audiences guessing all throughout: Who is Limbo at the present time?
Burlesk Queen (1977)
Directed by: Celso Ad. Castillo
Writer-director Celso Ad. Castillo tells the fascinating story of Chato (Vilma Santos), who works as a utility girl for a popular burlesque queen named Virgie (Rosemary Gil). When the latter gets drunk before her show, Chato fills in for her to appease the crowd and immediately becomes an overnight sensation. Burlesk Queen didn't just cement Santos' career as a star; it's also an all-important commentary on a patriarchal Filipino society and how one woman uses her sexuality as leverage for survival.
ADVERTISEMENT - CONTINUE READING BELOW
Sunday Beauty Queen (2016)
Directed by: Baby Ruth Villarama
Initially premiering at the Busan International Film Festival, this MMFF 2016 entry bested seven other diverse entries to take home the Best Picture trophy—the first documentary to ever do so. Baby Ruth Villarama's camera follows the lives of five OFW women in Hong Kong over the span of four years as they find empowerment by joining beauty pageants. Enthralling, poignant, and bittersweet, Sunday Beauty Queen is a beautifully filmed celebration of life's simple pleasures.
Bulaklak Sa City Jail (1984)
Directed by: Mario O'Hara
Based on a novel by Lualhati Bautista (who also penned the adaptation's screenplay), Bulaklak follows the harrowing life of Angela (Nora Aunor), a pregnant woman who is wrongfully sent to prison. There, she meets several other inmates including Juliet (Gina Alajar), who is imprisoned for estafa; Viring (Perla Bautista), a mother driven mad by the death of her child; and Luna (Celia Rodriguez), the prison's prostitute who sends money to her son outside of jail. Bulaklak is contemporary Filipino cinema at its finest, and worth a watch even until now.
ADVERTISEMENT - CONTINUE READING BELOW
Himala (1982)
Directed by: Ishmael Bernal
Written by Ricky Lee and reportedly based on a story of a teenage girl in Occidental Mindoro, Himala centers on Elsa (Nora Aunor) whose visions of the Virgin Mary sends their sleepy town into chaos and disarray. Himala isn't just widely considered as Aunor's best performance in her entire storied career; it was also the first Filipino film to be included in the Berlinale's Competition section.
Share this story with your friends!
---
Help us make Spot.ph better!
Take the short survey
More Videos You Can Watch
Load More Stories