20 New Movies We Can't Wait to See in 2018
The biggest blockbusters you can't miss in the new year.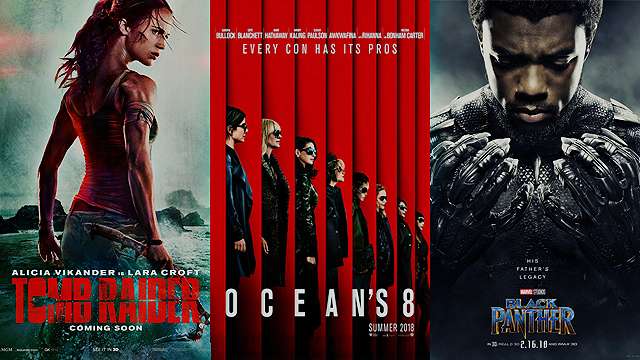 (SPOT.ph) We've all heard the usual New Year's resolutions: "I'll start dieting," "I'm going to start saving more money," "I'll take my gym membership seriously"...you get the drift. Well, we found a resolution you can actually do in 2018: See more movies!
Below, we list the biggest and most exciting blockbusters set to hit theaters in the new year. Call your friends, pencil in these release dates, and gear up for a 2018 filled with cinema.
Black Panther
Release date: February
It seems Chadwick Boseman's appearance in Captain America: Civil War made more than a lasting impression, because his standalone movie is easily one of the most anticipated superhero flicks of 2018. After the death of his father, T'Challa (Boseman) returns home to the isolated African nation of Wakanda, where he must take his rightful throne as King and face up with old enemies bent on taking his place.
Annihilation
Release date: February
Ex Machina director Alex Garland returns to the big screen with a new sci-fi thriller based on a best-selling book trilogy. Here, a biologist (Natalie Portman) investigates the disappearance of her husband (Oscar Isaac) in a mysterious disaster zone where the laws of science don't apply. The film also stars Jennifer Jason Leigh, Gina Rodriguez, Sonoya Mizuno, and Tessa Thompson.
Tomb Raider
Release date: March
Lara Croft is back in a reboot of the film franchise that once starred Angelina Jolie. Now, a much-younger Lara (Oscar winner Alicia Vikander) goes on an epic expedition to complete her missing father's (Dominic West) research only to uncover an ancient secret in a mythical island.
ADVERTISEMENT - CONTINUE READING BELOW
Ready Player One
Release date: March
Based on Ernest Cline's 2011 bestseller of the same name, Ready Player One is set in the year 2045, with a chaotic world on the brink of collapse. When the founder of a virtual reality world called OASIS passes away, a young boy (Tye Sheridan) competes with his friends to find a hidden treasure by playing games and solving complex puzzles. Directed by Steven Spielberg, the movie also stars Ben Mendelsohn, T.J. Miller, Simon Pegg, and Mark Rylance.
A Wrinkle in Time
Release date: March
Another highly anticipated book adaptation is A Wrinkle in Time, a fantasy-adventure where a young girl sets out to save her astrophysicist father, who is being held captive on a distant planet. The star-studded cast includes Oprah Winfrey, Reese Witherspoon, Mindy Kaling, Gugu Mbatha-Raw, Zac Galifianakis, and Chris Pine.
CONTINUE READING BELOW
Recommended Videos
Pacific Rim Uprising
Release date: March
The sequel to the immensely popular 2013 film is set 10 years after the first movie's epic battle. Now the most powerful defense force, the Jaeger program must recruit a new generation of heroes to defend the world from another Kaiju threat. The cast is top-billed by Star Wars' John Boyega, Scott Eastwood, Charlie Day, and recurring star Rinko Kikuchi.
Isle of Dogs
Release date: March
Wes Anderson is back with a promising stop-motion animated film that is set in a dystopian future where dogs have been quarantined in an island because of a "canine flu." Fed up with their isolated existence, five dogs embark on an adventure with a young boy in search of his missing dog. The movie features the voice talents of Bryan Cranston, Edward Norton, Bill Murray, Jeff Goldblum, Scarlett Johansson, Greta Gerwig, Ken Watanabe, Yoko Ono, and Tilda Swinton.
ADVERTISEMENT - CONTINUE READING BELOW
Avengers: Infinity War
Release date: April
Marvel's biggest superhero mash-up yet combines the epic casts of the Avengers and the Guardians of the Galaxy as they battle the threat of Thanos (Josh Brolin). Chris Evans, Robert Downey Jr., Mark Ruffalo, Chris Hemsworth, Tom Hiddleston, Chris Pratt, Sebastian Stan, Scarlett Johansson, Benedict Cumberbatch, Zoe Saldana, Tom Holland, Bradley Cooper, Dave Bautista, Paul Rudd, Chadwick Boseman, and more all reprise their heroic roles.
Deadpool 2
Release date: May
Ryan Reynolds' hilariously foul-mouthed mercenary is back to crack witty jokes and break the fourth wall. Not much is known about the plot as of writing, but we do know that Morena Baccarin and TJ Miller are slated to return, alongside new faces like Josh Brolin as Cable and Atlanta's Zazie Beetz as Domino.
Solo: A Star Wars Story
Release date: May
The pressure is on for the Star Wars franchise as it continues to expand its universe with more standalone stories. The embattled Han Solo origin story has had its share of setbacks, after initial directors Phil Lord and Christopher Miller (The LEGO Movie) left after "creative differences" with Lucasfilm. Now helmed by Ron Howard, the adventures of a young Han Solo (Alden Ehrenreich) is officially a go, alongside Donald Glover (as young Lando Calrissian), Woody Harrelson, Emilia Clarke, and Paul Bettany.
The Incredibles 2
Release date: June
The long-awaited follow-up to the 2004 Pixar hit is finally here! Writer and director Brad Bird returns to helm the sequel where the Parr family struggles to balance normalcy with saving the world and discovering Jack-Jack's hidden powers. Our inner kids can't wait!
ADVERTISEMENT - CONTINUE READING BELOW
Ocean's 8
Release date: June
The Internet collectively rejoiced when the first trailer of the all-female spinoff-slash-reboot of the successful Ocean's Eleven franchise was unveiled. Danny Ocean's estranged sister, Debbie (Sandra Bullock) recruits a colorful group of criminals (Cate Blanchett, Anne Hathaway, Helena Bonham Carter, Mindy Kaling, Sarah Paulson, and Rihanna) to pull off the heist of the century: Robbing New York's star-studded Met Gala.
Jurassic World: Fallen Kingdom
Release date: June
The fifth installment of the Jurassic Park franchise sees the return of Chris Pratt, Bryce Dallas Howard, and Jeff Goldblum as they attempt to rescue Isla Nubar's remaining dinosaurs from a catastrophic volcanic eruption.
Ant-Man and the Wasp
Release date: July
Set after the events of Captain America: Civil War, Scott Lang (Paul Rudd) finds himself struggling to balance his life as Ant-Man and his responsibilities as a father. Meanwhile, a new threat looms and he must now team up with Hope van Dym (Evangeline Lilly) as she discovers her powers as Wasp.
Mamma Mia! Here We Go Again
Release date: July
Taking place after 2008's Mamma Mia, the new sequel has a pregnant Sophie (Amanda Seyfried) manning the tavern. She also learns more about her mother, Donna's (Meryl Streep), own struggle of pregnancy and raising a daughter on her own. The original cast, including Julie Walters, Christine Baranski, Pierce Brosnan, Colin Firth, and Stellan Skarsgard, all reprise their roles, with Lily James playing a younger Donna.
Crazy Rich Asians
Release date: August
The hotly anticipated adaptation of Kevin Kwan's best-selling novel is finally hitting the silver screen! Leading the all-Asian cast is Fresh Off the Boat's Constance Wu as Rachel Chu, who learns that her boyfriend (Henry Golding) is actually from one of the wealthiest families in Singapore. The film also stars Michelle Yeoh, Chris Pang, Gemma Chan, Harry Shum Jr., Awkwafina, and more.
ADVERTISEMENT - CONTINUE READING BELOW
Venom
Release date: October
As of writing, not much is known about this R-rated Spider-Man spinoff, though we do know that it stars Tom Hardy in the titular role alongside Oscar winner Michelle Williams. Because of conflicting reports, it's still unclear whether Venom is a solely Sony project or will share the current Spider-Man universe in Marvel. Riz Ahmed, Jenny Slate, and Reid Scott are also rumored to be part of the movie.
X-Men: Dark Phoenix
Release date: November
Now the 13th film in the massive X-Men franchise, this new flick sees the return of your favorite mutants (including Michael Fassbender, James McAvoy, Jennifer Lawrence, and Nicholas Hoult) as they try to control Jean Grey's (Sophie Turner) unpredictable powers. Meanwhile, a new villain (Jessica Chastain) seeks to use Jean's power for her own malevolent plans.
Fantastic Beasts: The Crimes of Grindelwald
Release date: November
In Newt Scamander's (Eddie Redmayne) latest adventure in 1920s Paris, he must join forces with Albus Dumbledore (Jude Law) to face the growing threat of the evil Gellert Grindelwald (Johnny Depp). The movie is helmed by long-time Harry Potter director David Yates, with a screenplay penned by J.K. Rowling.
Aquaman
Release date: December
After making a splash in 2017's Justice League, Aquaman (Jason Momoa) faces the truth about his heritage as the ruler of Atlantis, all while trying to prevent his people who are bent on invading the surface world. Directed by James Wan, the standalone story also stars Amber Heard, Patrick Wilson, Nicole Kidman, and Willem Dafoe.
ADVERTISEMENT - CONTINUE READING BELOW
Share this story with your friends!
---
Help us make Spot.ph better!
Take the short survey
Load More Stories