10 New Songs to Add to Your Playlist This January
New year, new music! Listen to Eminem, Beyoncé, MGMT, Ely Buendia, Autotelic, and more!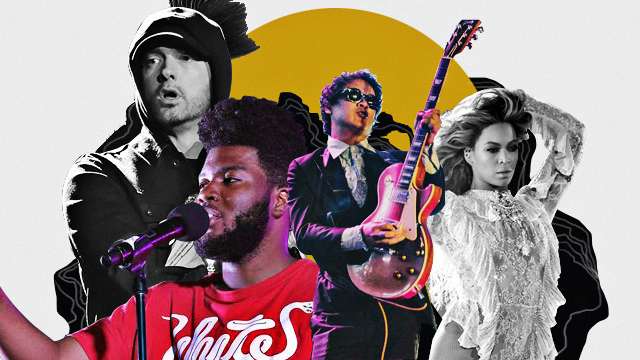 (SPOT.ph) Keep the good vibes going with new tunes this new year. This January, we recommend Eminem and Beyoncé's rap ballad, MGMT's psychedelic single, Katy Perry's pop offering, The Neighbourhood's groovy number, plus a fresh take on Imagine Dragons' and Khalid's hit songs. Locally, you can't miss out on the latest from Ely Buendia, Autotelic, Ciudad, Orange & Lemons, and Kamikazee. Happy listening!
Song: "Walk on Water"
Artists: Eminem ft. Beyoncé
Rapper Eminem enlisted the help of Queen Bey for "Walk on Water," the newest single off his Revival album. Beyoncé soulfully croons in between aggressive, self-deprecating verses in this rap ballad. While the track never seems to peak anywhere, Bey's angelic vocals in that unforgettable hook will do just fine to satisfy your ears.
Fun fact: Revival is Eminem's first album in four years.
Song: "Gabi Man May Araw Din"
Artist: Ely Buendia
Ely Buendia's first solo single in seven years gets music video treatment. "Gabi Man May Araw Din" is a strong reminder (not that we need one) of Buendia's music supremacy. The pensive pop rock track sweeps listeners off their feet with thoughtful songwriting, memorable hooks, and awe-inspiring instrumentation.
Fun fact: "Gabi Man May Araw Din" is the theme song for the independent film Ang Pamilyang Hindi Lumuluha.
Song: "When You Die"
Artist: MGMT
Indulge in MGMT's psychedelic sound in an equally trippy music video for "When You Die." The second single from the group's upcoming album manages to remain replay-able despite its grim theme. The track is another step into darker territories for the band.
ADVERTISEMENT - CONTINUE READING BELOW
Fun fact: MGMT's forthcoming fourth record, Little Dark Age, is due out in February.
Song: "Mapa"
Artist: Autotelic
Autotelic's "Mapa" is all you need to turn a bad day around. The LSS-inducing and danceable pop single features a bubbly throwback sound and an even more retro music video. Add this to your list of feel-good tunes, stat!
Fun fact: Brothers Diego and Jao Mapa appear in the music video.
Song: "Hey Hey Hey"
Artist: Katy Perry
The music video for Katy Perry's "Hey Hey Hey" was recently released, and it's as outrageous and excessive as the teasers suggest. The pop single is not a hit at first listen, but it contains an empowering message—something the singer has been known to do with her music.
CONTINUE READING BELOW
Recommended Videos
Fun fact: Isaac Rentz, who has worked with Paramore and Linkin Park, directed the whimsical music video.
Song: "Caught Me At The Worst Time"
Artist: Ciudad
Rejoice because indie rock band Ciudad is out with a new single. "Caught Me At The Worst Time" contrasts somber lyrics with catchy melodies. Watch for the instrumental; you'll be sure to catch the nerdy rock bug.
Fun fact: Ciudad band members include Mikey Amistoso, Justin Sunico, Mitch Singson, and Jeff Cabal.
Song: "Scary Love"
Artist: The Neighbourhood
The Neighbourhood's "Scary Love" is an infectious electronic pop creation. It sounds fittingly eerie with a touch of new wave and vintage drum machine beats. The vocals blend with the atmospheric sound, and the track is overall groovy.
Fun fact: The band's new EP, To Imagine, comes out this month.
ADVERTISEMENT - CONTINUE READING BELOW
Song: "Lovers Go, Lovers Come"
Artist: Orange & Lemons
Orange & Lemons is back with a dreamy single. "Lovers Go, Lovers Come" features soothing vocals against a rich, guitar-led pop arrangement. Keep this tune handy for those days you just want to chill.
Fun fact: Orange & Lemons is now composed of Clem Castro (lead vocals and guitars), JM Del Mundo (bass and backing vocals), and Ace Del Mundo (drums).
Song: "Thunder / Young Dumb & Broke" (Medley/Audio)
Artists: Imagine Dragons and Khalid
Two of 2017's biggest hits are given a fresh sound in this ultracool mash-up. "American Teen" singer Khalid teamed up with alt-rock band Imagine Dragons to produce this electro-laced medley, which pretty much caps a smashing year for both acts.
Fun fact: Khalid and Imagine Dragons first performed the medley at the American Music Awards.
Song: "Agimat"
Artist: Kamikazee
Rock band Kamikazee closed 2017 with the release of "Agimat." Listen to it if you're in the mood for some good old, unapologetic local rock sound. Aside from the kickass guitars and drums, the songwriting is something to admire, too.
Fun fact: The group was formed in 2000.
Share this story with your friends!
---
Help us make Spot.ph better!
Take the short survey
Load More Stories