MOVIE REVIEW: The Greatest Showman Is as Dazzling as the Circus
Performances by Hugh Jackman, Zendaya, Keala Settle deserve several rounds of applause.
(SPOT.ph) Before circuses became intertwined with whatever acrobatic genius Cirque du Soleil comes up with nowadays, there were those big red tents that featured lion-tamers, elephants, and strange acts doing incredible things. The most famous one was P.T. Barnum and the Barnum & Bailey Circus. It wasn't some small-town perya with a bunch of side-shows. These circuses were big, bold, and featured eye-popping visuals and spectacle. It was pure entertainment, with little to say of relevance, but hey, at least they looked cool! That's what The Greatest Showman, a musical film based off of P.T. Barnum's rise to the top, feels like. It's so dazzling in its presentation, with musical numbers so beautifully done, that it's fine to just dance over the film's story issues.
The Greatest Showman stars Hugh Jackman as P.T. Barnum, a ham of a man with an imaginative mind and a dream, and a penchant for entertaining others. After his other ventures including drab work as a clerk and a depressing museum of dead things don't necessarily make a profit, he digs back into his creative juices, and sets out to stage the most outrageous show. He hires people on the fringes of society—who, for a time in history were called "freaks"—including an extremely tall man, and extremely short man, a bearded lady, a man with tattoos from head to toe, and so on. He makes them the star of a very-much alive show.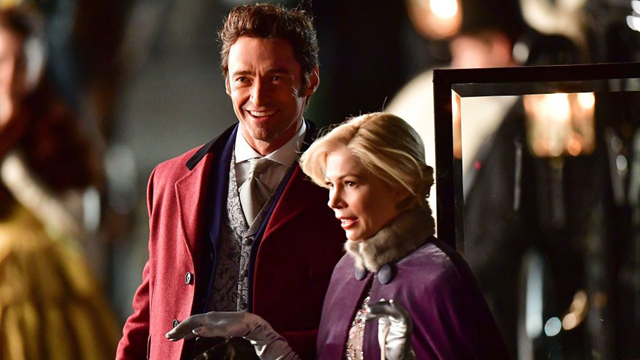 ADVERTISEMENT - CONTINUE READING BELOW
Soon, Barnum's new business takes off, and becomes the target of both the high and mighty, and those who don't want to celebrate "freaks" of human nature. Along with his wife (Michelle Williams) and a rich playwright (Zac Efron) looking for some new venture to undertake, Barnum fights back against the detractors by pushing the boundaries of what entertainment was like in the 1800s.
The Greatest Showman doesn't really care much for nuances or telling a compelling, complex story about its titular character. Instead, like Barnum's circus, it goes for a gleefully over-the-top, borderline-ridiculous but still wholly entertaining celebration of its central figure and his troupe. There are broad strokes about acceptance and equality, but it never takes enough time to dwell on these things. Instead, it moves from one explosive musical number to the next, lead by several explosive cast-members themselves, like breakout star Keala Settle, who plays the bearded lady Lettie. Showman is so eager to please and to entertain, that if people go in to just witness a fantastic spectacle, they would be incredibly satisfied.
CONTINUE READING BELOW
Recommended Videos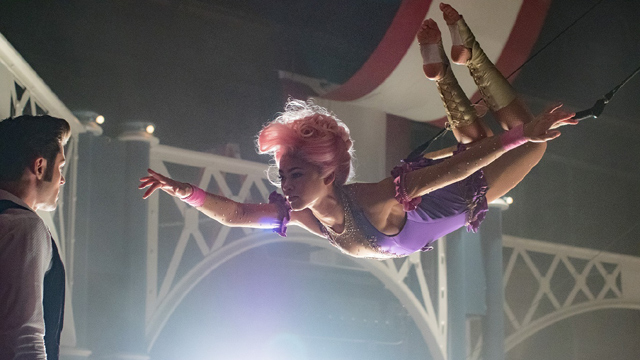 ADVERTISEMENT - CONTINUE READING BELOW
The musical numbers are the true stars of the show—the main events, if you will, from the "We Will Rock You"-esque "The Greatest Show," to the dizzying acrobatic love song "Rewrite the Stars" performed by Zendaya and Efron, to a breathtaking ballad performed by Rebecca Ferguson (sung by Loren Allred) called "Never Enough," to the film's freak flag anthem, "This is Me," which the aforementioned Settle absolutely smashes.
The songs, catchy and memorable, are by Benj Pasek  and Justin Paul, the most sought-after songwriters (second only, maybe, to Hamilton and Moana's Lin-Manuel Miranda) who recently picked up an Oscar for their work on La La Land, and a Tony for their work on Broadway's Dear Evan Hansen. Shifting the style to a more contemporary pop-rock musical instead of sticking to the film's time period was a risky choice that ultimately was the best idea.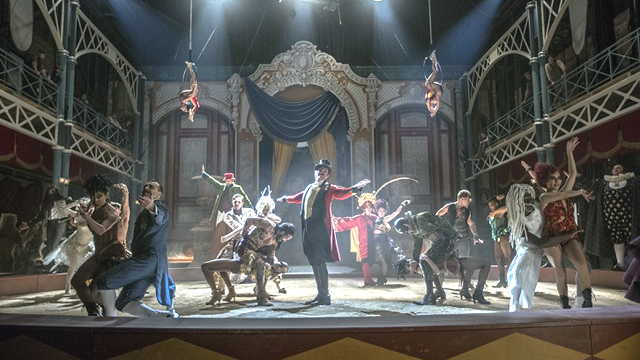 Without beautifully choreographed numbers, the songs may not pop. Thankfully, first-time director Michael Gracey and his team put so much effort into crafting these stunning numbers. The brilliant "This is Me" has a moment that's breathtaking, and "From Now On," a song that comes in very late, has such exuberant, hand-clapping, toe-tapping choreography, keeping audiences engaged until the end. Gracey, a visual effects artist, sometimes doesn't quite capture the choreography's little things, but makes up for it with crazy sequences. No matter how absurd, it still looks freaking amazing.
ADVERTISEMENT - CONTINUE READING BELOW
While we do have these joyous celebrations popping up with the musical numbers, it's definitely aided as well by the cast. Jackman is better than he ever was in Les Miserables, while Williams is utterly charming—and the two's dance sequences are a delight. Settle has the big number with "This is Me," while Zendaya and Efron get to do their thing as the star-crossed lovers. One must give a standing ovation for the cast, who really help in selling the spectacle-vision here.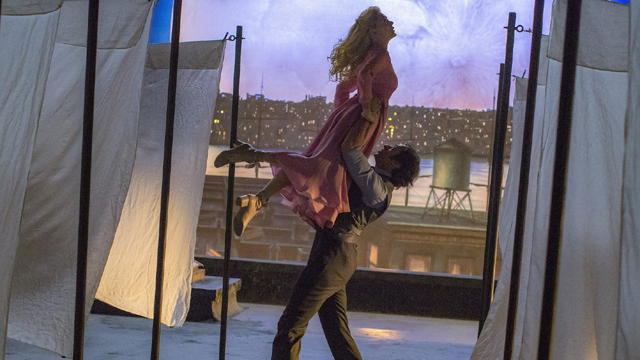 The film isn't perfect, and its imperfections are quite severe. While the musical numbers dazzle, its story fizzles. Strip away the grand sets, gorgeous costumes and the lovely music, and you're left with a bland, unimaginative, undercooked rags-to-riches story. Some major developments, like Barnum's neglect and questionable choices, are dropped into the story just to move us further along into the next spectacular musical number. Barnum isn't a good character, but Jackman's charm carries it through. This is called "The Greatest Showman" after all, and not "The Greatest Show," but it is unfortunate that we focus so much on Barnum, when his "freaks" are far more intriguing—we don't get enough backstory on the supporting cast besides the aforementioned broad strokes of their dismissal by society.
ADVERTISEMENT - CONTINUE READING BELOW
However, this isn't what The Greatest Showman busies itself with, and it knows it. This is a spectacle for the ages. Everything is a visual delight, and the film tries it hardest to entertain you, and that it does for the most part during its very trim 1 hour and 45 minutes run-time. "I wouldn't call it art," says a critic of Barnum's in the film, but he also praises Barnum for his showmanship and "celebration of equality," a self-reflection of a film built on hollow spectacle. Paraphrasing what Settle so brazenly belts during her show-stopping number: this is brave, this is bruised, this is what The Greatest Showman is meant to be.
RATING: 3.5 out of 5 spots
The Greatest Showman is out in theaters January 31, with sneak previews on January 22 and 23 in select cinemas.

Photos courtesy of 20th Century Fox.
Share this story with your friends!
---
Help us make Spot.ph better!
Take the short survey
Load More Stories