10 Bittersweet Korean Movies That Will Turn You Into an Emotional Wreck
Because not all stories are fairy tales, and sometimes you need a good ugly-cry!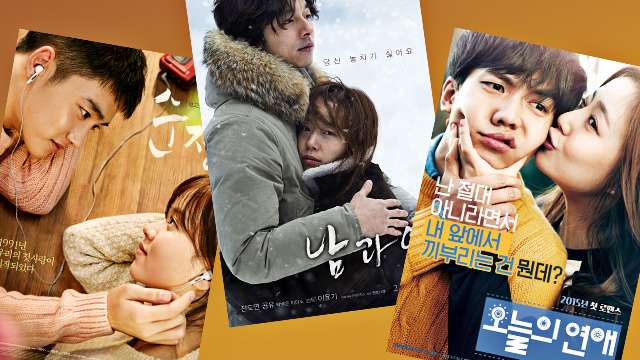 (SPOT.ph) The Hallyu stars and the entertainment geniuses from the Land of Morning Calm sure know how to make you feel all kilig with all their rom-com movies and shows—and they know how to break your heart, too. Here, we list stories that touch on all kinds of heartaches—being stuck in the friendzone, finding lost loves, trying to get over The One That Got Away (TOTGA), and so much more.
The Classic (2003)
Directed by: Kwak Jae-yong
Like the title, the movie centers on two classic love stories: having the right love at the wrong time and dealing with a third party. The melodrama tugs at your heartstrings with the cute moments shared by the couples, the sacrifices the characters need to make, and the tears they shed for the ironies life serves.
A Moment to Remember (2004)
Directed by: John H. Lee
Apart from relationship dynamics, forgiveness, and unconditional love, this movie features characters that can be described as "a diamond in the rough"—one having a controversial past and the other having a cold exterior. Although it seems like just another movie where the girl loses her memories after they fall in love, the chemistry between the top-billers makes it a can't-miss flick. Plus, the way it ends will leave you aching for that one person whom you yearn for, yet chooses to leave you anyway.
ADVERTISEMENT - CONTINUE READING BELOW
Always (2011)
Directed by: Son Il Gon
Cheol Min (So Ji Sub) is a broody former boxer who has closed himself off from the world. He crosses paths with Jung Hwa (Han Hyo Joo), a telemarketer who's about to go blind. Prepare for the surge of feels with all the serendipitous situations that the pair goes through in this melodrama.
A Werewolf Boy (2012)
Directed by: Jo Sung Hee
Ask any K-Movie fan, and this would probably be on their list of the most heartbreaking movies ever. With Park Bo Young and Song Joong Ki as leads, you can expect no less than phenomenal acting. The story is like a cross between Peter Pan and Beauty and the Beast—complete with a boy not aging, an envious villain, and a mob of villagers chasing down the beast. You'll find this story more heartbreaking if you've ever been on the receiving end of an unfulfilled promise.
CONTINUE READING BELOW
Recommended Videos
Tough as Iron (2013)
Directed by: Ahn Kwon Tae
With a mom who has dementia, Gang Cheol (Yoo Ah In) is left with no choice but to join a gang so he can afford his mother's medical bills. Somewhere along the muddy way, he meets and falls for a pretty girl touring his hometown. Though it isn't the highlight of the movie, the unavoidable circumstances Cheol finds himself in are relatable for anyone with a TOTGA.
Love Forecast (2015)
Directed by: Park Jin Pyo
You know how both men and women would describe each other with the phrase "as moody as the weather"? This rom-com starring Lee Seung Gi and Moon Chae Won revolves around the concept of turning a friendship into something more and the struggle that comes with being friendzoned. If you're someone who always falls for your friend and gets dumped in the process, you'll definitely relate.
ADVERTISEMENT - CONTINUE READING BELOW
A Man and a Woman (2016)
Directed by: Lee Yoon Ki
Set in Finland during winter, the fate of Sang Min (Jeon Do Yeon) intertwines with Ki Hong (Gong Yoo) after they both drop off their respective children at a camp and end up getting stranded together because of a snowstorm. Do they become friends or do they part ways for good? This film will take you through a crazy river of emotions.
Unforgettable/Pure Love (2016)
Directed by: Lee Eun Hee
Who doesn't love stories about falling in love (and probably missing your chance) with someone in your group of friends? You'll definitely reminisce about young loves or your cheo sarang with Do Kyung Soo (or EXO's D.O.) and Kim So Hyun. Like any coming-of-age movie, the film takes you on a roller-coaster of emotions and ends with a plot twist that may or may not leave you shattered.
Because I Love You (2017)
Directed by: Ju Ji Hong
Unlike the previous films, this one has a fantasy element. Song producer Jin Lee-hyung (Cha Tae Hyun) is on his way to propose to his girlfriend but meets a tragic accident. He becomes a bizarre version of Cupid—the kind that ends up in the bodies of people who are struggling with love and helps them with their own problems.  
One Day (2017)
Directed by: Lee Yoon Ki
Another fantasy-laced film, this story revolves around insurance examiner Gang-Soo (Kim Nam-Gil) and a ghost heroine only he can see and talk to. The premise isn't anything new, but the film takes you through the character's lives and pulls at your heartstrings with the way they overcome challenges. The ghost belongs to a woman in a coma, so you'll keep wondering how the story ends.


ADVERTISEMENT - CONTINUE READING BELOW
Share this story with your friends!
---
Help us make Spot.ph better!
Take the short survey
Load More Stories