10 Movies That Made Headlines for Their Sex Scenes
And why everyone was talking about them.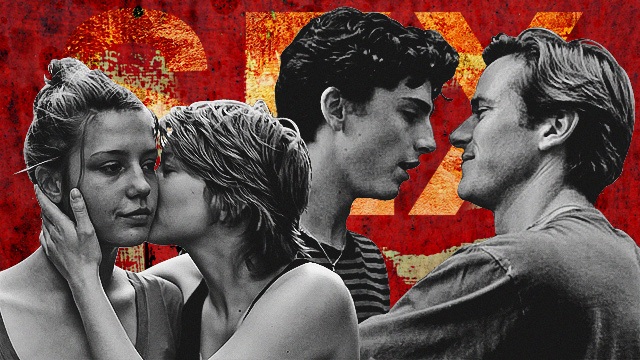 (SPOT.ph) Movies leave a lasting impression on audiences in different ways—whether it's through an A-list cast, a riveting script, beautiful cinematography, or what have you. But sometimes, they make waves because of sex scenes that, in turn, become controversial for a variety of reasons. They may have made one too many moviegoers (or sometimes, the actors themselves) a bit uncomfortable or onscreen drama may have spilled over to real-life. While there are undoubtedly many more movie scenes that have caused an uproar, we list down some of the ones that have come from film-festival darlings to blockbuster hits.
The Reader (2008)
Director: Stephen Daldry
This romantic drama film based on a novel of the same name by Bernhard Schlink was nominated for an Academy Award for Best Picture. Set in Berlin in 1995, it stars Kate Winslet as 36-year-old Hanna who starts sleeping with a 15-year-old named Michael (whose younger version is played by David Kross). They meet when Hanna runs into a sick and vomiting Michael and helps him. To thank her, Michael visits her and brings her flowers in her apartment, where Hanna, in turn, seduces him. They continue their affair, and after every time they sleep together, Hanna asks Michael to read to her. But then Hanna abruptly leaves without telling Michael when she gets promoted. They cross paths again years later when an older Michael (Ralph Fiennes) sees Hanna as a defendant in a trial for war crimes during the Holocaust.
The film was the subject of criticism for being a movie about the Holocaust, a horrendous atrocity of World War II, while also depicting numerous sex scenes. Critics argue that the setup trivializes the events of the Holocaust. It also doesn't help that those sex scenes are between a grown woman and a teenage boy, prompting critics to say that it's also pedophilic in addition to being offensive given the context. Winslet responded to the criticism, saying, "The relationship is not about sex. It's about how this young man reads her beautiful stories and poetry."
ADVERTISEMENT - CONTINUE READING BELOW
Blue Valentine (2010)
Director:
This romantic drama is a non-linear narrative of how Cindy (Michelle Williams) and Dean's (Ryan Gosling) relationship started out before slowly becoming toxic. There is one scene in the film where Dean performs oral sex on Cindy, rendering an NC-17 rating by the Motion Picture Association of America. Gosling himself appealed the rating, saying that it was a sexist double standard as many more oral sex scenes done on men weren't rated the same. The rating was eventually reversed.
The Girl With the Dragon Tattoo (2011)
Director: David Fincher
Daniel Craig and Rooney Mara star in this psychological thriller about a journalist (Craig) and a computer hacker (Mara) who work together to investigate the disappearance and possible murder of a woman 40 years prior. Rooney's character, Lisbeth Salander, is violently raped by her appointed legal guardian in one scene. As it turns out, Lisbeth actually records the rape with a video camera hidden in her bag and blackmails him with it afterwards, before proceeding to act out her own vengeance on him. Though the film—which was released during the holiday season, btw—received generally positive reviews, some questioned whether the scenes had to be shot in such a violent manner.
CONTINUE READING BELOW
Recommended Videos
Black Swan (2011)
Director: Darren Aronofsky
Natalie Portman plays Nina Sayers, a ballerina who is cast as the White Swan and Black Swan in a production of Swan Lake. Being sexually inexperienced and possibly unable to play the role of the sensual Black Swan, the director tells her to try and watch the new dancer Lily (Mila Kunis). As the opening night draws nearer, Nina suffers more severe hallucinations, including one where she traps herself and Lily in a room while fighting with her mother. Nina and Lily then perform oral sex on each other, and moviegoers complained that the scene was "pornographic." The number of complainants made it the most complained about movie of 2011 in the United Kingdom.
ADVERTISEMENT - CONTINUE READING BELOW
Blue Is the Warmest Color (2013)
Directed by: Abdellatif Kechiche
This French coming-of-age film about two lesbians became more well-known when it unanimously won the Palme d'Or at the Cannes Film Festival (a.k.a. the highest prize at the prestigious competition). It is also the first Palme d'Or award to be given to both the director and lead actresses, Léa Seydoux and Adèle Exarchopoulos, which was great news—at first.
Controversies soon followed the award-winning film after Seydoux and Exarchopoulos opened up about feeling uncomfortable while filming the sex scenes—one lasting almost eight minutes onscreen. (You can only imagine how long it took to shoot.) Seydoux says it made her feel like a prostitute, and both actresses also say they never want to work with director Abdellatif Kechiche again. Julie Maroh, whose comic-book novel is the basis of the movie also says that the sex scenes "turned into porn." For his part, Kechiche has said that the film should have never been released, but later on retracted his statement.
Gone Girl (2014)
Directed by: David Fincher
The whole premise of this mystery thriller is already controversial: Amy Dunne (Rosamund Pike) suddenly disappears, leaving her husband Nick (Ben Affleck) as the prime suspect. It is eventually revealed that she had everything elaborately planned—from planted diaries to her own spilled blood on the floor—as revenge for him cheating on her. So, you can only expect an even more intense sex scene.
After Amy sees her husband apologize on live TV for having an affair, she develops feelings for him once again and decides to clear his name. To do this, she sleeps with her ex-boyfriend Desi (Neil Patrick Harris), who's still in love with her. But mid-coitus, she slits his throat and wounds her own vagina to make it look like Desi kidnapped her and raped her before she killed him in self-defense—clearing Nick's name as well as her own.
ADVERTISEMENT - CONTINUE READING BELOW
Fifty Shades of Grey (2015)
Directed by: Sam Taylor-Johnson
Even when it was just a trilogy of books, the Fifty Shades of Grey series already ruffled a few feathers when it came to the portrayal of women and BDSM relationships. Critics were even more riled up when the movie adaptation finally hit the big screen. They argued that Christian Grey's (Jamie Dornan) treatment of Anastasia Steele (Dakota Johnson) eroticizes abuse and that their relationship doesn't adhere to the normal practices of BDSM. There were even petitions to boycott the movie and donate to organizations for battered women instead of buying tickets. Meanwhile, fans of the series defend it by saying that Christian and Anastasia's relationship is consensual and non-abusive. The first movie has gone on to produce two more sequels: Fifty Shades Darker and Fifty Shades Freed.
Kingsman: The Golden Circle (2017)
Director: Matthew Vaughn
The Kingsman series revolves around a British secret organization tasked with defending the world from evil villains—sort of like a James Bond movie (without all the seriousness). The first movie, Kingsman, already had people talking after the last scene showed a bare bum shot of the Swedish princess, which she offers as a "reward" after Eggsy (Taron Egerton) saves the world.
In the second film, Eggsy is reluctantly tasked with placing a tracking device on—or rather, in—the girlfriend of the villain through a rather intimate part of her body. It was criticized as being sexist, but director Matthew Vaughn explains, "I wanted to see a spy with an emotional and moral dilemma of having to do something he really doesn't want to do. Because James Bond would have done that, and probably would have had sex and a cigarette and thought, who's next?"
ADVERTISEMENT - CONTINUE READING BELOW
Blade Runner 2049 (2017)
Director: Denis Villenueve
Expanding the universe of the original Blade Runner film, Blade Runner 2049 centers around the isolated life of K (Ryan Gosling), a replicant (read: android) whose main purpose in life is to kill other replicants. His only relationship is with his artificially intelligent computer program-slash-hologram named Joi (Ana de Armas) who does everything he asks and caters to his every need. K and Joi fall for each other, but due to their physical limitations, Joi hires a sex worker named Mariette (Mackenzie Davis) to act as her body while she, as a hologram, follows her movements. (If you've watched Spike Jonze's Her, it's nearly the same concept, except K pushes through with the setup.) The scene earned praise for its production value, given that it had a lot of visual effects involved, but it also drew the ire of critics for its allegedly sexist portrayal of women. There was even a campaign on social media to boycott the film because of it.
Call Me by Your Name (2017)
Directed by: Luca Guadagnino
Timothée Chalamet plays the young Elio, who falls for the visiting graduate student Oliver (Armie Hammer). While they develop an intimate relationship, Elio finds out more about his sexuality and explores this discovery on his own with a piece of fruit: a freshly picked peach from his home's orchard. Oliver then comes into the room, performs oral sex on Elio, sees and tastes the peach on him, before attempting to eat the fruit.
ADVERTISEMENT - CONTINUE READING BELOW
The scene—which also takes place in the novel of the same name—was supposed to be cut from the film because director Luca Guadagnino didn't think it was even possible to do. But after some self-experimentation, he went to Chalamet and said they can film the scene, only for Chalamet to reply, "Of course it works! I tried it myself as well."
Share this story with your friends!
---
Help us make Spot.ph better!
Take the short survey
Load More Stories