10 Hilarious Viral Memes From Pinoy Movies
"Tanga, 'di pa start!"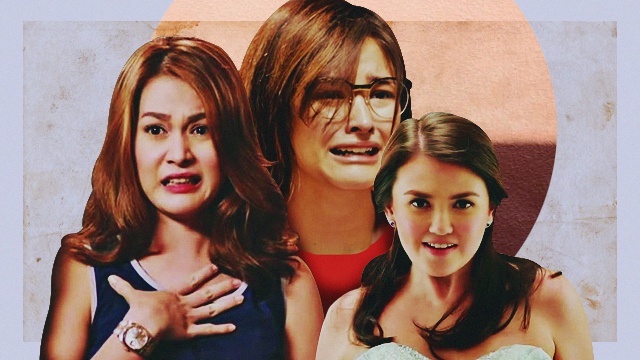 (SPOT.ph) Filipino movies—as cliché as they sometimes are—always deliver something everyone can relate to. From quotes about being single to moving on, they've given us lots of lines that probably also serve as advice for your heartbroken friends (and okay, maybe ourselves as well). But they've also given us lots of meme-worthy jokes and scenes that made us LOL so hard. We round up the funniest ones that make real-life a little bit lighter whenever we use them in everyday conversations.
Interview question: "what's your favorite quote"?

Me: "Wag mo kong ma-Terry Terry" po.

Also, imagining if w/feelings ba pag sinabi pic.twitter.com/z1XRBRltNL

— Tea-ta Kat ???????????? (@kriminal_kat) June 20, 2017
Minsan Lang Kitang Iibigin (1994)
Terry's (Maricel Soriano) close relationship with her best friend Melissa (Zsa Zsa Padilla) ends when Terry finally confronts her about sleeping with Terry's husband. Melissa doesn't give her a direct answer, and in a fit of rage, Terry screams, "'Wag mo akong ma-Terry-Terry!'Yong tanong ko ang sagutin mo. Are you fucking my husband?" Legend has it you can still hear echoes of that stinger of a line when catfights happen. (Just kidding.) But, it's the perfect line for anyone who's ever had to deal with friends-turned-snakes in their lives.
ADVERTISEMENT - CONTINUE READING BELOW
LIFE when you get good stuff: Take the risk, may chance ka d'yan.

Me and my trust issues: Akala mo lang meron, pero wala!

WALA

W A L A pic.twitter.com/LG4mD1uJp9

— Sofia (@eyelilyy) May 20, 2017
Bata, Bata Pa'no Ka Ginawa (1998)
This famous line from a '90s movie was a meme way before anyone even knew what a meme was. In this family drama, Vilma Santos plays Lea, the mother of Maya (Serena Dalrymple) and Ojie (Carlo Aquino). Maya's father is Ding (Albert Martinez), while Ojie's father is Raffy (Ariel Rivera). Ding and Raffy are trying to get custody of their own children, which, of course, causes tension in the family. In a heated argument, Lea tells Ojie that she's doing nothing wrong, to which Ojie replies, "Akala mo lang wala, pero meron! Meron! Meron!" Emphasis on the exclamation points.
CONTINUE READING BELOW
Recommended Videos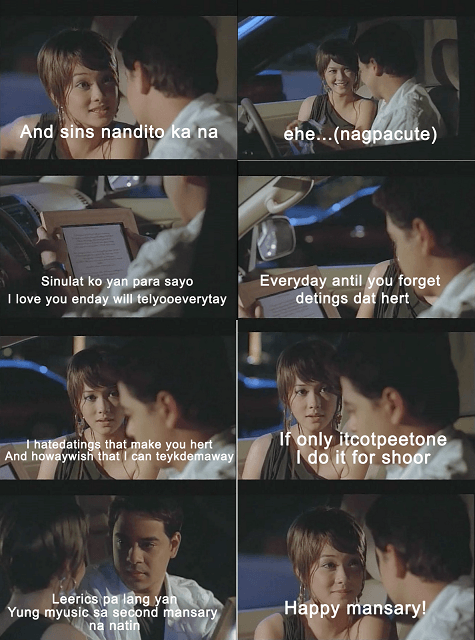 One More Chance (2007)
Oh, Maja Salvador, leveling up monthsary celebrations since 2007. In One More Chance, Salvador plays Trisha, Popoy's (John Lloyd Cruz) rebound girlfriend after his breakup with Basha (Bea Alonzo). During their monthsary, Trisha gives him the lyrics of a song that she wrote for him. And just like Angelica Panganiban in Beauty in a Bottle, the lines are delivered just a little bit imperfectly. It's a good thing she comes off really sincere, but too bad she didn't get to add the melody and finish the song for their next monthsary. 
ADVERTISEMENT - CONTINUE READING BELOW
kanina ilang beses ako natamaan ng mga tindera ng valentine's merch sa mukha

OO NA TANGGAP KO NA JANE, WANDA. TANGGAP KO NA NA WALA NA AKONG LALAKING MAKIKITA. TANGGAP KO NA NA MGIGING MAG-ISA NA LANG AKO SA BUHAY. MAG AALAGA NA LANG AKO NG ASO, PUSA, AT DAGANG COSTA. pic.twitter.com/V9HnyF8KLO

— amiel louise (@alouiserivera) February 14, 2018
Status: Single (2009)
Doris (Ruffa Mae Quinto), a woman in her 30s, is surrounded by her friends who are starting to get married and have kids. Feeling the pressure to settle down as well, she talks to her boyfriend Dodo (Mark Bautista) about it, only for him to break up with her. She then starts dating around in an effort to find the right guy for her, but when date after date fails, she talks to her best friends Jane (Desiree Del Valle) and Wanda (Angelu de Leon) about coming to terms with being single forever. "Tanggap ko na, Jane, Wanda" is now the favorite opening line of everyone and anyone who's ever just given up and accepted a fact they refused to acknowledge before—whether it's being late to work or getting a failing grade in an exam.
: Uy, pahingi naman topic sa thesis, bigay ka naman.
Me: Wala pa nga akong naiisip para sa grupo namin eh.
: Damot naman nito
Me: pic.twitter.com/BXF0mRNilb

— Shawny (@tuesdaybenito) December 6, 2017
Four Sisters and a Wedding (2013)
An ensemble cast stars in this family comedy-drama that, as the title suggests—revolves around four sisters, and well, a wedding. The titular four sisters haven't always had the best relationship. In a confrontation scene in the movie, Bobbie (Bea Alonzo) opens up about always being saddled with the blame despite her efforts to help the family. Her line, "Bakit parang galit ka? Bakit parang kasalanan ko? Parang kasalanan ko," has been the go-to quote for people who feel (jokingly) attacked by their friends.
ADVERTISEMENT - CONTINUE READING BELOW
Puro lablayp nasa tl ko.

OO NA AKO NA MAG-ISA pic.twitter.com/bSKOSqopfB

— ed (@edwardcruzado) June 26, 2017
English Only, Please (2014)
After getting out of a toxic relationship, Tere (Jennylyn Mercado) gets hired by Julian (Derek Ramsay) to teach him English. Soon enough, she finds herself falling for him, but not without a few (kind of rude) reminders that she's single, of course. While Tere is lining up for the jeep, a barker shouts, "Baka meron diyang isa lang! Walang boyfriend, walang asawa, walang kamag-anak!" Tere then shouts the now-motto of everyone who's owning up to their single AF relationship status: "Oo na, ako na! Ako na mag-isa!"
I've been slacking for the past few years... feeling ko it's about time to pick up where i left off and KEM BECK TO THE YENG AND BYUTIPUL U #push #2018goals pic.twitter.com/ivvscbggut

— NICS (@_nicolevalle) February 8, 2018
Beauty in a Bottle (2014)
In this comedy, Angelica Panganiban stars as Estelle, who dreams of becoming famous and successful. During a shoot for a beauty product (where Vicki Belo herself makes an appearance!), she has difficulty saying the line, "Come back to the young and beautiful you." They spend a whole day shooting her saying that one line again and again, but each attempt always comes out a little bit wrong. It's not a line you can use at any given situation, it's just so funny on its own that people would even copy the way she talks.
ADVERTISEMENT - CONTINUE READING BELOW
Me after seeing my grades because punyeta I deserve an explanation, I deserve an acceptable reason!!! ???? pic.twitter.com/7OW1M9VLdU

— Ethel Marie (@emeeencarnacion) April 9, 2017
Starting Over Again (2014)
When Ginny (Toni Gonzaga) comes back to the Philippines after studying abroad, she agrees to work with her ex-boyfriend Marco (Piolo Pascual) who now has a new girlfriend. Ginny realizes that she still loves Marco and tries to win him back, but he's still angry with her for having left him years prior without letting him know why. And so, "I deserve an explanation! I deserve an acceptable reason!" became the battle cry of anyone who feels they've been unjustly wronged.
ADVERTISEMENT - CONTINUE READING BELOW
ma: "akala ko ba mag aaral ka na?!?!?"

me: "tanga! 'di pa start" pic.twitter.com/SCnGwECTA1

— tita shelly (@shellyderp) March 23, 2017
That Thing Called Tadhana (2014)
After meeting Anthony (JM de Guzman), a heartbroken Mace (Angelica Panganiban) invites him to go on a spontaneous road trip. While traveling, the two start talking about Mace's failed relationship and Mace promises to stop talking about her ex-boyfriend—because she has to pay Anthony every time she does so. She brings him up right after the bet was made, and Anthony tells her to pay up, but she argues that the bet hasn't started yet, saying, "Tanga, 'di pa start!" and it became the go-to line for everyone asking you about something you promised you'll stop doing (like eating too much or talking to your crush) or start doing (like studying or waking up early).
why do i keep on losing followers? am i not enough?? pangit ba ako? kapalit palit ba ako?? pic.twitter.com/StyN1q0Dyj

— ???? (@rookiefied) May 3, 2017
My Ex and Whys (2017)
In My Ex and Whys, Liza Soberano's character Cali confronts her ex-boyfriend Gio (Enrique Gil) to ask him why he cheated on her. While people could relate to the line itself, "Pangit ba ako?!" it's actually the fact that the gorgeous Soberano is the one saying it that made it all the more meme-worthy.
Share this story with your friends!
---
Help us make Spot.ph better!
Take the short survey
Load More Stories