Top 10 Favorite Oscar Openings Through the Years
And the top spot goes to...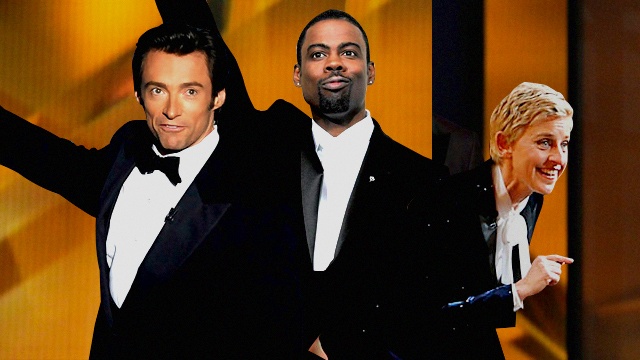 (SPOT.ph) Year after year, the Academy Awards a.k.a. the Oscars celebrate the best of the best in cinema. But of course, aside from the Best Picture winner (and checking out all the glittering outfits), one of the most awaited moments at Hollywood's most important night is undeniably the opening monologue. The host usually opens the show with some humorous banter, a mention or two of Meryl Streep and/or Leonardo diCaprio being nominated, and a couple of jokes about the year's films—though Jimmy Kimmel deviated slightly from that formula this year by mentioning issues like the Weinstein scandal and the Stoneman Douglas shooting. This year's Academy Awards were the 90th, and while there have been a lot of unforgettable opening monologues over the years, we round up our favorites among the most memorable ones from recent memory.
10. Chris Rock at the 77th Academy Awards in 2005
ADVERTISEMENT - CONTINUE READING BELOW
Chris Rock made waves when he hosted the Oscars in 2016 (more on that later), but he first hosted the awards show in 2005. If you watch it again today, it wouldn't be farfetched to say that his monologue was way ahead of its time. Who would've thought that his opening line, a joke celebrating the fact that there were "four black nominees," would be a foreshadowing of the next time he'd host the Oscars in 2016? But other than that, Rock doesn't pull any punches in his first hosting stint, delivering one scathing joke after the other, to the point that the official video of his monologue has been heavily edited. Nevertheless, it still has a few LOL-worthy gems.
9. Jon Stewart at the 78th Academy Awards in 2006
It's difficult to pull off a funny taped intro, but if you're the hilarious Jon Stewart, you can make it work. The voiceover narrator welcomes the host, but instead shows former hosts—like Billy Crystal, Chris Rock, Steve Martin, and Whoopi Goldberg—who "declined" the Academy's offer to host that year's show. The clip then ends with Stewart waking up in bed with Halle Berry (then George Clooney), talking about dreaming that he was asked to host the Oscars. Stewart then delivers a live monologue that makes fun of Hollywood's Sodom-and-Gomorrah-like lifestyle.
8. Jon Stewart at the 80th Academy Awards in 2008
Second-time host Jon Stewart hosted the Oscars in 2008 after a controversial writer's strike that ended just before the awards show. In his monologue, he jokes about the situation, saying, "This is the makeup sex." He then brings up the string of "psychopathic, killer movies" that were nominated that year (which includes Sweeney Todd, No Country for Old Men, and There Will Be Blood) and asks, "Does this town need a hug?" He ends the joke by saying, "Thank God for teenage pregnancy," referencing the nominated Juno. He also brings up a couple of jokes about Hilary Clinton and Barack Obama in light of the presidential race that year.
CONTINUE READING BELOW
Recommended Videos
7. Ellen Degeneres at the 79th Academy Awards in 2007
In her opening line, Ellen Degeneres talks about dreaming of hosting the Oscars—not winning one—but hosting it, saying that the moral of the story is to actually aim lower. Her monologue revolves around telling the celebrities to be thankful for being there even if they don't win. She also makes light of the nerve-wracking situation the celebrities find themselves in, given that there are a billlion people watching and they're probably scared of losing. There are a couple of hidden gems in this monologue, including a baby Abigail Breslin and a post-American Idol Jennifer Hudson. It's honestly a wonder why the Academy took a couple of years before inviting Ellen back.
6. Steve Martin at the 75th Academy Awards in 2003
The celebrity-centric punchlines by comedian Steve Martin were neverending in his 13-minute monologue in 2003. He makes a few jokes about the personal lives of the stars and couples them with a few self-deprecating lines. He then dedicates a part of his monologue to describing what a movie star is, saying, "They can be tall, short, thin, or skinny. They can be Democrats..." he pauses, with the audience laughing before continuing, "or skinny." He then zooms in on stars whom he jokes
have the decency not to brag about sleeping with him. He ends his monologue with another joke: "Remember, there are no losers tonight, but we're about to change all that."
5. Jimmy Kimmel at the 89th Academy Awards in 2017
ADVERTISEMENT - CONTINUE READING BELOW
What you probably remember the most from the Oscars in 2017 is that they pulled a Steve Harvey and had a mix-up when they announced the Best Picture winner. (In case you forgot: La La Land was mistakenly awarded instead of Moonlight.) But late-night host Jimmy Kimmel's politically charged opening monologue was already worthy of headlines with unrelenting jabs at Donald Trump. He also references Trump's tweet about Meryl Streep that calls her "overrated," prompting the audience to give her a standing ovation.
4. Ellen Degeneres at the 86th Academy Awards in 2014
You may be used to Ellen Degeneres making clean, light-hearted jokes on her daytime show, but she also delivered quite a few zingers in her opening monologue in 2014. She first hosted the show in 2007 but she's funnier the second time around, with lines making fun of how "difficult" Hollywood stars' lives are and how not much has changed, at least in terms of the nominees like Cate Blanchett and Martin Scorsese. She also makes a few quips about Jennifer Lawrence's embarrassing fall at the awards show the year prior, before bringing up the fact that Jennifer once again tripped while alighting from her car earlier that night.
3. Chris Rock at the 88th Academy Awards in 2016
The 88th Academy Awards—or as host Chris Rock called it, "The White People's Choice Awards"—was controversial for not having any African-American nominees. Rock dives right into the issue, joking that if there was an award for hosts, he wouldn't even get the job, saying, "Ya'll would be watching Neil Patrick Harris right now!" He also brings up how other people tried to convince him to back out of hosting. The issue gives him more than enough material for his hilarious but still socially aware and on-point 10-minute monologue.
ADVERTISEMENT - CONTINUE READING BELOW
2. Neil Patrick Harris at the 87th Academy Awards in 2015
Neil Patrick Harris' opening musical number at the 87th Academy Awards in 2015 proves why he's one of the most sought-after hosts in Hollywood. He opens with a quick intro telling a few jokes about how much money the nominated movies made, delivers a memorable punchline ("Tonight, we honor Hollywood's best and whitest. Sorry, brightest."), then explodes into song and dance. The LSS-inducing song, which looks back on some of the most iconic scenes from movies, is also interlaced with funny jokes (including a nod to Kanye West's controversial awards show gaffe and a spoiler about his movie, Gone Girl). Anna Kendrick and Jack Black also make surprise appearances. It was Harris' second time performing on the show (after doing a dance number in 2010) but it was his first time actually hosting, but we're already looking forward to the next time he's invited back.
1. Hugh Jackman at the 81st Academy Awards in 2009
Four years before he was nominated for Best Actor in a Lead Role for his role as Jean Valjean in the movie-musical Les Miserables, Hugh Jackman showed off his singing and dancing talents when he hosted the 81st Academy Awards in 2009. He opens with a quick intro telling the audience that because of the recession, the Academy decided to cut down on the funds for the opening number, so he made everything himself. He then performs a musical number about the films nominated for Best Picture—including The Reader, Slumdog Millionaire, and The Curious Case of Benjamin Button—before inviting (his future Les Miserables co-star) Anne Hathaway onstage for an "impromptu" duet. His impressive performance rightfully earned a standing ovation.
ADVERTISEMENT - CONTINUE READING BELOW
Share this story with your friends!
---
Help us make Spot.ph better!
Take the short survey
Load More Stories