Oscars Highlights: 10 Best Moments From the 90th Academy Awards
From Tiffany Haddish and Maya Rudolph's scene-stealing segment to Keala Settle's tear-jerking performance, here's a quick rundown.
(SPOT.ph) The Oscars are always marked by memorable moments—whether they're standing-ovation-worthy opening numbers or embarrassing award mix-ups—and this year's is no different. We've got funny speeches and presenters, fun surprises, and interesting winners. But the good news is, you don't have to sit through the whole awards show (which is around three hours long!) just to see the best moments because we round up 10 highlights from the 2018 Oscars that everyone will be talking about.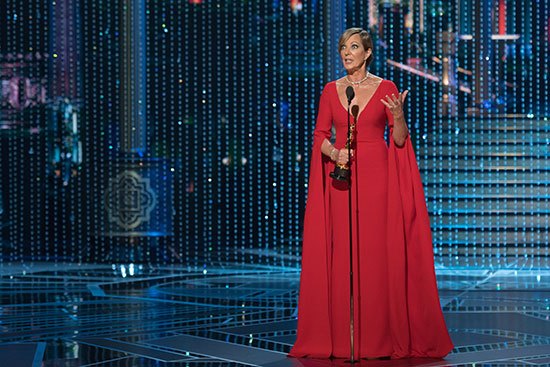 Allison Janney's acceptance speach for Best Actress in a Supporting Role
The 58-year-old actress became the oldest winner of the award for her role as LaVona Harding in I, Tonya. She started off her acceptance speech with, "I did it all by myself." Then she paused before continuing, "OK, nothing farther from the truth." It can't be easy to come up with a funny speech that'll make the audience laugh, especially given the limited time, but Janney delivered.
ADVERTISEMENT - CONTINUE READING BELOW
.@HamillHimself, @armiehammer, @GalGadot, @AnselElgort, and more stars surprised moviegoers with snacks during the #Oscars https://t.co/gGUxhynOtY pic.twitter.com/NyIFAi1qEI

— Variety (@Variety) March 5, 2018
Movie stars surprising moviegoers with snacks
The 89th Academy Awards in 2017 saw a busload of tourists unwittingly walk into the awards show while on their Hollywood tour. This year, it was the stars visiting and surprising people watching A Wrinkle in Time at a nearby movie theater. Can you imagine Gal Gadot, Ansel Elgort, Mark Hamill, Armie Hammer, and Lin Manuel-Miranda bringing you hotdogs and snacks?
#Oscars devotes a segment to voices of #MeToo, Time's Up movements https://t.co/ZoxVFVWulT pic.twitter.com/Dt7u1t7ssu

— Hollywood Reporter (@THR) March 5, 2018
The powerful #MeToo and Time's Up segment
Of course, the biggest night in Hollywood couldn't overlook the issue that's put the industry in a different kind of spotlight in the past year. Three of the #MeToo movement's biggest speakers, Ashley Judd, Salma Hayek, and Annabelle Sciorra, took to the stage to talk about the importance of talking about the truth. They then introduced a taped video featuring some of the nominated filmmakers like Lady Bird director Greata Gerwig and actor Kumail Nanjani, who reiterate the importance of movies in revealing the truth and promoting progressive inclusion.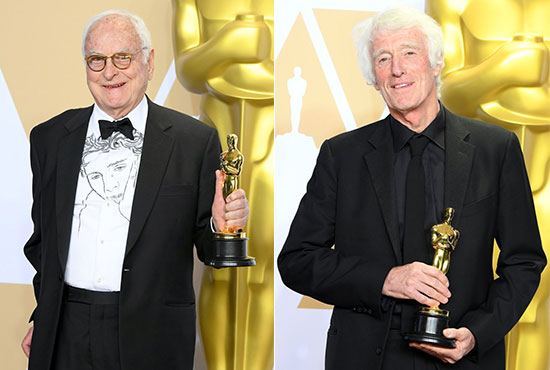 CONTINUE READING BELOW
Recommended Videos
James Ivory's and Roger Deakins' record-breaking and inspiring wins
If Best Actor for a Leading Role was an elusive award for Leonardio DiCaprio for many, many years, so was the Best Cinematography award for Roger Deakins, who's been nominated a total of 14 times! Deakins finally won the coveted statuette for his work on Blade Runner 2049. Also a celebratory moment was 89-year-old James Ivory's win for Best Adapted Screenplay for his work on Call Me by Your Name, which was originally a novel of the same name written by Andre Aciman. Ivory is not only the oldest winner of that category, but is actually the oldest Oscar winner ever.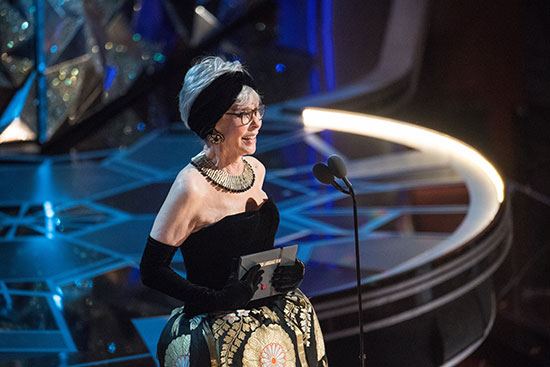 Rita Moreno's repeated outfit by a Filipino designer
In 1962, Puerto Rican actress Rita Moreno won Best Supporting Actress for her role as Anita in West Side Story, Now, 56 years later, she dusted off the same dress she wore all those years ago to hit the red carpet. But it's not just the outfit repeating that's worth mentioning. Her dress was made by Filipino designer Pitoy Moreno—and no, they're not actually related. Rita had her dress made by Pitoy when she was in the Philippines shooting for the 1963 film Cry of Battle.
ADVERTISEMENT - CONTINUE READING BELOW
Keala Settle's performance of "This Is Me" from The Greatest Showman
In true Oscars fashion, the songs that are nominated for Best Original Song are performed live on stage. One of the most awaited performances was by none other than Keala Settle, who sang "This Is Me" from the soundtrack of The Greatest Showman. Her amazing performance brought the audience to their feet!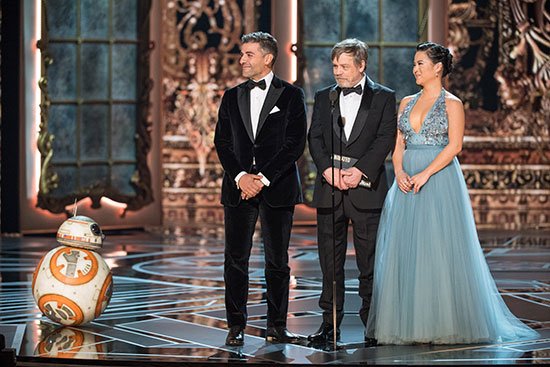 Mark Hamill joking about La La Land while presenting
It's no secret that the Academy made the extra effort this year to avoid the mistake of announcing the wrong winner, what with the huge fonts on the envelopes and the super-meticulous rehearsals before the live show. It's no secret either that Mark Hamill is hilarious, so he of course, made light of the situation by referencing the gaffe while presenting the award for Best Animation along with Oscar Isaac, Kelly Tran, and yes, BB-8! While opening the envelope, he repeatedly mutters under his breath, "Don't say La La Land, don't say La La Land, don't say La La Land." Aaand, he didn't. He correctly announced the winner, Coco.
ADVERTISEMENT - CONTINUE READING BELOW
Best Actress Frances McDormand asks all the female nominees to stand at the #Oscars, calls for an inclusion rider https://t.co/RuqvtKMvWx pic.twitter.com/jbFHN4kHrT

— Hollywood Reporter (@THR) March 5, 2018
Best Actress Frances McDormand asks all nominated women to stand up 
Following the powerful segment about the #MeToo and Time's Up movements, the penultimate winner of the night, Frances McDormand, delivered an inspiring speech while accepting her award for Best Actress in a Leading Role for Three Billboards Outside Ebbing, Missouri. She asked all the women who were nominated for all the categories to stand up. "Meryl, if you do it, everyone will do it, too!" she encouraged. After everyone stood up, she then asked the room to applaud the women and said, "Look around ladies and genetlemen, because we all have stories to tell and projects we need financed." 
Maya Rudolph and Tiffany Haddish's hilarious bit
Comediennes Maya Rudolph and Tiffany Haddish are each funny in their own right, but put them together, and you're sure to bring the house down in roaring laughter. The two presented the award for Best Animated/Live Action Short, but they pretty much just presented themselves to be the hosts of next year's Oscars. Rudolph walked on stage with her heels in hand, while Haddish replaced her stilettos with a comfy pair of Uggs. Yes, Uggs. Haddish then delivered one of the funniest bits of the night, saying, "I know what you're thinking. Are the Oscars too black now? Don't worry, we were just backstage, and there are still a bunch of white people still to come." Now, everyone on the Internet basically just wants both of them work on something together, if not host the next Academy Awards.
ADVERTISEMENT - CONTINUE READING BELOW
And the Jet Ski goes to... Mark Bridges, costume designer for Phantom Thread, whose speech lasted 36 seconds. #Oscars pic.twitter.com/ayVAx3nCjX

— The A.V. Club (@TheAVClub) March 5, 2018
Jimmy Kimmel giving away a jet ski for the shortest speech of the night
Fun fact: The first-ever Academy Awards were only 15 minutes long. (That's basically how long one round of commercials is nowadays!) This fact is something that host Jimmy Kimmel brought up when he announced there would be another award up for contention, which was the Oscar for the shortest acceptance speech. The award was ultimately given to the costume designer for Phantom Thread, Mark Bridges, who went off with his prize at the end of the show with Dame Helen Mirren.
Share this story with your friends!
---
Help us make Spot.ph better!
Take the short survey
Load More Stories