MOVIE REVIEW: Tomb Raider Gets an Extra Life In This Modern Reboot
Alicia Vikander fills the shoes of the legendary video game character Lara Croft in this action-packed movie.
(SPOT.ph) Lara Croft is an icon. As one of the few female leads of her own video game franchise, and one of the even fewer female leads of an action adventure game, Lara Croft remains one of video games' most important and enduring characters. When the Tomb Raider franchise got a video game reboot back in 2013, it replaced a Lara that was sold as hot and sexy and having over-the-top adventures with a grittier, more survival-based game with a Lara that was marketed as a strong-willed and intelligent woman. Blood-stained, wrapped in bandages, with a look in her eye that says "don't get in my way", it was a modern and improved look for the character.
The 2018 film Tomb Raider attempts to do the same, hitting the reset button to try and replicate the magic of the 2013 video game, and while it struggles to tell a coherent story with engaging characters, the overall impact of the film is a moderately successful shift for the franchise, capturing the feel that made the 2013 reboot so fresh and enjoyable.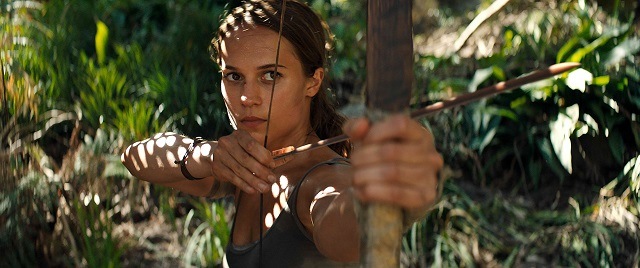 ADVERTISEMENT - CONTINUE READING BELOW
Replacing the near-perfect casting of Angelina Jolie, Oscar winner Alicia Vikander takes a walk in Lara Croft's boots. In this version, Lara is still reeling from the reported death of her father. While she takes her time doing cool athletic things like participating in bike races and having MMA fights, she's mostly a lost young adult with no direction in her life. Seven years have passed since her father, Lord Richard Croft (Dominic West) went missing, yet she still hasn't signed the papers that will officially declare her father dead and will lead to her inheriting his huge fortune.
Lara discovers a puzzle left behind by her father that leads to her father's secret research about a mysterious, off-the-map Japanese island and a queen of death named Himiko that's buried there. (For anyone who played the 2013 video game, this is the exact same story.) Afraid of what power opening this tomb may bring, Lara's father has made it his life's work to stop the evil organization Trinity from ever opening the tomb, even if it means leaving young Lara behind. Lara decides to find out what really happened to her father, booking a boat from Hong Kong with captain and new friend-slash-ally Lu Ren (Daniel Wu) to the dangerous island of Yamatai, which unbeknownst to Lara, is already occupied by Mathias Vogel (a perfectly cast Walton Goggins) and his band of mercenaries trying to find Himiko's tomb.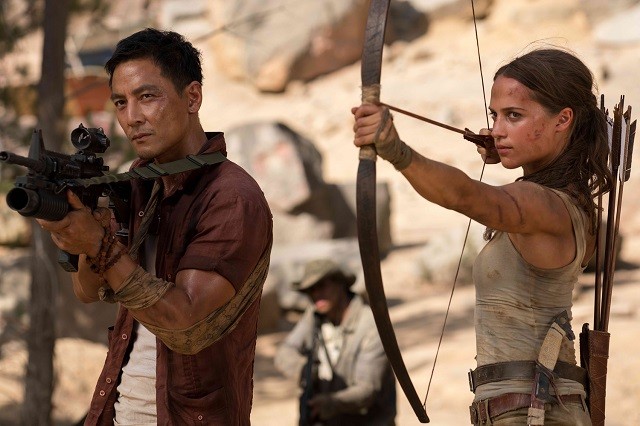 CONTINUE READING BELOW
Recommended Videos
Unlike the Jolie-versions of Lara that played up her sexiness, Vikander's Lara is never called out for being beautiful and no one makes a mention of her looks or attempts to come onto her. This isn't about looks. She's judged for her spunkiness, her seeking for meaning, and her drive to survive. She comes off as charming yet steely, clearly sad but putting on a happy face to get by, like any other person. Unlike the iconic short-shorts, green top, and ponytail that you may know from the early versions of the game, this Lara is armed in just plain colored shirts, pants, and a rucksack. Just like the 2013 video game version, there's no sex to be sold here. She's athletic, emotional, and gets out of situations by being smart and unwilling to give up. Vikander pulls it off incredibly well. She's more than enough reason to take a peek, because her version of Lara is first and foremost a survivor.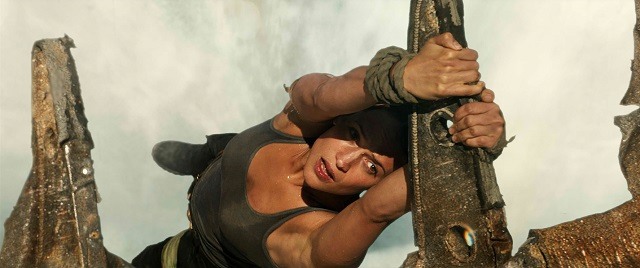 ADVERTISEMENT - CONTINUE READING BELOW
The trouble with video game adaptations remains the same, however. This film hews very closely to the 2013 video game in terms of story and action, and just like the Assassin's Creed movie version (starring Vikander's husband Michael Fassbender), there's a disconnect between viewer and player. If you're not engaged in the fight, then why bother? However, what Tomb Raider gets right (and what Assassin's Creed did not) is that it always makes it feel like Lara is in danger even if you know she's going to survive. The way they plot out the action sequences, whether it involves bad guys, or just Lara trying to survive a waterfall drop, maximizes the thrill and suspense. In the end, it'll be easy to forget most setpieces since they aren't the most unique, but during the film, they do their job moving the film along at a breakneck pace.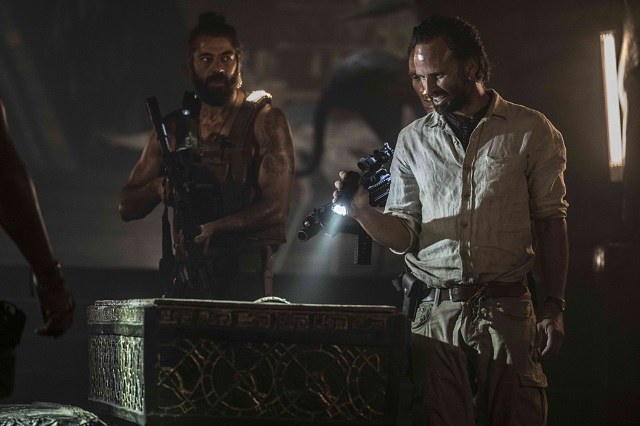 The Tomb Raider games shouldn't be very difficult to adapt—you have a very interesting built-in story, a well-known lead character, and cinematic action scenes to copy. Yet, while Tomb Raider does a lot of things right, it still isn't the first amazing video game adaptation. Vikander and the cast are great, and director Roar Uthaug does a great job at capturing the action, but the plot doesn't hold up. There are lots of questions about how things get to where they are, and about characters' motivations. And just when the movie feels like it's going somewhere new and fascinating (like a moment where Lara is pushed to doing something terrible for the first time ever), the film does a hard 180 and goes back to action movie and video game clichés.
ADVERTISEMENT - CONTINUE READING BELOW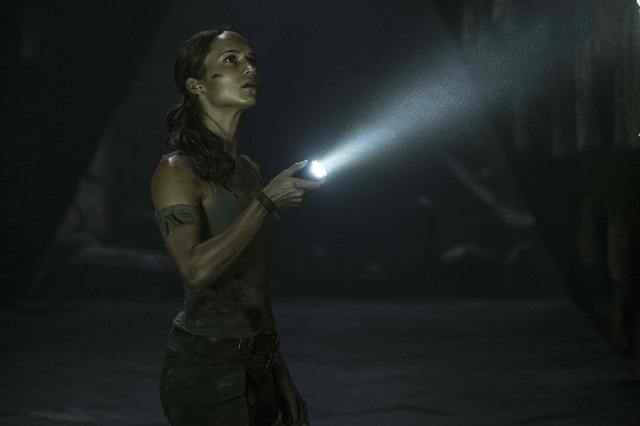 Tomb Raider is a perfectly fine action adventure, but when you have so much to work with, and when there's already so much potential on screen, it really could have been a lot better—not just emotionally—in its plotting and overall presentation. Lara's companion Lu's sideplot becomes unnecessary midway through, for example, while the jungle setting never feels big or majestic enough to warrant paying attention to it, although the actual tomb raiding later in the film showcases some of the film's best moments and what this film franchise could be. This hopeful franchise starter sets up a way-too-obvious villain for the next film (it's basically hand-fed to you early on), and one can only hope that the filmmakers focus on what works rather than what doesn't, because the title of Great Video Game Adaptation is still up for grabs.
Rating: 2.5 out of 5 spots
Tomb Raider opens in theaters on March 8.
ADVERTISEMENT - CONTINUE READING BELOW
Photos courtesy of Warner Bros. Pictures
Share this story with your friends!
---
Help us make Spot.ph better!
Take the short survey
Load More Stories