MOVIE REVIEW: Citizen Jake Is the Slap in the Face We All Need Right Now
Filmmaker Mike de Leon is as brave as ever.
(SPOT.ph) During its production, Mike de Leon's comeback film Citizen Jake was savagely criticizing the Duterte administration and its alleged involvement in extrajudicial killings, through Facebook posts by both the movie's official page and the director's social media account. "It is our belief that one cannot separate art from politics in a developing country like ours," the page posted in reply to a comment that told them to "stick to promoting [their] film." So when Citizen Jake finally premiered on March 10 at Cine Adarna in the University of the Philippines – Diliman, it didn't come as a surprise to see that it's as politically charged as the rest of De Leon's filmography—if not more so.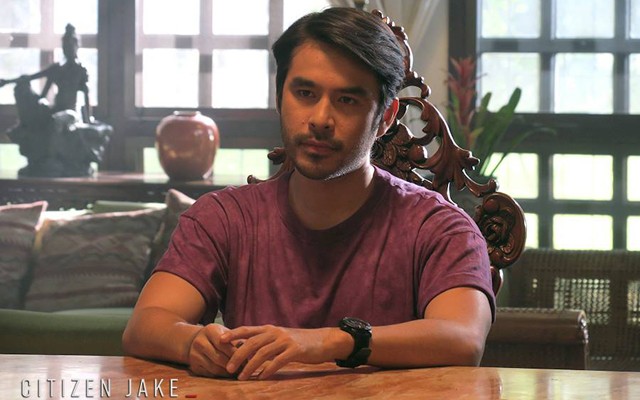 Citizen Jake starts off with an introduction by journalist Jake Herrera, Jr. (played by Atom Araullo), reminiscent of how the real-life journalist would introduce his documentaries. For a first-timer in front of the camera, at least as an actor and not a reporter, Araullo is quite convincing. It helps that his character is emotionally detached, even "scarred for life," needing restraint from too much drama—a tear falling from the left eye and a couple of outbursts at most. 
ADVERTISEMENT - CONTINUE READING BELOW
Self-referential through and through, he—as Herrera—asserts that this film is his own perspective on the subject at hand, giving him the license to manipulate imagery, characters, and setting to prove a point. But that doesn't mean that it is purely a work of fiction, because fiction is but an abstraction of truth; and in this world where "truth is stranger than fiction"—a mantra often repeated in the film, it can be hard to decipher what's real and what's not. This line between imagination and accuracy is made even more blurred by the general format of Citizen Jake. The first-person narration about the making of the film within the film would spring up time and again; behind-the-scenes shots would intercut with flashbacks and dream sequences, and a clapper would appear in a couple of frames. De Leon's implementation of meta-cinema fortifies the film's argument on unadulterated truth, which is only a fitting theme in this time of #FakeNews, trolling, and historical revisionism.
CONTINUE READING BELOW
Recommended Videos
The rest of the film is peppered with references not only to President Rodrigo Duterte (and his swearing), but also to Senators Manny Pacquiao (mentioned "discreetly" as the boxer-turned-senator), Tito Sotto, and Bong Revilla. It makes fun of Juan Ponce Enrile's memoir, and reveals often-ignored and denied facts about the Marcos administration through Primitivo Mijares' book The Conjugal Dictatorship of Ferdinand and Imelda Marcos, news clippings and old photographs, and first-hand accounts. Images of the past and present are flashed, showing how history seems to be repeating itself because of our people's short memory.
ADVERTISEMENT - CONTINUE READING BELOW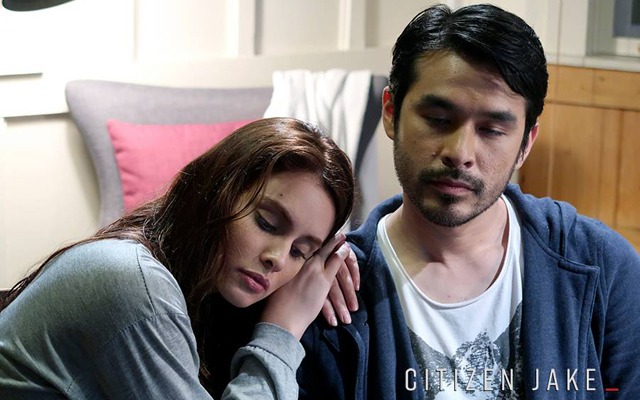 We later find out who Herrera is, a former Tribune writer forced to resign due to conflict of interest after his father and former Marcos crony, Jake Herrera Sr. (played by Teroy Guzman), ran for the senate. He escapes the shadow of his family name and goes to his mother's house in Baguio where he teaches in a local university. On the side, he writes in his own blog where he tears apart corrupt officials, even the family patriarch, with well-investigated cases and visual evidence of anything that would connect them to transgressions in the government. Thanks to Herrera's curious students, a sequence compares mainstream media with citizen journalism. The former, according to the journalist, is a whole organization of researchers, fact-checkers, and editors; while the latter is dependent on credibility and facts presented. In the end, it's up to the reader to "take it or leave it."
ADVERTISEMENT - CONTINUE READING BELOW
Even the setting, Baguio, serves as a microcosm of the whole country. In Herrera's words, it has become like any other Philippine city: Polluted, congested, cursed with traffic jams, and riddled with crimes. It is also a sample of what the rest of the archipelago has become—a piece of land stolen by colonizers (and later, rich businessmen and feudal lords) where the original land-owners have become slaves. We are introduced to individuals who themselves have their own crosses to bear—the poet and professor Lucas (played by Lou Veloso, with much gravitas) who was once tortured by the Marcos administration for speaking against the dictatorship; Herrera's co-teacher and lover Mandy (played brilliantly by Max Collins) who takes it upon herself to save her students, sometimes to a fault; and Jonie (played convincingly by Luis Alandy), Herrera's kababata who dreams of leaving the country for good. It is not lost on us how the three seem to be allegories of how Filipinos deal with hopelessness in the Philippines: by protest and rebellion, by saving the country, and by escaping their land. Alandy's character takes a more complex turn when he turns against his own friend to save himself, a heartbreaking portrait of betrayal.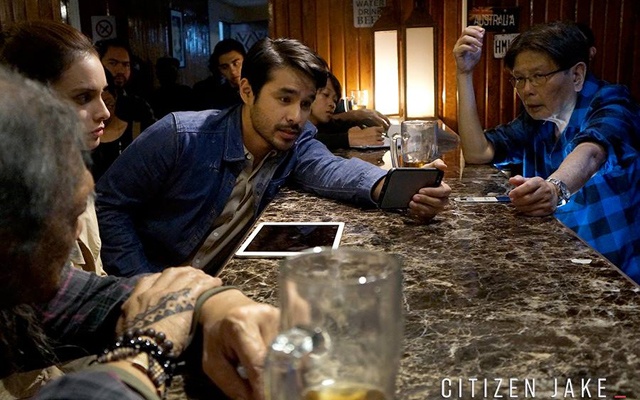 ADVERTISEMENT - CONTINUE READING BELOW
All these elements—from the theme to the characterization—are pushed forward with Herrera's investigation of a tragic incident in his community: A female student is brutally raped and murdered. What seems to be a simple case turns out to be part of a grand scheme of blackmail, collateral damage, and power play among public officials. De Leon handles this wild good chase with such ease that there's nothing left to do but follow in Herrera's frantic search of the truth until he's slapped in the face by it. In the end, we delve into what has become of society: it's either kill or be killed—an image of futility and despair, which is probably what we need to finally wake us up from the endless loop of poor governance.
RATING: 4.5 out of 5 spots
Citizen Jake screens to the public on March 13, 7 p.m. at Cine Adarna, University of the Philippines Film Institute, Diliman, Quezon City. Tickets, priced at P150, are available at the Media Center Ticket Booth from 10 a.m. to 5 p.m.
UPDATE (March 13): An additional screening is scheduled on March 23, 7 p.m. at Cine Adarna, University of the Philippines Film Institute, Diliman, Quezon City. For updates, follow Citizen Jake on Facebook.
UPDATE (May 2): Citizen Jake is showing in theaters nationwide on May 23.
UPDATE (August 31): Citizen Jake is one of the films for the Never Forget Film Festival at Cinema Centenario in Quezon City. Screening is on September 8, 1:30 p.m.; September 15, 6:30 p.m.; September 21, 2:30 p.m.; and September 30, 11 a.m.
ADVERTISEMENT - CONTINUE READING BELOW
Share this story with your friends!
---
Help us make Spot.ph better!
Take the short survey
Load More Stories