10 Road-Trip Movies to Keep You Company on Your Next Getaway
Hit the road and hit play.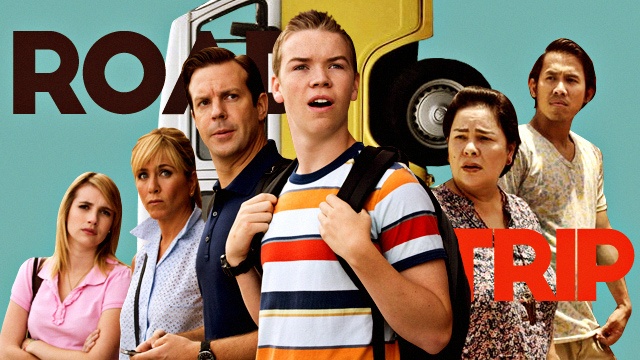 (SPOT.ph) With another long weekend coming up, it's highly likely that you'll be spending a good few hours stuck in traffic trying to get to your dream destination. But fear not! We've got 10 movies all about hitting the road that'll surely be good company while you're navigating through the expressway. The best part: No gas required!
The Motorcycle Diaries (2003)
Directed by: Walter Salles
Road trips, as fun as they may be, also oftentimes become a platform for deeper life realizations and reflections. Such is the journey taken by 23-year-old soon-to-be-doctor Ernesto Guevara (Gael Garcia Bernal) and his friend Alberto Granado (Rodrigo de la Serna) as they travel across Latin America to offer their services to a leper colony. This biopic features Ernesto's transformation from med student to the iconic revolutionary Che Guevara, where he realizes that life is not just all about adventure because of the indigents and various groups of people he meets along the way.
ADVERTISEMENT - CONTINUE READING BELOW
Little Miss Sunshine (2006)
Directed by: Jonathan Dayton and Valerie Faris
Get your bags packed (with emotion, laughter, and familial love) and bond with the dysfunctional Hoover family as they travel from Albuquerque, New Mexico to California in support of their youngest member Olive (Abigail Breslin) in her dream to be crowned Little Miss Sunshine. Joining her on the roller-coaster family trip are her overworked mother Sheryl (Toni Collette), her overbearing father Richard (Greg Kinnear), her silent half-brother Dwayne (Paul Dano), her suicidal gay uncle Frank (Steve Carrell), and her foulmouthed grandpa and beauty-queen coach Edwin (Alan Arkin).
Zombieland (2009)
Directed by: Ruben Fleischer
When the going gets tough (and by that, meaning zombies have taken over the world), one must find ways to survive the imminent threats of being eaten alive. Columbus (Jesse Eisenberg) teams up with hard-headed cowboy Tallahassee (Woody Harrelson), and sisters Wichita (Emma Stone) and Little Rock (Abigail Breslin) as they try to follow "the rules of survival," search for some Twinkies, and ultimately find a sanctuary in zombie-infested America.
We're the Millers (2013)
Directed by: Rawson M. Thurber
Road trips can be a lot of fun, especially if you're in good company—that's exactly what David Clark (Jason Sudeikis) does in an attempt to successfully pull off a smuggling job and pay his debts. David puts together a rag-tag group, composed of his eighteen year-old neighbor Kenny (Will Poulter), teenage runaway and thief Casey (Emma Roberts) and the stripper Rose (Jennifer Aniston), to pose as an all-American family so they could pull off the job without raising eyebrows. There are more than a handful of LOL-worthy moments as they figure out how to be a "family" on their ultimate vacation.
CONTINUE READING BELOW
Recommended Videos
That Thing Called Tadhana (2015)
Directed by: Antoinette Jadaone
What's a good road-trip movie list without the quintessential Pinoy road-trip movie of them all? Relive the heartbreaks and fall back in love with Mace (Angelica Panganiban) and Anthony (JM de Guzman) as they find the right answer to the question: Where do broken hearts go? Having met randomly at an airport, Mace and Anthony go on a soul-searching journey to Baguio and Sagada and provide each other wth a sense of comfort and company, allowing them to move on from their pasts, and figuring out why fate brought them together.
Mad Max: Fury Road (2015)
Directed by: George Miller
If you're tired of seeing the same old "realistic" road-trip flick, then the post-apocalyptic world of Mad Max: Fury Road is the path to race through. The film follows the story of titular character Max Rockatansky (Tom Hardy) as he aides Imperator Furiosa (Charlize Theron) in her fight against the tyranny of Immortan Joe (Hugh Keays-Byrne) who has taken control of the oil and water supply, and the enslavement of women. Filled with wild car chases in the desert, intense battle scenes, gorgeous cinematography, and some badass #FemaleEmpowerment, you're definitely in for a wild ride.
I'm Drunk, I Love You (2017)
Directed by: JP Habac
Looking for a #FeelsTrip (and craving some bagnet)? I'm Drunk, I Love You is definitely right up your alley. Days before their college graduation, Carson (Maja Salvador) decides to join her best friend Dio (Paulo Avelino) on a spontaneous road trip to La Union, all while she struggles to figure out how to handle her unresolved romantic feelings for him. Whether you're a hopeless romantic like Carson, a certified paasa like Dio, or find yourself dealing with a Pathy (Jasmine Curtis-Smith) who's in the way of your OTP, this is a film that will surely tug on your heartstrings.
ADVERTISEMENT - CONTINUE READING BELOW
Love You To The Stars And Back (2017)
Directed by: Antoinette Jadaone
When you feel like looking for aliens to take you away from this cruel world, all it takes to get you back on the ground is some good ol' company—with a hint of romance, of course. Mika (Julia Barretto), struggling to find her place in the world, goes on a solo trip aimed at finding extraterrestrials her late mom told her about. Soon enough, she stumbles upon Caloy (Joshua Garcia), a humble probinsyano whose goal is for his estranged father to accept him before his terminal sickness takes over. Together, they go and search for some aliens, but ultimately find common ground that teaches them the true meaning of life and family (all while taking care of a pet chicken!).
Patay Na Si Hesus (2017)
Directed by: Victor Villanueva
Ohana means family, and family means no one get's left behind…even on a crazy road trip to visit your deceased father. In this film, Iyay (Jaclyn Jose) forces her three adult-aged children (Chai Fonacier, Melde Montañez, and Vincent Viado) to go on a road trip from Cebu to Dumaguete to attend the funeral of their estranged father. Together with their crazy tita Lucy (Mailes Kanapi) and their dog Hudas, the family go through some wild adventures that explore different themes of Filipino family dynamics, grief, love, and acceptance.
Si Chedeng at Si Apple (2017)
Directed by: Fatrick Tabada and Rae Red
BFFs going on a road trip? Check. Trying to get away with murder? Check. Making love win? Check. Experience the (laugh) trip of a lifetime with Chedeng (Gloria Diaz) and Apple (Elizabeth Oropesa) as they help each other face their personal struggles head on. Chedeng, following the death of her long-time husband, comes out to her children as she aims to find and reconnect with her ex-girlfriend in Cebu. Apple, on the other hand, wants to get away after accidentally killing her abusive husband. The buddy comedy not only gives you some laughs, but effectively tackles deep societal issues as well.
ADVERTISEMENT - CONTINUE READING BELOW
Share this story with your friends!
---
Help us make Spot.ph better!
Take the short survey
Load More Stories