MOVIE REVIEW: Pacific Rim: Uprising Does Its Best to Rise to the Occasion
John Boyega is out to cancel the apocalypse in this Guillermo del Toro-less monster movie.
(SPOT.ph) It's almost hard to believe that it's been five years since Pacific Rim. Especially because—and it won't be a stretch say it—no monster- or even robot-action movie has made as big of an impact since. (Transformers doesn't really come close.) The concept behind (now Oscar-winning director) Guillermo del Toro's original monster movie is simple: Huge alien monsters called Kaijus have been terrorizing coastal cities, so humans have built equally monstrous robots called Jaegers to fight and kill them off.
The relatively simple plot is made extraordinary by the sheer magnitude of it all—what with humongous monsters fighting to the death amongst towering skyscrapers—along with complex relationships between strong characters. This set-up worked for the first movie and Pacific Rim: Uprising knew it wasn't broken, so it didn't bother fixing it. While it wasn't exactly a bad thing to do, it wasn't necessarily a good thing, either. Ultimately though, Uprising doesn't take itself too seriously much like its predecessor, giving the film a younger, more lighthearted vibe and making it somewhat of a hipper sibling to the original one.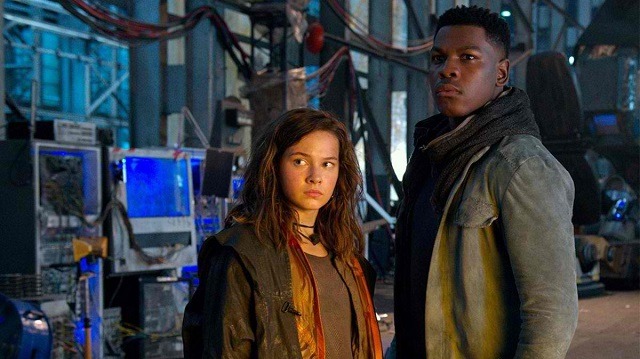 ADVERTISEMENT - CONTINUE READING BELOW
The del Toro-less sequel picks up 10 years after the events of the first movie. The underwater bridge a.k.a. Breach that connects the Kaijus' extradimensional world with our world has been closed off, thanks to the sacrifice of the great Stacker Pentecost (Idris Elba). And though it's slowly rebuilding, the world is still reeling with the loss the war left behind—very much like Pentecost's estranged son Jake (John Boyega), who's turned to selling Jaeger parts in the black market after dropping out of Jaeger-pilot training. While stealing yet another Jaeger piece, he gets caught by the Pan Pacific Defense Corps along with the spunky Amara Namani (Cailee Spaeny), who has built her own—albeit smaller—Jaeger out of spare parts.
In exchange for prison time, Jake hesitantly strikes a deal with his sister Mako (Rinko Kikuchi), who is now a leader of the Pan Pacific Defense Corps (PPDC). Jake goes back to the corps and has to work with his former co-pilot, Nate Lambert (Scott Eastwood), who still has feelings of animosity with Jake after Jake quit without telling him. Together, they train a new generation of pilots, now including the impressive but unruly Amara. But their training might be for nothing because the Kaiju might not even come back. There's also a new advanced drone technology developed by Shao Industries headed by ambitious Shao Liwen (Jing Tian) and the eccentric Dr. Newt Geiszler (reprised by Charlie Day) that will render the Jaegers pointless.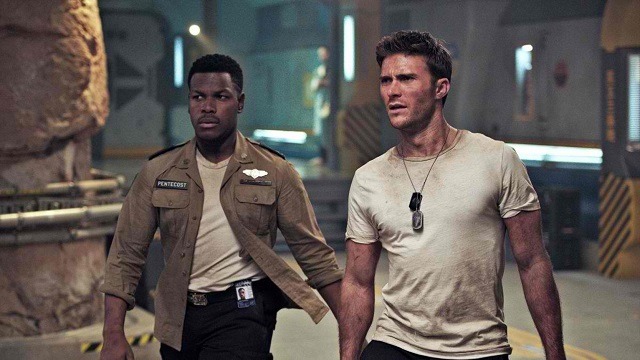 CONTINUE READING BELOW
Recommended Videos
The first thing you'll notice is how young everything feels—and it's not just because of the obviously younger cast. It generally feels more lighthearted than the last one, especially since Uprising acknowledges what it is (a.k.a. a sequel to what was supposed to be a dumb robot movie that actually turned out to be awesome) and it does so the best way it possibly can—by making fun of itself. There are quick-witted lines inserted here and there as well as those blink-and-you'll-miss-it references to the first movie. It also knows that it's playing into some cliché tropes you've grown tired to see in action movies, so it goes ahead and makes the joke for you.
There's also no denying the charm oozing out of Boyega's Jake. He still has the charismatic leadership that his late father had—but instead of a crowd-roaring, clock-resetting speech, he shows it through his head-on and frank approach to matters at hand. Boyega brings to life a protagonist that could have just as easily been your annoying older brother. It's something that would be an outlier in the first installment of the series and a trait you never would have found in Charlie Hunnam's glaringly absent Raleigh Becket. Jake's cheeky personality bounces off Spaeny's headstrong Amara, and the two depict a more playful brother-sister relationship as compared to Jake and Mako's nearly all-business kinship. Eastwood's Nate is also at his best when exchanging amusing banters with Jake.
ADVERTISEMENT - CONTINUE READING BELOW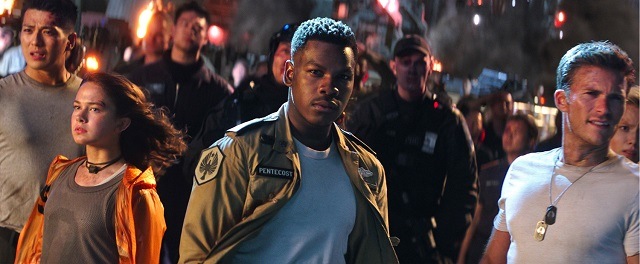 But it would be remiss not to acknowledge the obvious similarities of the old and new characters as well as the crowd-pandering casting choices made. Amara is a skilled young girl motivated by her childhood trauma of losing her family due to a Kaiju attack—essentially Mako, just a few years off. The strict Nate is the token pretty-boy who isn't exactly welcoming of quitters-slash-outsiders, much like Robert Kazinsky's late Chuck Hansen. There's also an effort to channel the personalities of the original pilots, but the new set of pilot-cadets just seem to mix together without standout qualities.
It's hard not to notice the sudden number of Asian actors, which isn't exactly a bad thing. It could probably be an argument for diversity. But considering Legendary Pictures was bought by China's Wanda Group and that the first installment did better in Asian markets than it did in the United States, it (financially) makes sense.
ADVERTISEMENT - CONTINUE READING BELOW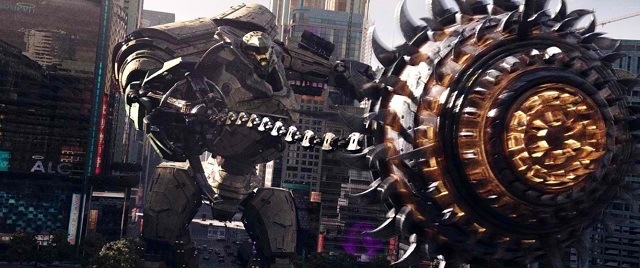 The movie also makes an in-your-face argument for bigger things being better. It even has some lines outrightly saying so. It may as well be a preemptive defense for director Steven DeKnight's bigger monsters. The movie is DeKnight's first foray into feature-length movies as he had previously worked on Marvel's Daredevil and gladiator series Spartacus. But the dark grit of these shows aren't exactly shown in the brightly lit backdrops of the chaotic battles. While the monsters and robots were definitely bigger, they—and their fights—weren't exactly better. There are times when you could just as easily predict what was about to happen without holding your breath.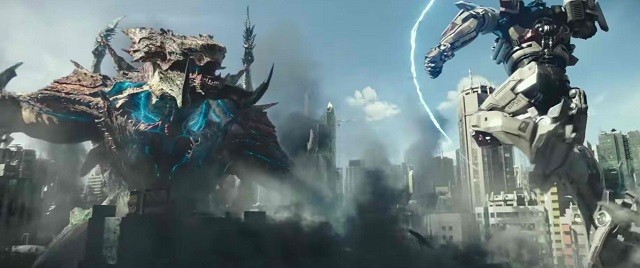 ADVERTISEMENT - CONTINUE READING BELOW
The climactic final battle though, stands out from the other fight sequences of the movie. There's a sense of helplessness and desperation matched with characters bent on destruction and all-out ass-kicking. The underused Jaegers finally get a chance to show what makes them individually different from each other. And you finally find yourself in the midst of the fight your inner child has been waiting for. It also served as the perfect chance for otherwise bland characters to redeem themselves and prove to be more than just a space-filler.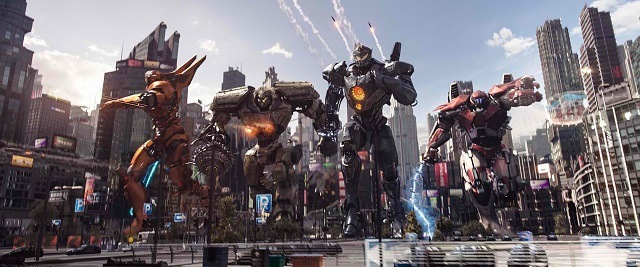 It's difficult to determine what exactly is missing in this sequel that only has del Toro as an executive producer instead of director. Maybe it's his definite vision of what the film should be as a figment of imagination turned to reality rather than a textbook blockbuster movie. Or maybe it's how the sequel makes a confusing case in how it tries to make the formula of the first movie work but doesn't quite build on it enough to make it stand out. It also would've been too much to think that DeKnight would live up to all the expectations of the series' almost Star Wars-like cult following. 
ADVERTISEMENT - CONTINUE READING BELOW
But when you take a step back and strip down the movie to its core—a movie literally about giant robots fighting giant aliens—it delivers its fair share of entertainment value. It's still got a strong, charismatic lead and the unbreakable familial bonds that were also present in the first installment. There's still a nailbiting action sequence that your childhood fantasies were made of and it's got a fresher and humorous take on the impending doom of it all. There's still hope to be had for this franchise, so fingers crossed there'll be another Kaiju apocalypse to cancel soon.
RATING: 3 out of 5 spots
Pacific Rim: Uprising opens in theaters on March 31.
Photos courtesy of United International Pictures
Share this story with your friends!
---
Help us make Spot.ph better!
Take the short survey
Load More Stories