10 Up-and-Coming Local Acts That Deserve a Spot on Your Playlist
With songs worthy of putting on loop!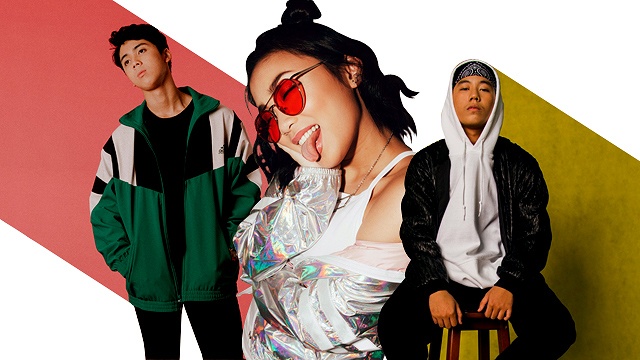 (SPOT.ph) With the emergence of breakout indie bands such as Ben&Ben and IV of Spades, the rise of the Philippines' newest soundtrack queen Moira dela Torre, and a new wave of Original Pilipino Music sounds brought about by James Reid, it's safe to say that the Filipino music scene, in one form or another, is more alive than ever.
Whether you'd prefer some classic banda vibes, hip-hop beats, or new takes on Original Pilipino Music (OPM), we've got you covered with a list of 10 local acts to watch for and listen to in the soundtrack of your lives. Ready, get set, play!
Fern. 
Move over Troye Sivan, there's a new wonder kid in town. Having just released his self-titled debut EP, there seems to be no stopping the rise of this 17-year-old singer/songwriter/producer. Fern.'s songs, mostly inspired by music from the '80s, perfectly encapsulate different experiences of youth; from falling in love, making moves on the person you like, and even the pains of a break up—all while serving some serious bops that will surely get you dancing to your feet in no time.
ADVERTISEMENT - CONTINUE READING BELOW
Must-listen: "Into You," "Lie 2 Me," "Started"
Shanti Dope
You don't have to look any further from the Philippine islands if it's fiery hot hip-hop music you're looking for. Sixteen-year-old rap prodigy Shanti Dope has been making rounds and topping charts since being discovered by his uncle/producer Klumcee, and being placed under the wing of OPM rap icon Gloc-9. His songs about young love and the hardships of teenage life are definitely something fans could resonate with (or rap along to, if given that amount of skill). With two EPs already up his sleeve, a growing fan base across the nation, and his raw talent, the future looks burning bright for Pinoy rap.
Must-listen: "Nadarang," "Materyal," "Shantidope" (with Gloc-9)
Over October
If you're in need of some easy listening to get you through a rough day, play some Over October and feel those problems go away. The four-piece alternative band, formed in their college days (just like many other great OPM bands!), have been providing the perfect combination of great pop, rock, and catchy music ever since they released their first EP in 2016. Their refreshing songs can easily make you feel like you're on a road trip, going head-over-heels over your crush, or simply having an awesome day.
Must-listen: "Never Stop," "Arbitrary," "Lovestruck"
Better Days
The classic banda sounds of the past are often hard to come by in the OPM scene these days, but that is just what Better Days brings to the picture. Composed of five members, the band got their big break after playing back-up to Alexa Ilacad's Kung Pwede Lang music video, and now they're ready to make their own name in the business. They only have two songs released so far, but their chill vibes, together with some heartfelt lyrics and rocking instrumentals will definitely make you feel that better days are indeed coming.
CONTINUE READING BELOW
Recommended Videos
Must-listen: "Sige Lang," "Nararamdaman"
TALA
It's often easier to tread the hard-to-navigate waters of love and life with a friend by your side; that is exactly what listening to TALA's music feels like. The 18-year-old singer/songwriter—equipped with her relatable words, soulful voice, and girlish charms, provides R&B anthems in her EP that are sure to empower anyone who feels as if they're brokenhearted or those simply looking to break away from societal pressures in an effort to love one's self.
Must-listen: "nothing personal," "boy," "bruised"
Basically Saturday Night 
Feel like taking a blast to the past? Recently featured as Wanderland 2018's Wanderband, Basically Saturday Night is a five-piece band that takes control of the wheel and brings you to a groovy trip back to the boogie nights of the '70s. Their silky smooth vocals, backed with funky drop-everything-and-boogie tracks are a refreshing addition to the ever-growing pantheon of OPM sound. It seems like we're feeling a little Saturday Night Fever coming along just listening to the songs on their EP!
Must-listen: "Chemical Love," "El Poder," "What's That Driving Song?"
Munimuni
During times when you feel like unleashing your hugot, the five-member folk-rock act Munimuni can be the perfect soundtrack to your day. Their heartwrenching, poetic lyrics about love, combined with some surprisingly relaxing and hopeful instrumentals provide just the perfect amount of feels that are so good, it hurts. Don't say we didn't warn you.
Must-listen: "Sa Hindi Pag-Alala," "Sa'yo," "Tahanan"
ADVERTISEMENT - CONTINUE READING BELOW
Ruru 
Whether you're out exploring a new city, or just chilling in your bedroom daydreaming, Ruru has a tune for you. This Manila-based solo act started writing at the age of 13 and takes cues from various genres such as R&B, alt, and bedroom pop. Her wistful, dreamy tunes, amped up by her sweet voice, are ones to listen to when you want to have a chill time.
Must-listen: "Changing," "Another," "Coco"
Brisom
There's definitely more room for artists that carry the sounds of the oh-so-lovable era that is the '80s—and Brisom is a band that should not be missed out on. This four-piece synthwave pop band first formed in 2013 and has since been releasing music seemingly under the radar. The unlikely mixture of Tagalog lyrics with the infectious beats of the '80s makes for a unique listening experience altogether.
Must-listen: "Balewala," "Siglon," "Pride"
Garage Morning
With inspirations coming from bands such as Oasis, Paramore, Foo Fighters, and Up Dharma Down, there's no denying that Garage Morning is on the road to become a go-to alternative rock band for Pinoy listeners. The four-piece band's sound feels like it could come from an indie coming-of-age movie we wish were in, all while giving lyrics that are very relatable in an I-wish-everything-were-better level.
Must-listen: "I Won't Stop You Now," "I've Got You"
Share this story with your friends!
---
Help us make Spot.ph better!
Take the short survey
Load More Stories