MOVIE REVIEW: Gigantic Monsters Go Berserk in the Action-Packed Rampage
Dwayne Johnson goes face-to-face with a surprisingly endearing yet still formidable white gorilla in this disaster movie.
(SPOT.ph) Let's face it: We've all seen at least one movie featuring a monster going on a city-wide destruction spree (sometimes with damsel-in-distress on hand), or that one disaster movie where one man is tasked to save the world from damnation. These ideas may seem clichéd to put into film all over again, but if you thought big-budget blockbuster action films couldn't get any crazier than that, think again, because Rampage mixes it all together into one wild motion picture.
The film is loosely based on the popular 1986 arcade game of the same name (made available for other consoles later on), which features not just one, but three (!) mega-monsters bringing destruction onto a city, all while trying to evade military forces that go against them. The same premise is shown on the big screen, all while adding in some more backstory as to why the creatures go on their titular rampage.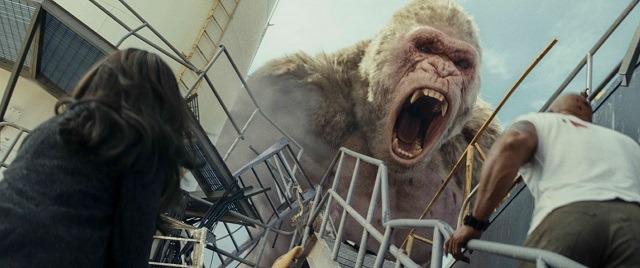 ADVERTISEMENT - CONTINUE READING BELOW
In Rampage, we are introduced to the substance CRISPR, a military-grade genetic editing substance developed by the company Energyne. This substance has been banned by the government due to the danger posed to those exposed to it, but an operation gone wrong leads three seemingly regular animals to turn into humongous, aggressive mega-creatures.
Enter Davis Okoye (Dwayne Johnson), a primatologist who discovers that one of his beloved animals, George the Silverback Gorilla, has been infected and is starting to stir up some unprecedented mayhem in their sanctuary. With the help of discredited genetic engineer Dr. Kate Cladwell (Naomie Harris), and a little assistance from hard-headed government agent Agent Harvey Russel (Jeffrey Dean Morgan), it's up to Okoye to find the cure to the genetic experiment gone awry, save George, and save the world from two other rampaging creatures like Ralph the Grey Wolf, and Lizzie the American Crocodile.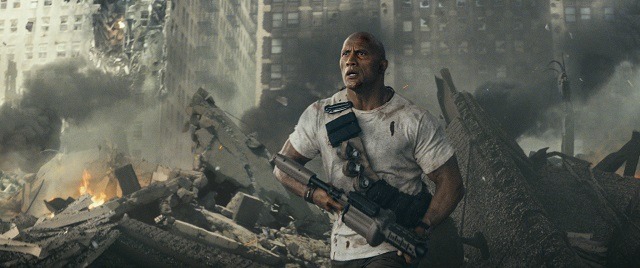 What is most impressive about this film is how immersive it is—getting the audience to feel like they're actually part of the story and not mere onlookers. From the onset, director Brad Peyton (who also directed blockbuster-hit disaster film San Andreas) provides scenes throbbing with tension, complete with an intense score and sound design that is sure to make the audience feel on-edge. The cinematography itself is done in a manner where audiences are taken into more of an experience (much like a ride at a theme park), rather than sitting still in the theater and just observing what happens.
CONTINUE READING BELOW
Recommended Videos
Stakes are set high in the beginning of the film, and this stays consistent until the credits start rolling. There's never a dull moment, with one intense action sequence after another and some comedic relief every now and then. The film really goes big on the action, especially in the third act when all three monsters come together to wreak havoc on the city.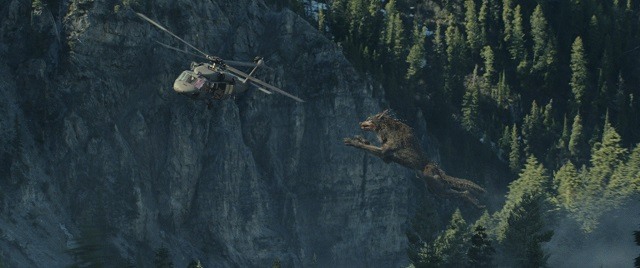 Aside from the idea of putting together two blockbuster action-film concepts (a monster movie plus a disaster movie) and a video-game adaptation, the film barely offers anything out of the box. While it does add a little more backstory to the creatures' motivations, the film's overall plot feels as if it's only following standard blockbuster fare—that is, following some usual tropes and just adding a little bit of flair. Such is the case for subplot about the evil corporation—in this movie, it's Energyne—displaying corporate greed that leads to mass destruction.
ADVERTISEMENT - CONTINUE READING BELOW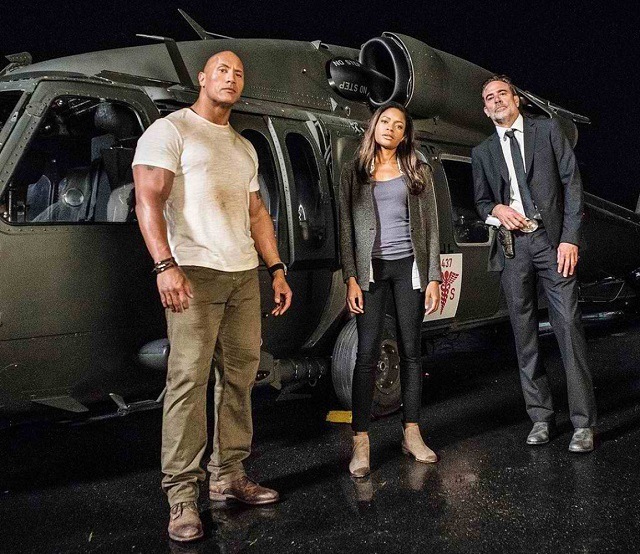 The same stereotypical treatment is given to the characters. The film's cast is pretty strong, including Johnson who has already done quite a lot of action films (such as the Fast and the Furious franchise and San Andreas), and Morgan, (who is prominent for his bad-ass roles on TV shows like Supernatural and The Walking Dead). But little is given for these actors to work with in terms of characterization. Just like the story, the thinly written characters mostly rely on stereotypes, such as Morgan's hard-to-impress Agent Russell or Johnson's let-me-handle-this-I'm-the-hero-of-this-film role.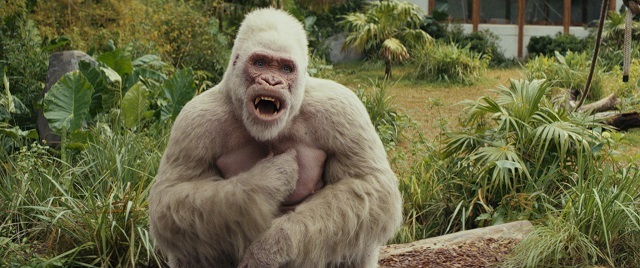 ADVERTISEMENT - CONTINUE READING BELOW
If there's one characterization the film gets right, it would have to be George the gorilla. Even in his early scenes, George is already established as a good guy—very endearing and friendly to Okoye and those in the sanctuary. The characterization certainly elevates what was once just a rampaging video game character into a film character that surprisingly has a lot of personality. Although he still does turn into a menacing creature (as seen in trailers and as part of the main's premise), George is a character you'd constantly root for until the very end of the film—unlike his human counterparts. Much of this is also due to some stellar VFX work shown in the film, not just for George, but also for the two other creatures that all appear hyper-realistically.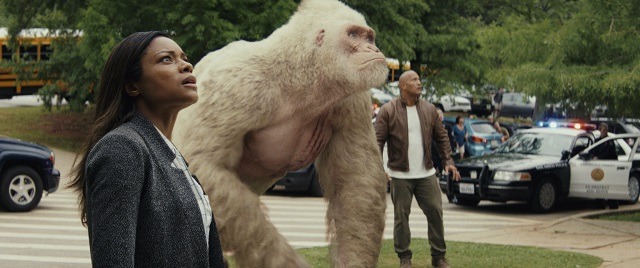 Although majority of Rampage's DNA is made up of stereotypes and tropes already present in a multitude of other films, pitting Johnson against three mega-monsters in one wild monster-disaster film proves to be very entertaining fare because of its intensity, jaw-dropping action scenes, and an endearing lead animal character. The film is something fans of the original video game would enjoy, as they see the characters come to life, while also catering to anyone looking for some big-screen action. We're ready to see what disaster Johnson has to face next.
ADVERTISEMENT - CONTINUE READING BELOW
Rating: 3 out of 5 spots
Rampage opens in theaters today, April 12.
Photos courtesy of Warner Bros. Studios
Share this story with your friends!
---
Help us make Spot.ph better!
Take the short survey
Load More Stories