10 Still-to-Come Superhero Movies We're Excited to See
Time to put on those super suits!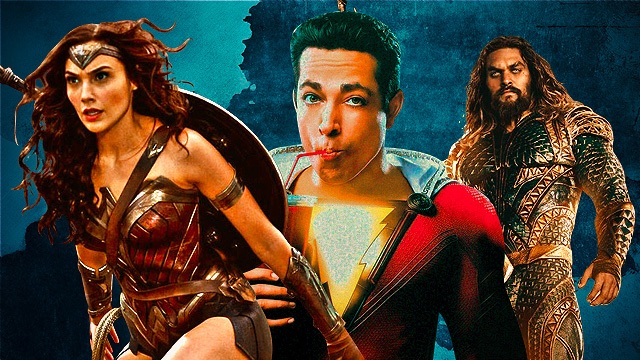 (SPOT.ph) It's been a great couple of years for superhero fans given the number of action-packed movies that have been hitting theaters recently. At one point, you might even think that everyone's put on a spandex suit by now, but there are actually still a couple more heroes set to do some ass-kicking in the near future. We list down some of the most exciting ones you should be keeping tabs on.
Incredibles 2
Premiere date: June 14
Fourteen years! That's how long kids-now-full-grown-adults have had to wait for a sequel to The Incredibles. The super-family has already worked together to take down a fanatic-turned-villain in the first movie. But now the rest of them have to stand back while their mom Elastigirl (Holly Hunter) fights to save the world while also making sure superheroes don't get a bad rep. Meanwhile, Mr. Incredible (Craig T. Nelson) is at home, making sure the kids are all safe with a bit of help from Frozone (Samuel L. Jackson)—though Frozone's snarky wife probably doesn't approve.
ADVERTISEMENT - CONTINUE READING BELOW
Ant-Man and the Wasp
Premiere date: July 5
There's no greater mystery in the world of superheroes right now than the ending of Avengers: Infinity War. While we still have more than a year of waiting for the fourth Avengers movie, you could at least get the tiniest bit of a clue when Paul Rudd returns as Ant-Man in this sequel. He finally gets a partner in Hope van Dyne (Evangeline Lilly) a.k.a. The Wasp and they work together to fight Ghost (Hannah John-Kamen), a villain bent on taking down big corporations using, well, ghost-like powers like invisibility and intangibility.
CONTINUE READING BELOW
Recommended Videos
Venom
Premiere date: October 5
This isn't the antihero Venom's first foray into movies. He was first played by Topher Grace in Spider-Man 3 (a.k.a. the last one with Tobey Maguire as the titular webslinger if you're confused about all the reboots). But this time, Tom Hardy is Eddie Brock, the host (and/or victim) of the alien symbiote that—aside from being super-creepy looking—also gives him powers like super strength and shape-shifting abilities. While Marvel Studios doesn't necessarily consider this movie as part of the Marvel Cinematic Universe, Sony Studios says it's set in the same world as Spider-Man: Homecoming.
Aquaman
Premiere date: December 21
Sure, you may have once scoffed at the idea of having a standalone Aquaman film. But Justice League may have proven to you that if it's Jason Momoa playing the fish-talking, wave-controlling King of Atlantis, it's probably worth a shot. This movie is set after the events of Justice League, and Aquaman a.k.a. Arthur Curry is caught in between the people he rules and "surface dwellers" who continue to ravage the sea.
ADVERTISEMENT - CONTINUE READING BELOW
Dark Phoenix
Premiere date: February 14, 2019
Dark Phoenix takes place in 1992, almost a decade after the events of X-Men: Apocalypse. (If you're confused about the timelines, Apocalypse is where the younger version of the X-Men fight the first-ever mutant, who is then killed by a young but still powerful Jean Grey played by Sophie Turner.) In Dark Phoenix, the X-Men are considered heroes and they take on difficult missions, including one in outer space. They're hit by a solar flare, which causes Jean Grey to unleash the Phoenix and lose control of her powers.
New Mutants
Premiere date: February 22, 2019
If you're a fan of scary films and action movies, then this superhero-horror movie should be right up your alley. A spin-off of the X-Men franchise, New Mutants centers around a group of five kids with supernatural abilities who are involuntarily being kept in a secret facility that they're trying to escape from. The five mutants include Russian Ilyana Rasputin a.k.a. Magik (Anya Taylor-Joy), Scottish Rahne Sinclair a.k.a. Wolfsbane (Maisie Williams), Sam Gunthrie a.k.a. Cannonball (Charlie Heaton) from Kentucky, Native American Danielle Moonstar a.k.a. Mirage (Blue Hunt), and Brazilian Roberto da Costa a.k.a. Sunspot (Henry Zaga).
Captain Marvel
Premiere date: March 6, 2019
There are only two Marvel movies coming out before the still-untitled Avengers 4 movie in May 2019, and Captain Marvel is the second one (after Ant-Man and the Wasp). Though it's set in the yet-to-be-explored world of '90s Marvel Universe, it'll give more than a few clues as to why Carol Danvers a.k.a. Captain Marvel (Brie Larson) is so important to the Avengers. Plus, we get to find out what makes Nick Fury (Samuel L. Jackson) the spy of all spies.
ADVERTISEMENT - CONTINUE READING BELOW
Shazam!
Premiere date: April 5, 2019
An upcoming addition to the slate of DC Extended Universe movies, Shazam! revolves around Billy Batson (Asher Angel) a teenage boy who is given magical powers by a dying wizard. When he says the wizard's name, Shazam, he turns from 14-year-old boy to adult superhero (Zachary Levi). The powers (and the name Shazam) come from six ancient heroes-slash-gods: Solomon's wisdom, Hercules' strength, Atlas' stamina, Zeus' power, Achilles' courage, and Mercury's speed. As the young Billy starts to enjoy his newfound abilities, he's suddenly put to the test when he meets the evil Doctor Sivana (Mark Strong).
Gambit
Premiere date: June 7, 2019
The production for this movie has been stalled quite a few times—with a number of changes with the directors and release date. But it seems that Channing Tatum is still committed to playing the role of his favorite superhero Gambit, a mutant who has the power to create and control kinetic energy with his mind. After the standalone success of solo X-Men films like Logan and Deadpool, fans are still looking forward to seeing the card-wielding hero on the big screen.
Wonder Woman 2
Premiere date: November 1, 2019
Gal Gadot is set to once again wield the Lasso of Truth as Wonder Woman, otherwise known as Diana Prince. Whereas Wonder Woman explores the Themysciran princess' story during World War I, the second installment is set during the Cold War decades after. Kristen Wiig will be playing Cheetah, one of Wonder Woman's greatest enemies in the comics, who possesses superhuman speed, fast reflexes, super strength in addition to sharp claws and fangs.
ADVERTISEMENT - CONTINUE READING BELOW
Share this story with your friends!
---
Help us make Spot.ph better!
Take the short survey
Load More Stories