10 New Rom-Coms for Your Next Night In With Friends
Get ready to swoon!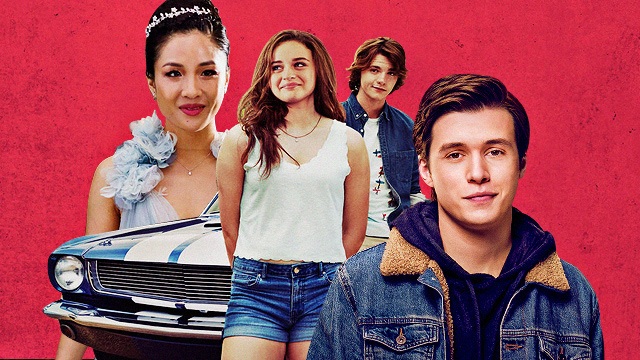 (SPOT.ph) Before superhero movies and sci-fi ruled the box office, rom-coms reigned in the cinemas. Whether it was the wave of teen-slash-high-school movies that came with John Hughes' Bratpack films in the '80s; with Clueless, She's All That, and 10 Things I Hate About You in the '90s; Nancy Myers' beautifully set pieces like The Holiday and Something's Gotta Give; or the Tom Hanks and Meg Ryan triumvirate of Joe vs. the Volcano, Sleepless in Seattle, and You've Got Mail, falling in love (clichés and all) again and again was made possible through film.
The rom-com has all but disappeared in the past couple of years, but they've been experiencing a slow and steady resurgence. A great way to escape the 24-hour news cycle and all the drama that comes with it, this new brand of rom-coms is providing us again with ways to laugh and love and infuse our lives with some positivity.
ADVERTISEMENT - CONTINUE READING BELOW
Paris Can Wait (2017)
Directed by: Eleanor Coppola
Starring: Diane Lane, Arnaud Viard, Alec Baldwin
Michael Lockwood (Alec Baldwin) is a busy movie producer who's traveling around Europe on business. His wife, Anne (Diane Lane), comes along. The trip is never really about her (he's far too busy to pay attention to his wife), so when she is offered to go on a road trip from Cannes to Paris by her husband's colleague Jacques (Arnaud Viard), Anne decides to hop on board. A simple and picturesque story about self-discovery, we discover the little things that make Anne tick as she rolls through the French countryside and gives the good things in life—food, wine, conversation—a chance to lift her spirits.
CONTINUE READING BELOW
Recommended Videos
The Big Sick (2017)
Directed by: Michael Showalter
Starring: Kumail Nanjiani, Zoe Kazan, Holly Hunter
Based on lead actor Kumail Nanjiani's life, The Big Sick is about a comedian who falls in love with a grad student. They date and get together, but complications arise because of the culture-clash between Kumail's Pakistani heritage and Emily's (Zoe Kazan) American background. And just when you think that's all the movie revolves around, it slips into more serious territory as Emily falls ill with a sickness no one can figure out, and Kumail is forced to deal with her family and his own conflicted feelings. Nominated for Best Original Screenplay at the 2018 Oscars, the movie is sweet, witty and incredibly heartwarming.
The Kissing Booth (2018)
ADVERTISEMENT - CONTINUE READING BELOW
Directed by: Vince Marcello
Starring: Joey King, Joel Courtney, Jacob Elordi
Elle (Joey King) and Lee (Joel Courtney) have been best friends since they were born. They can read each other like a book and are practically brother and sister. Over the years, the two have established a set of rules called "The Friendship Pact," with one of them stating that Elle can never date Lee's older brother, Noah (Jacob Elordi). She's always had a crush on her best friend's bad-boy big brother. But things take a turn one summer when a couple of run-ins with Noah—including an unexpected kiss at the school's Kissing Booth—sets things on fire. With fun leads, unpredictable twists, and a storyline that has all the classic elements you've always loved in a teen movie, this Netflix-produced flick is a winner.
Love, Simon (2018)
Directed by: Greg Berlanti
Starring: Nick Robinson, Jennifer Garner, Josh Duhamel
Love, Simon takes all the things we love about glossy, fun and perfectly peppy teen movies and reboots them, giving us a piece that's more inclusive, more relevant, and more "now." The movie centers around Simon Spier (Nick Robinson), who strikes an email correspondence with an anonymous guy from school named "Blue." Their letters are charged and blunt and honest as they're both in the closet and they have found—in their e-mails, at least—a place to strip down to their bare selves. The movie's fun soundtrack is also another homage to a time when teen movie OSTs ruled the music stores.
ADVERTISEMENT - CONTINUE READING BELOW
Happy Anniversary (2018)
Directed by: Jared Stern
Starring: Nöel Wells, Ben Schwartz
In the grand tradition of 500 Days of Summer, this Netflix-produced movie does away with timelines and uses jumps between past and present to tell the story of Mollie and Sam's three-year relationship. As the couple celebrates Year Three, they realize they have absolutely different views about where they want to take things next. Complete with kooky family members, witty best friends, and laughable work situations, this rom-com bounces back and forth between humor and seriousness, love and loathing.
Overboard (2018)
Directed by: Rob Greenberg
Starring: Anna Faris, Eugenio Derbez
The original Overboard came out in 1987 and starred Goldie Hawn and Kurt Russell. Almost 30 years later, we're getting a fresh take on the story of a wealthy yacht owner who slips into amnesia and is taken for a ride by a blue-collar worker seeking vindication. Things are flipped this time around—Goldie Hawn used to play the spoiled housewife aboard the yacht and Kurt Russell was the construction worker who claimed they were married; this reboot has Eugenio Derbez as the rich guy on a boat and Anna Faris as the carpet cleaner who schemes to take him down. With Faris' knack for physical comedy and her resemblance to a young Goldie Hawn, this movie offers a nostalgic and light-hearted romp through an old, familiar story.
Book Club (2018)
Directed by: Bill Holderman
Starring: Diane Keaton, Jane Fonda, Candace Bergen, Mary Steenburgen
There's nothing more rom-com-y than the dynamic of four women best friends (think Sex and the City, Now and Then, and The Sisterhood of the Traveling Pants). This movie takes that base and spices things up with a fun, relatable storyline. These women's routine book club gets some action as the women all begin to dig into "Fifty Shades of Grey," inspiring them to inject a little more action into their lives. This fun comedy stars many of Hollywood's heavyweights—proving that women do become better with age.
ADVERTISEMENT - CONTINUE READING BELOW
Set It Up (2018)
Directed by: Claire Scanlon
Starring: Lucy Liu, Taye Diggs, Zoey Deutch, Glen Powell
Netflix has been making a killing with the rom-coms lately, and this new, upcoming offering is no exception. Two corporate assistants realize they're getting the short end of the stick at work because they're both saddled with bosses that treat them horribly. The two hatch a plan to get their bosses stuck in an elevator so they can get together and start treating people better. Their antics and scheming, of course, have them falling for each other too.
Crazy Rich Asians (2018)
Directed by: Jon M. Chu
Starring: Constance Wu, Michelle Yeoh, Henry Golding
Premiere date: August 15, 2018
Asians can rejoice this year because finally, we get a big-budget movie set in our side of the world! The movie is based off Kevin Kwan's bestselling novel about a New Yorker who travels to Singapore with her boyfriend to attend his best friend's wedding. Once she steps into his world, she realizes that she's married to perhaps the most eligible bachelor in Asia, who comes from an impossibly wealthy family whose kinks and class rules she has to maneuver her way through.
Destination Wedding (2018)
Directed by: Victor Levin
Starring: Keanu Reeves, Winona Ryder
Premiere date: August 24, 2018
The '90s and early aughts served us a whole lot of Keanu Reeves and Winona Ryder—just not together. This year, two of the biggest stars from the decades when romantic comedies ruled, come together in a movie most fans never thought they'd see. Destination Wedding brings Frank and Lindsay out of their element as guests of their common friends' out-of-town wedding. Each of them is miserable and determined to have an awful time on the trip, but begin to develop an unexpected bond with each other despite their seething negativity.
ADVERTISEMENT - CONTINUE READING BELOW
Share this story with your friends!
---
Help us make Spot.ph better!
Take the short survey
Load More Stories