MOVIE REVIEW: Isle of Dogs Is a Stunning Tale With a Heart
Wes Anderson dreams up a puppet-world of life in his new stop-motion animated film.
(SPOT.ph) When it was first announced that acclaimed director Wes Anderson was coming out with a stop-motion animated film about dogs, movie buffs—fans or not—weren't really shocked. The director, after all, is known for his distinctly symmetric style just as much as he's known for his quirky and imaginative storylines. So a tale about a Japanese island where flu-infected canines are exiled to isn't a big leap. It's just a step out of the usual direction that surprisingly pays off and might even get you attached to a group of dogs you'll forget were actually puppets.
Don't let the somewhat-dark-and-distressing set-up fool you; the unbathed, flea-infested, starving dogs really are entertaining rays of sunlight in the desolate world that Anderson has set up. Mayor Kobayashi (Konichi Nomura) of fictional Japanese city Megasaki signs a resolution that effectively banishes all dogs with a virus to the nearby Trash Island. The mayor shows his commitment to the plan, by announcing that the first dog that'll be relocated is Spots (Liv Schreiber), his nephew Atari's (Kayu Rankin) guard dog. But the orphaned Atari, who only has his beloved dog as company, is determined to look for Spots and bring him home. Atari travels to Trash Island to look for Spots. Once on the island, Atari is met by a pack of once-domesticated dogs—Rex (Edward Norton), King (Bob Balaban), Duke (Jeff Goldblum), and Boss (Bill Murray). They work together to help him despite the objections of their leader (and former stray dog), Chief (Bryan Cranston).
ADVERTISEMENT - CONTINUE READING BELOW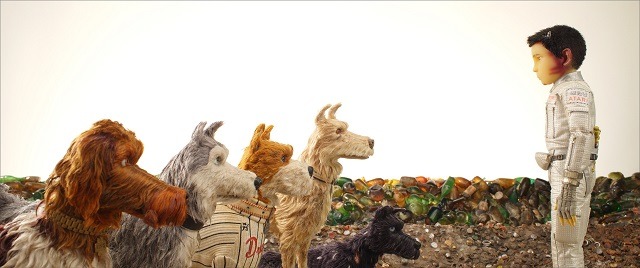 CONTINUE READING BELOW
Recommended Videos
Since the movie is set in a fictional Japanese island, most—if not all—of the human conversations are done in Japanese. These conversations aren't all subtitled or translated, either. This is something that the film acknowledges in the beginning, with a meta explanation that ties in with some characters in the story. Only two human characters speak in English: The foreign-exchange student Tracy Walker (Greta Gerwig) and Interpreter Nelson (voiced by Frances McDormand) who translates the Mayor's speeches in a sound booth. The dogs, however, all converse with each other in English.
Given that the dogs talk in English, and the humans in Japanese, the two species don't exactly understand each other. It's easy to think that you'll get lost in translation with the language barrier—but that's exactly what gives the film so much character. It's hard to imagine the already-limited movements of stop-motion animation get even more constricted because of a language difference, but Anderson pulls it off. And he does so humorously, while also giving the audience a sense of connection with the dogs that each have their own personality.
ADVERTISEMENT - CONTINUE READING BELOW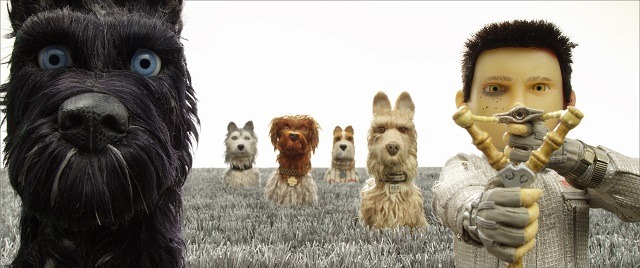 The characters and their actions are well-developed and each of them all have their own contributions to the story—meaning to say, no one was put there just for the sake of being there. Even the brief appearance of a scientist's assistant (Yoko Ono) has a story-changing impact. A quick conversation in the middle of the night between the Chief and a former showdog named Nutmeg (Scarlett Johansson) may seem like trivial at first but its effects on the stern leader culminate throughout the film. These characters from the peripheries already have their own addition to the story. But it's also the obviously strained interaction and relationship between the main characters—namely, Chief and Atari (and even Spots)—that bring out the emotions.
The dogs in the film are exactly how you think dogs are like: Easily distracted with sometimes-uncontrollable instincts to fetch and do tricks, as well as a need to follow and obey orders to be a good boy. Their pride-fueled fights depicted by cartoonish dust clouds with random limbs popping out every now and then end up in camaraderie and a joint understanding. Anderson's sense of humor mixes well with the childlike wonder of the dogs he brings to life.
ADVERTISEMENT - CONTINUE READING BELOW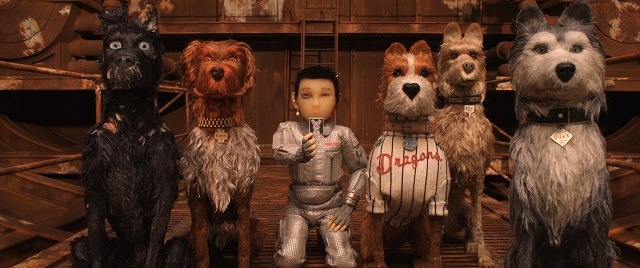 In addition to the characters, the locations thought up to serve as the backdrop to the eccentric story are themselves worlds of their own. Some you might even consider to be a call-out to the harms of human interference with nature and their needless and problematic animal experiments—a significantly deeper meaning to a seemingly vapid setting. This is where Anderson's well-known symmetrical style comes in, with frames you could perfectly split in half. The square cages of the exiled dogs are put on top of garbage compacted into boxes. A red, temple-looking bureaucratic building is right-smack in the middle of a dreary-gray city. And the packs of countless dogs are all evenly spaced out during meetings.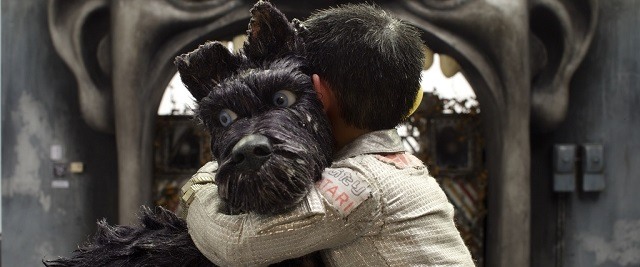 ADVERTISEMENT - CONTINUE READING BELOW
This isn't Anderson's first foray with stop-motion animation—it's the 2009's Academy Award-nominated Fantastic Mr. Fox. And just like Fantastic Mr. Fox, Isle of Dogs delivers both production- and story-wise. Where others might be tempted to (whether deliberately or unconsciously) hold back on telling the story and rely on the film's high production value, Anderson keeps the narrative and the characters tight—giving meaning to each movement and each interaction. Instead of being limited by the restrictions that comes with stop-motion animation and a linguistic divide, Isle of Dogs makes the journey to a literal garbage dump all the more compelling with Anderson's version of man's best friend you wouldn't mind having by your side.
RATING: 4.5 out of 5 Spots
Isle of Dogs will be screening at Glorietta 4, TriNoma, Market!Market!, Cloverleaf Balintawak, and Fairview Terraces on May 30.
Photos courtesy of 20th Century Fox
Share this story with your friends!
---
Help us make Spot.ph better!
Take the short survey
Load More Stories