10 Cartoon Comebacks That Are Sure to Make You Feel Like a Kid Again
Get ready to be hit by a wave of major nostalgia.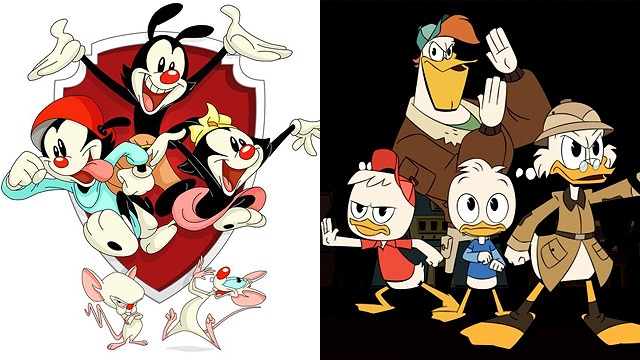 (SPOT.ph) Let's reminisce for a bit and turn back the clock around 15 years ago or so: You're a child again, it's a Saturday morning, and you wake up to the mouth-watering aroma of freshly cooked eggs and bacon wafting from the kitchen. After indulging in a hearty breakfast, you head on over to the living room where you plop in front of the TV screen and follow the adventures of your favorite animated charcters. Life was good then—don't you wish you could go back?
ADVERTISEMENT - CONTINUE READING BELOW
CONTINUE READING BELOW
Recommended Videos
Since the time machine hasn't been invented, though, here's something that's almost just as fun: a fresh crop of new cartoons inspired by classics from your childhood. Grab the cereal. 
Samurai Jack (Season 5)
Release date: March 7, 2017 
Where to watch: Adult Swim
It may seem a bit odd that the fifth season of Samurai Jack premiered 13 years after the last episode, but hey, we're definitely not complaining. The show is set 50 years in the future, where the time-traveling samurai continues to try to defeat the evil demon Aku.
DuckTales
Release date: September 23, 2017
Where to watch: Disney Channel
The wacky gang of brothers is back! Catch Huey, Dewey, and Louie as they think up crazy schemes that are sure to make their Uncle Donald fume. You loved them as a kid, now get ready for their return in an all-new reboot of the series on Disney Channel.
The Magic School Bus Rides Again
ADVERTISEMENT - CONTINUE READING BELOW
Release date: Setember 29, 2017
Where to watch: Netflix
Despite some controversy about whether its premise was a complicated metaphor for hallucinogenic-fueled drug trips or not, The Magic School Bus probably made your ordinary field trips look glum in comparison. Now, get ready for an all-new version of the series with the beloved Mrs. Frizzle's younger sister Fiona teaching a class of her own. The show also features the same theme song you love, but performed by Broadway sensation Lin-Manuel Miranda.
Hey Arnold: The Jungle Movie
Release date: November 24, 2017
Where to watch: Nickelodeon
Your favorite football head is back on the small screen! Catch up with Arnold, Helga, Harold, Gerald, and the rest of the gang as they take a trip to the jungles of South America. It also answers the show's million-dollar question: Will Arnold finally get to meet his real parents?
Invader Zim
Release date: 2018
Where to watch: Nickelodeon
Earthlings better beware—Invader Zim is back at it again! Nickelodeon has announced that it will be producing a TV movie of the 2001 cartoon series, and we couldn't be more excited. Tune in to find out—will Zim finally get to take over planet Earth?
ADVERTISEMENT - CONTINUE READING BELOW
Rocko's Modern Life: Static Cling
Release date: 2018
Where to watch: Nickelodeon
Your parents may have banned you from watching this show as a kid, but get ready to enjoy the trademark bawdy humor of Rocko, Heffler, and friends in this special TV movie. After spending the last 20 years in outer space, the gang struggles to adjust to a much more modernized O-Town. Although Nickelodeon hasn't announced a specific release date yet, let's just say we can't wait!
Muppet Babies
Release date: March 23, 2018
Where to watch: Disney Junior
We may have grown up watching Kermit the Frog, Fozzie Bear, Gonzo, and the unforgettable Miss Piggy, but get ready to see them again—as babies! Watch this with your favorite nephew or niece and see them fall in love with the tyke-sized versions of the Muppets you grew up adoring.
Rise of the Teenage Mutant Ninja Turtles
Release date: September 2018
Where to watch: Nickelodeon
ADVERTISEMENT - CONTINUE READING BELOW
Every kid who grew up in the '90s pretended to be either Leornardo, Donatello, Michelangelo, or Raphael during playtime at least once. But the fun doesn't stop just because you're all grown-up—get ready to see the gang back in action as they fight crime in New York City. Of course, it goes without saying that this show is best enjoyed over a freshly delivered box of pizza.
ThunderCats Roar
Release date: 2019
Where to watch: Cartoon Network
Curious about what your favorite feline-like alien squad is up to now? Cartoon Network will be bringing back the cult 1980s animated series in 2019, and gives it a cutesy and comedic makeover. Still, the show's reboot sticks to the original premise of the ThunderCats and their attempts to find a new abode in space after their home planet Thundera is destroyed.
Animaniacs
Release date: 2020
Where to watch: Hulu
True '90s kids grew up watching the misadventures of the Warner siblings every week—now, get ready to catch your favorite anthropomorphic cats back on the boob tube! The classic cartoon's trademark witty humor and pop-culture references will soon be on Hulu with two all-new seasons of the show to be released in 2020.
ADVERTISEMENT - CONTINUE READING BELOW
Load More Stories