10 Cartoon Characters We Were in Love With Growing Up
Who did you crush on as a kid?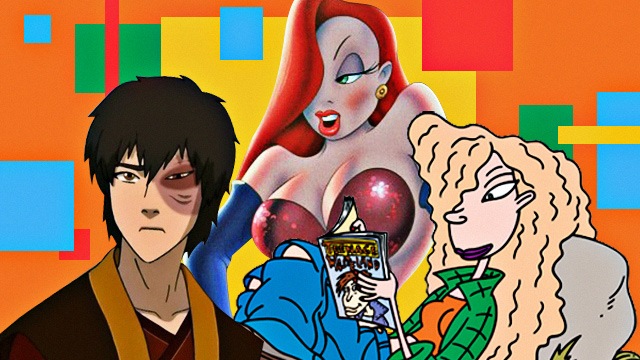 (SPOT.ph) They say that first love never dies, and in some cases, that's true. But let's face it—most of our first loves weren't even real people. Majority of us were introduced to the idea of crushes through the cartoons we watched as children, helping us set the unrealistic standards that still plague our significant others to this day. Here are 10 animated characters who still make our hearts flutter, even as full-grown adults.
ADVERTISEMENT - CONTINUE READING BELOW
CONTINUE READING BELOW
Recommended Videos
Danny Phantom
As seen in: Danny Phantom (2004 to 2007)
With his boyish good looks and lean frame, it's no wonder we crushed on Danny while growing up. When we found out he could turn into a ghost at will? No biggie, he looked even dreamier with his silver hair and piercing green eyes. Watching Danny and his exciting adventures made us wish that we too could find a portal into the supernatural realm—if only to fight the evil ghosts by his side.
Shego
As seen in: Kim Possible (2002 to 2007)
Yes, Kim Possible may have been the good girl who gets to save the day, but let's be real, Shego was the one who caught your eye. With her ever-present smirk, voluminous hair, and overall badass attitude, we can't blame you if you rooted for this villain—and trust us, you weren't alone.
Jake Long
As seen in: American Dragon: Jake Long (2005 to 2007)
ADVERTISEMENT - CONTINUE READING BELOW
With his jet-black hair and devilish grin, Jake was the cool guy whom you desperately wanted to impress. His smooth mannerisms and cocky demeanor was so appealing, and the fact that he could turn into a dragon at will only served to make him even more crush-worthy. (Also, totally unrelated, but hooray for one of the first cartoons with a predominantly Asian cast!)
Jessica Rabbit
As seen in: Who Framed Roger Rabbit? (1988)
Who knew that a cartoon character could be one of Hollywood's most enduring sex symbols? With her breathy voice and impossible curves, Jessica Rabbit caught the attention of young boys everywhere. She was so incredibly unforgettable that when Heidi Klum attempted to emulate the vixen for Halloween in 2015, even the supermodel couldn't do her justice.
Dimitri
As seen in: Anastasia (1997)
Who knew Russian tricksters could be so dreamy? With his chiseled face and floppy hair that makes you want to reach out and brush away from his face, Dimitri was a certified heartthrob. What makes him even better is his kind heart—so much so that we all wished to secretly be long-lost Russian princesses too.
ADVERTISEMENT - CONTINUE READING BELOW
Debbie Thornberry
As seen in: The Wild Thornberrys (2002 to 2004)
Eliza might have been the friendly and interesting girl-next-door, but Debbie was her cool, older sister whom you can't help falling head-over-heels in love with. With her wild mane and devil-may-care demeanor, Debbie definitely deserved a spot on your crush list.
Zuko
As seen in: Avatar: The Last Airbender (2005 to 2008)
Everyone loves a rebel who is secretly a sensitive softie deep inside. With scorching good looks and a hidden heart-of-gold, you can blame Zuko for your propensity to date bad boys because you want to be the one to change them.
Flynn Rider
As seen in: Tangled (2010)
Okay, so we were well beyond our growing-up years when we came across Flynn Rider. But sometimes, a male cartoon character comes along, someone who is so gorgeous he puts other Disney princes to shame. Flynn became a certified Disney fan favorite with his good looks and goofy charm. We couldn't help but swoon as we watched him slowly fall in love with Rapunzel. Let's not even get into discussing that smolder.
ADVERTISEMENT - CONTINUE READING BELOW
David Kawena
As seen in: Lilo & Stitch (2002)
How does one even begin to explain how great David is? Besides possessing great fire-dancing and surfing skills, he was the ultimate gentleman to Nani. He was there for her without expecting her to return his feelings, and would even help her take care of Lilo during the most difficult times. Can you say perfect boyfriend material?
Jem
As seen in: Jem and the Holograms (1985 to 1988)
The precursor to the similar Hannah Montana, Jem enchanted not just crowds at a stadium but also you in your growing-up years. With her quirky style, cotton-candy colored mane, and ability to command a stage, Jem is definitely responsible for your manic-pixie-dream-girl complex.
Load More Stories