All the Disney References From the Wreck-It Ralph 2 Trailer That You Might Have Missed
From princesses to Eeyore to Stormtroopers.
(SPOT.ph) Kids and kids-at-heart first fell in love with video game characters Wreck-It Ralph (John C. Reilly) and Vanelope von Schweetz (Sarah Silverman) when they first appeared onscreen in 2012. Everyone loved the video-game references and the exciting adventure that the two went on, which is why everyone is also looking forward to the two best friends in the upcoming sequel, Ralph Breaks the Internet: Wreck-It Ralph 2. This time, Ralph and Vanelope travel to the Internet. It goes without saying that going to the Internet just opens up a whole new portal of references and crossovers any Disney fan is sure to look forward to.
The newly released trailer starts off with Ralph inviting Vanelope to go to the Internet. So they travel through a router and they're welcomed with a city of websites. There's a building for Amazon, a forest of Twitter birds, a glowing tower of Snapchat, and of course, a Google skyscraper.
ADVERTISEMENT - CONTINUE READING BELOW
CONTINUE READING BELOW
Recommended Videos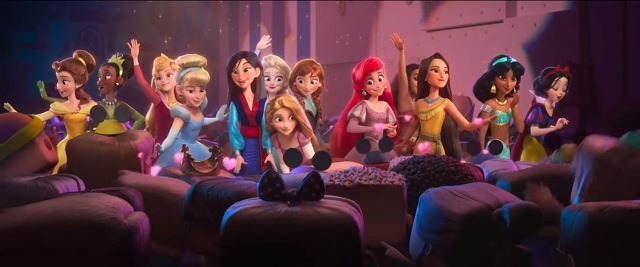 The two are looking for a place "that's super intense and really nuts" and they go to—you guessed it—a literal search "bar" to ask for directions. They're then directed to Oh My Disney—which is an actual website that exists, btw. There, Vanelope sees the princesses on stage in front of adoring fans.
ADVERTISEMENT - CONTINUE READING BELOW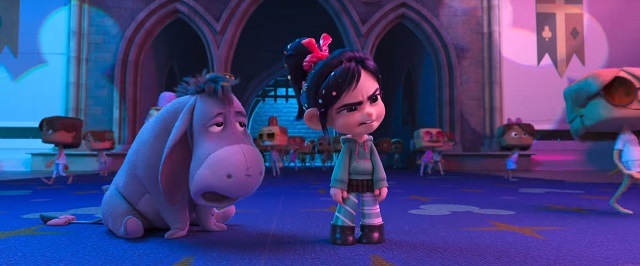 "Oh come on, princesses and cartoon characters? Barf!" she says while standing next to the droopy Eeyore. Then there's a blink-and-you'll-miss-it sequence where Iron Man flies past by them and lands on a booth for Marvel (that fittingly has an Iron Man hand on top). 
ADVERTISEMENT - CONTINUE READING BELOW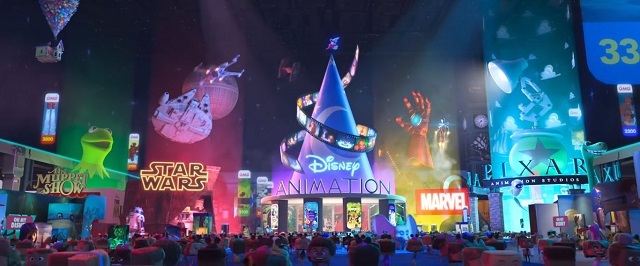 You'll then see all of Disney's properties in one lot. There's The Muppet Show with Kermit the Frog and a familiar flying house from Up on floating on top of it. There's a space for Star Wars, complete with starfighters, the Millennium Falcon, the Deathstar, and R2-D2. The Disney Animation spot features Mickey Mouse's Sorcerer's Hat as well as a roll of film with scenes from different classics. And then of course, there's Pixar, with the trademark lamp as well as the Luxo ball, Eve from Wall-E, and Arlo from The Good Dinosaur. If you look closely, there's also a banner with Lilo and Nani along with the number 33 that may or may not be a reference to the infamous Club 33.
ADVERTISEMENT - CONTINUE READING BELOW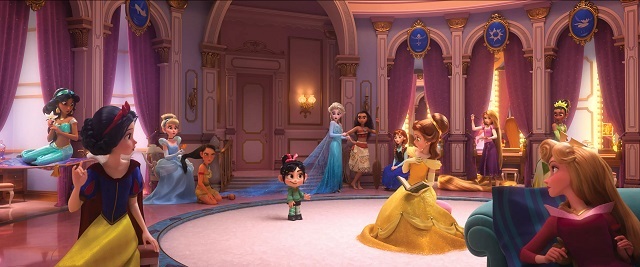 Vanelope then gets chased by a bunch of Stormtroopers and she then finds herself hiding in the dressing room of the Disney princesses. They're all lounging around—Snow White is talking to a bird, Jasmine is smelling a jasmine, Cinderella is fixing Pocahontas' hair, Belle is reading a book, Aurora is (not surprisingly) sleeping, Rapunzel is painting, Tiana is looking at the mirror, and Elsa, Moana (with her oar), and Anna are talking. When they see Vanelope, they spring into self-defense mode and ask her what kind of princess she is.
ADVERTISEMENT - CONTINUE READING BELOW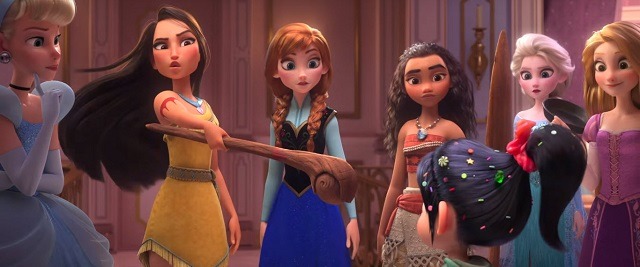 It turns into a hilarious question-and-answer about what makes her a princess. Rapunzel asks if she has magic hair, Elsa asks if she has magic hands, Jasmine, Cinderella, and Pocahontas ask if animals talk to her, Snow White asks if she was cursed, Tiana and Aurora ask if she was cursed, and Belle and Rapunzel ask if she was kidnapped or enslaved. Vanelope says no to all of them and asks, "Are you guys okay? Should I call the police?" 
ADVERTISEMENT - CONTINUE READING BELOW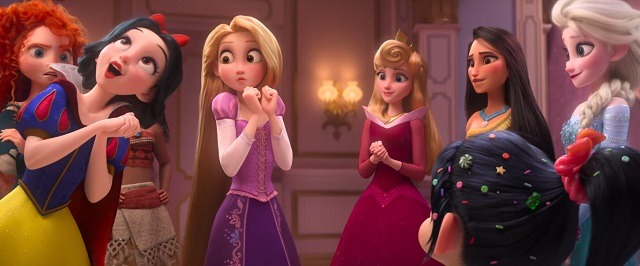 But when Vanelope is asked, "Do people assume all your problems got solved because a big, strong man showed up?" She finally says yes and the princesses all agree, "She is a princess!"
There's also a short bit at the end of the trailer with a meta explanation of why it's Ralph Breaks the Internet and not Ralph Wrecks the Internet. ("It's like a thing.") It's a trailer just a little bit over two minutes but it's already got more than enough hilarious bits and Disney references to get everyone lining up at the theater. 
ADVERTISEMENT - CONTINUE READING BELOW
Ralph Breaks the Internet: Wreck-It Ralph 2 hits theaters on November 21.
---
Help us make Spot.ph better!
Take the short survey
Load More Stories