Sandwich, Ben&Ben + More Will Be at Vinyl Day 2018 and It's Completely Free
A total of 11 performers will be there!
(SPOT.ph) Pinoy music fans have a lot on their plate this year—what with all the concerts that have taken place and the ones that are still set to happen. But indie-music lovers can add another must-go-to event to their list (though it's probably already there, tbh): Satchmi's Vinyl Day 2018. This year's Vinyl Day has a total of 11 (!) performers that are sure to have everyone singing along on June 16 at Green Sun Makati from 12 noon all the way until 12 a.m.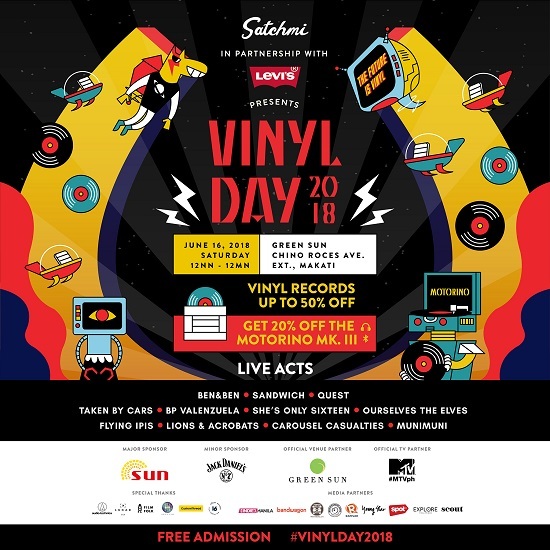 ADVERTISEMENT - CONTINUE READING BELOW
CONTINUE READING BELOW
Recommended Videos
We know you already know them, but in case you don't—or maybe you just want an excuse to hear your fave songs from the artists—we round up the tunes we're excited to hear live. The best part? Admission is completely free, so you can enjoy hearing your playlist come to life without burning a hole through your pocket.
Song: "Betamax"
Artist: Sandwich
They've played all their classic hits at their 20th Anniversary Concert last April, but this one in particular still gets stuck in our head every now and then.
Song: "Kathang Isip"
Artist: Ben&Ben
Does this song even need a description? The indie-folk rock band's heart-wrenching lines might just have you shedding a tear or two and having LSS for the foreseeable future.
Song: "Walang Hanggan"
Artist: Quest
This is just the song if you're looking to have your heart ripped right out of you. You may have listened to this track on a rainy car ride back home, but this is your chance to sing along to this soulful lyrics.
ADVERTISEMENT - CONTINUE READING BELOW
Song: "Sa Hindi Pag-Alala"
Artist: Munimuni
If all your post-break-up blues were all summed up into one hugot-worthy, straight-to-the-heart song, this would be it. Even if you're not going through a heartbreak, you'd still feel like you are.
Song: "Cincinatti Clocks"
Artist: Ourselves the Elves
The rainy days may be upon us but this three-piece indie-folk band will take you right back to your happy place by the beach with this song's acoustic sound.
Song: "Lundagin Mo, Beybi!"
Artist: Flying Ipis
It would be something short of a miracle if you get through this all-girl band's guitar-heavy song without bopping your head or at the very least, tapping your feet to the infectious beat.
Song: "Bbgirl"
Artist: B.P. Valenzuela
The smooth electropop beats, the catchy hooks, the soothing vocals, and the sweet lyrics all make for one relaxing and chill tune you wouldn't mind swaying along to live.
Song: "Dying to Meet You"
ADVERTISEMENT - CONTINUE READING BELOW
Artist: She's Only Sixteen
It's not every day you get to hear a song that will both make you want to rock out but also learn how to dance swing. The fast pop-rock instrumentals and the distinct vocals make for one great song.
Song: "Cloud"
Artist: Lions & Acrobats
The bass-heavy intro should clue you in that you'll be getting more than what you expected in this seemingly soft-rock piece. (That bridge will hit you out of nowhere—in a good way.)
Song: "San Junipero"
Artist: Carousel Casualties
How can you not instantly love a song named after a Black Mirror episode? You'll find yourself trying to catch all the references while also enjoying the catchy tune.
Song: "Shapeshifter"
Artist: Taken by Cars
Will this song ever get old? Probably not. With this track released around a decade ago, it just goes to show that this indie-rock band's mix of electro and new-wave genre is timeless.
ADVERTISEMENT - CONTINUE READING BELOW
Vinyl Day 2018 is on June 16 from 12 noon to 12 a.m. at Green Sun, Chino Roces Avenue Extension, Makati.
Load More Stories