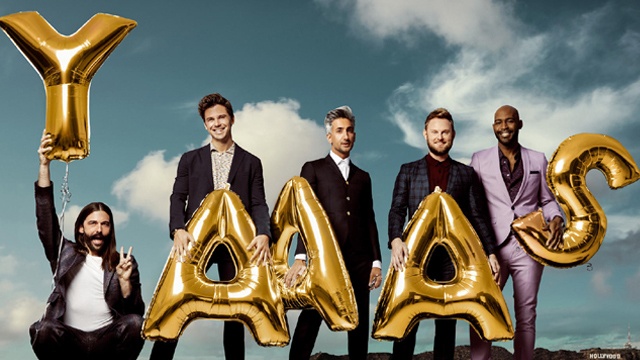 (SPOT.ph) It's only the first few days of Pride month, but you might already feel like celebrating non-stop because the hit Netflix show, Queer Eye is returning for a second season on June 15. In case you didn't already know—though you probably already do—the show is a reboot of Queer Eye for the Straight Guy that aired from 2003 to 2007. Can you believe the first season only premiered in February? Though it makes sense because people just can't get enough of the Fab Five, their amazing chemistry, and of course, the heartwarming (and sometimes even tear-jerking) makeovers they do for contestants on the show.
ADVERTISEMENT - CONTINUE READING BELOW
All of the new Fab Five members return for the second season of the show. They include Jonathan Van Ness for grooming, Antoni Porowski for food and wine, Tan France for fashion, Bobby Berk for design, and Karamo Brown for culture. They've all got their own individual (and fun!) personalities that they use to give someone (nominated by a loved one) a much-needed makeover. SPOT.ph got a chance to talk to the Fab Five during a conference-call interview. Here's what went down:
What's the difference between the old Fab Five and the new Fab Five?
Tan: What I love about what we do is that we're not trying to compete with the others because what they did was phenomenal and it paved the way for people like us. It was a different time when 15 years ago they couldn't talk about their personal lives. It just had to be about their job. But for us, it's a lot more emotional so we're able to tackle it from a different point of view from the original Fab Five.
ADVERTISEMENT - CONTINUE READING BELOW
Recommended Videos
How were you guys selected to be the new Fab Five?
Tan: We were all found through different ways. Antoni was selected through the original Fab Five member, Ted Allen. Jonathan and Karamo coursed it through their management and their agency made sure that they could audition for this show. Bobby found out through a friend. And I was found through social media. So yeah, we were all found differently and we all auditioned and now here we are.
While you all face personal battles in each episode, which one was the toughest you've encountered and how did that contribute to your personal growth?
Antoni: AJ's episode [from the first season] in particular, I think—I didn't think it was going to be as emotionally triggering as it was. I didn't realize until then that I haven't really had that many open conversations or engaged in much dialogue about fully coming out and my sexuality. I think I was really inspired by how my brothers-slash-castmates shared about their stories and it helped set a healthy precedent in wanting to share in a safe space. AJ's vulnerability and what that meant for him just made it easier sharing my personal story.
ADVERTISEMENT - CONTINUE READING BELOW
It's so heartwarming to see you guys talk about your own stories on the show. How do you think this affects the whole makeover process?
Antoni: The more that we share about our personal stories, the better it lends to our heroes opening up. Some of them tend to be more ready than others but some tend to be a little more hesitant. What's really nice about the casting is—I gotta give them kudos for picking five completely different personalities from such different cultural backgrounds who are all able to contribute to a very open-minded, multi-perspective way.
This new season is more inclusive because you did makeovers not just on straight guys. What did you discover as you were doing these different kinds of makeovers?
Karamo: What was most exceptional about working with not just men or gay men—expanding it to women and the trans community—is that we realized that we're more alike than we are different. We all just want love and support for the things that we do. It's all about people wanting to connect and find love.
ADVERTISEMENT - CONTINUE READING BELOW
Queer representation in America is predominantly white. What does it feel like to diversify that dynamic?
Tan: I feel that it was really important to have queer representation on a global show. I think it was a smart move on Netflix's part. It's 2018 and we should represent as many lifestyle truths as possible going forward.
Karamo: I think that there are a lot of times that people don't understand the cultural experience of having several different identities and watching my experience and Tan's experience on the show will give people a broader grasp of what it's like to be not only gay but also a man of color and how both of those identities influence how you walk in this world. 
What do you guys watch or listen to when you're down, to cheer you up?
Bobby: There's actually a movie called To Wong Foo—it has Patrick Swayze, Wesley Snipes, and John Leguizamo. It's about three people who are unapologetically being themselves and being super confident in who they are. That's a move that I like to watch when I'm feeling a little down and not myself because it helps me really believe in myself. 
ADVERTISEMENT - CONTINUE READING BELOW
Jonathan: I put on some gorgeous music and model-walk around the house.
What can you say to young gay people who have been rejected by their religion?
Bobby: You just have to realize that people are rejecting you because of their own ignorance and not you. You need to continue to love yourself and to find those people around you who will love you for who you are and accept you for who you are. Have faith that your family will come around. I didn't speak to my family for a few years after I came out. Believe in yourself and know that it's not you—it's them.
Jonathan: If you're feeling rejected by your church or your family, just know that your God or your higher power will love you just the same as even before you came out. 
Antoni: I often don't like to touch on religion—I think it's very personal. But I think there are examples of Catholicism being practiced and preached in other parts of the world where the message is inclusivity. My partner's parents are devout Catholics and they're very open-minded and [they] unconditionally love their son. So there are examples of that around the world so I think it's an opportunity to reach out and see what other people are doing out there.
ADVERTISEMENT - CONTINUE READING BELOW
Your self-love and promotion of positivity is so contagious and wonderful. What more can you tell people who are still struggling with this?
Jonathan: I would say to people who are struggling with self-love and self-esteem is that it's not like a light that you turn on when you come in a room. It's a constant relationship that you build with yourself every day. It's more of the small things and the small ways that you talk to yourself day in and day out to build that confidence.
Your guide to thriving in
this
strange new world.
Share this story with your friends!
---
Help us make Spot.ph better!
Take the short survey
Load More Stories