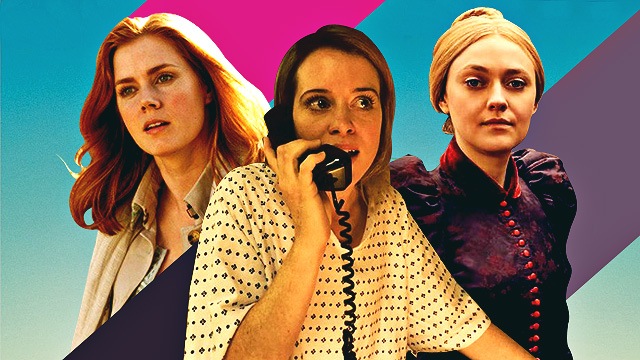 (SPOT.ph) Very few things compare to the rush you get when watching any interesting and compelling thriller. Features like Gone Girl keep us on the edge of our seats, anticipating what might come next—especially from characters whose next moves we could never see coming. So if you enjoy an exhilirating and mind-blowing thriller every now and then, here are 10 new shows and movies that you might want to put on your entertainment bucket list.
ADVERTISEMENT - CONTINUE READING BELOW
TV Shows
Mindhunter
Watch it on: Netflix
In Mindhunter, we follow two FBI agents Holden Ford (Jonathan Groff) and Bill Tench (Holt McCallany) who try and get inside the minds of criminals to advance the FBI's knowledge about criminal psychology. To think like their suspects, they must interview imprisoned serial killers to get to know their motives and behavior, then use this information to solve future cases.
Wormwood
Watch it on:Netflix
This six-part docudrama series will have you thinking about conspiracy theories about the CIA in no time, as Wormwood is the thrilling re-enactment of the life and mysterious death of Frank Olson, an American scientist under the CIA's biological warfare division who was also dosed with LSD, a psychedelic drug. All that's known about Frank Olson's death is that he jumped off a building in 1953, but his son Eric Olson doesn't believe that his father's untimely death was self-inflicted.
ADVERTISEMENT - CONTINUE READING BELOW
Recommended Videos
The Alienist
Watch it on: Netflix
There's nothing like a good period drama to keep you on your toes, so that's why you should get up to date on The Alienist, which is set in the 1890s after a series of murders involving boys in New York City. The show focuses heavily on mental illnesses, especially those of serial killers, so anyone who enjoys a good show that puts criminal psychology front and center will get a real treat out of The Alienist.
Watch it on: HBO
Premiere date: July 8, 2018
Sharp Objects is an upcoming mini-series on HBO based on the novel of Gillian Flynn (the author of Gone Girl), and you can bet this American thriller certainly has its fair share of murders, mysteries, and mayhem. Amy Adams stars in the show as Camille Preaker, a reporter who suddenly returns to her hometown to cover the hottest murder case involving two young girls. But given her troubled past, the return home might not be so pleasant for Camille—who finds that just because she's already fought her personal demons before doesn't mean they won't come back and haunt her again.
ADVERTISEMENT - CONTINUE READING BELOW
Castle Rock
Watch it on: Hulu
Premiere date: July 25, 2018
Any Stephen King fans in the house? Then get excited because here comes a TV series that puts the spotlight on all of King's works, intertwining characters and themes from his best-selling books into one thrilling (and, we can bet, adrenaline-inducing) series. While we don't know much about the plot, we already know there will be references from King's works like It, The Shining, Dolores Claiborne, and The Dark Half to name a few.
Watch it on: Netflix
Premiere date: September 9, 2018
We haven't seen much of Penn Badgley since his Gossip Girl days (he played the very complex Dan Humphrey!), so of course when we heard that he now stars as Joe Goldberg—a bookstore manager that develops a big crush on a customer named Beck (Elizabeth Lail)—in this upcoming series called You, we just had to put it on our must-watch-out-for list! While not much is known about the plot, we just know that Joe's crush on Beck might seriously turn scary.
ADVERTISEMENT - CONTINUE READING BELOW
Movies
Revenge
Premiere date: September 11, 2017
How far would you go if you were raped and left for dead in the desert by three men? Because that's how American socialite Jen's (Matilda Lutz), supposedly romantic weekend getaway ends up. After being taken advantage of by her boyfriend's close friend, and then being pushed off a cliff to conceal their crime, Jen realizes that her survival might have to mean certain—not to mention bloody—revenge.
Unsane
Premiere date: February 21, 2018
Unsane follows the story of a troubled banker, Sawyer Valentini (Claire Foy), who decides to check herself into a mental institute when a failed date triggers her past experience with a stalker. But while at the institute, Sawyer learns that her stalker may be closer than she thinks, and that he'll do anything to make her his.
You Were Never Really Here
Premiere date: March 9, 2018
ADVERTISEMENT - CONTINUE READING BELOW
If you want to see a film that doesn't give you a second to catch your breath, then you might want to consider You Were Never Really Here. Fun fact: The film received a seven-minute standing ovation at the 2017 Cannes Film Festival—and while it was unfinished too, so if that doesn't tell you about how exciting the movie is, nothing will. The story follows ex-FBI agent but now-hitman Joe (Joaquin Phoenix) tasked to rescue a New York State Senator's daughter from a brothel. What follows is a thrilling sequence of twist after twist, and the film will have you holding your breath the entire time.
Acrimony
Premiere date: March 30, 2018
After catching her husband cheating on her, ever-loyal wife Melinda (Taraji P. Henson) finds herself hatching a plan to get back at him. Things get even worse when their divorce leaves her penniless. But when revenge is in the picture, sometimes things don't always work out the way they're planned, and Melinda's criminal motives may just be the end of her.
ADVERTISEMENT - CONTINUE READING BELOW
Share this story with your friends!
---
Help us make Spot.ph better!
Take the short survey
Load More Stories