Ocean's 8 Stylishly Steals the Show
Sandra Bullock, Anne Hathaway, and Cate Blanchett lead an all-star cast in the heist of the century.
(SPOT.ph) "A 'him' gets noticed, a 'her' gets ignored. For once, we want to be ignored." This line by ringleader Debbie Ocean (Sandra Bullock) is about as big as a political statement this film attempts to make, and it's one of the only two times the movie's all-female component is even alluded to. Ocean's 8 isn't merely the feminized reboot of Ocean's Eleven, nor does it make too big of a deal about its all-female cast. Rather, the film aspires to be a thrilling heist film with an A-list cast—and for the most part, Ocean's 8 succeeds. While it's not exactly the deepest film, and a more exciting director could have injected something fresher and newer to this genre, Ocean's 8 is definitely a fun and entertaining ride thanks to its magical, magnificent cast.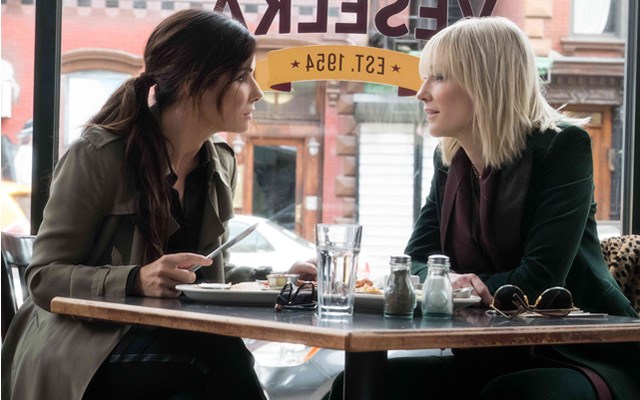 A spin-off of the George Clooney/Brad Pitt/Matt Damon Ocean's series of films, Ocean's 8 follows Debbie Ocean, sister to Clooney's Danny Ocean (who is, by the film's accounts, dead). After five-plus years in prison, Debbie is let out and before you know it, she's back to her criminal ways. The film opens with Debbie showing off her con skills as she perfectly steals several things from one of New York's fanciest stores, as well as a hotel room for the night. It also doesn't take her too long to start putting together her crime-committing team to plot the film's central heist—an ambitious robbery at the Metropolitan Museum Costume Institute's Met Gala, the annual celebration of fashion as at art form and also one of the most exclusive A-list parties of the year.
ADVERTISEMENT - CONTINUE READING BELOW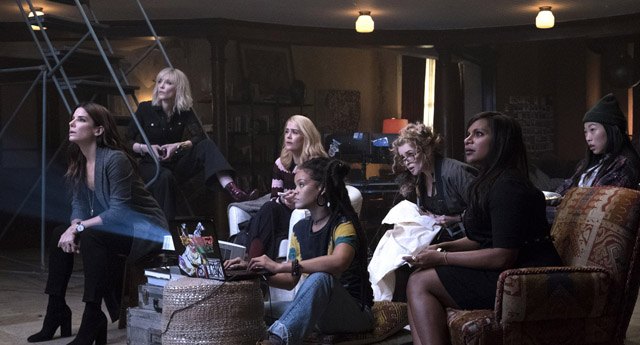 CONTINUE READING BELOW
Recommended Videos
She rounds up an interesting motley crew to enact this elaborate heist—her literal partner-in-crime, Lou (Cate Blanchett), diamonds specialist and jeweler Amita (Mindy Kaling), con woman-turned-suburban-mom Tammy (Sarah Paulson), pick-pocket Constance (Awkwafina) and hacker Nine Ball (Rihanna, who essentially plays Rihanna as a hacker). One of the most significant members of the team is Rose Weil (Helena Bonham-Carter), an Irish fashion designer so deep in debt whom Debbie and Lou bring in to help execute the heist. They convince Rose to dress megastar actress Daphne Kluger (Anne Hathaway) for the Gala, and then convince Cartier to lend them a $150 million dollar diamond necklace for her to wear at the ball—the very piece the group plan to steal.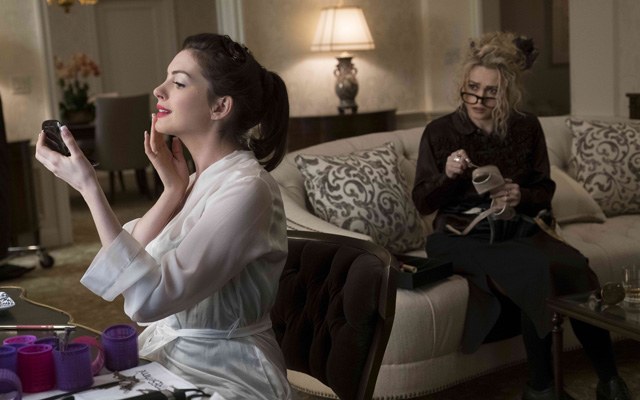 ADVERTISEMENT - CONTINUE READING BELOW
The absolute best part of this film are the actresses, who really know how to make films like this a little more magical. Scenes where the group discuss the heist, or even smaller scenes that reveal the persons behind the crime are really wonderful. Unfortunately, not everyone gets to do a lot—but when you have the likes of skilled actresses such as Cate Blanchett, Sandra Bullock, and Sarah Paulson, watching them bounce off each other can be enough. However, the film's standout is Anne Hathaway, who steals the spotlight. Hathaway, who has had a most interesting career on- and off-screen since her Oscar win for Les Miserables, plays into the world's idea of a narcissistic actress, with various oohs, aahs, groans, coos, pouts, and a deliciously-spoiled diva attitude. It's a fantastically-written role beautifully portrayed by Hathaway, who not only gets one of the film's biggest laughs but also just effortlessly demands your attention whenever she's on screen, a true superpower for an actress.
Awkwafina is another standout. Despite being one of the least notable actresses in the cast, her great screen presence and comedic timing allows her to keep up with her more experienced co-stars, some of which are Oscar winners. Rihanna and Kaling do what they need to do, while Bonham-Carter has a decidedly meatier role—however, the character is so poorly-written and saddled with an unnecessary Irish accent. Bullock, as the leader, is excellent in a role that she can play in her sleep. Steely, overly (but rightfully) confident in her thieving skills, and a natural leader vibe, Debbie is a perfect role for Bullock. James Corden pops up later on in the film and is expectedly hilarious, but his arrival does mark a jarring change in tone, as if he's coming from a different movie altogether. However, he does interject a much-needed adrenaline rush into the third act.
ADVERTISEMENT - CONTINUE READING BELOW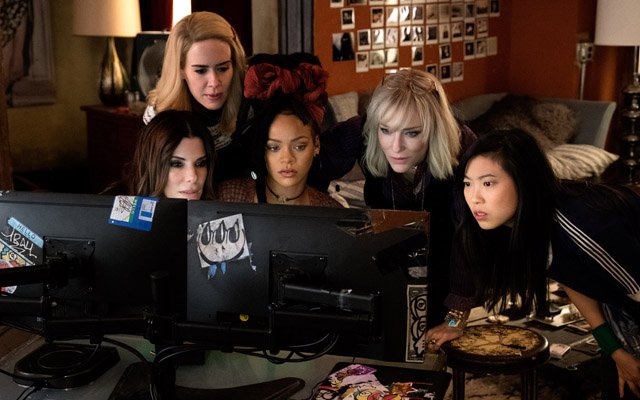 The centerpiece of the film is, of course, the Met Gala heist. Some may question why an all-female reboot needed to have such a feminine-leaning crime, but there are really no questions when everything looks this good. Shooting at the actual Metropolitan Museum is a feat in itself, but throw in a couple of celebrity cameos (some random, some exciting), exquisite jewelry, fantastic art, and stunning dresses, and you've got a really visually spectacular roberry. Fashion fans would get a kick out of the cast's wardrobe (costume designer Sarah Edwards used Givenchy and Valentino, among others), and scenes featuring Anna Wintour and the Vogue offices. Unlike some other heist films, though, Ocean's 8 sometimes lacks a little bit of heart.
It's a shame that director Gary Ross (who also directed The Hunger Games) keeps the film fairly safe. A more exciting director with a fresher vision could have added some flashier glitz and glamour to the look and direction of the film. Much of the film relies on deadpan, snarky humor—and while that makes for some quality chuckles, a lot of everything else surrounding that falls flat. It doesn't come off as thrilling, which seems like could've been fixed in writing, directing, or editing. Nevertheless, it is a delight to watch these women work.
ADVERTISEMENT - CONTINUE READING BELOW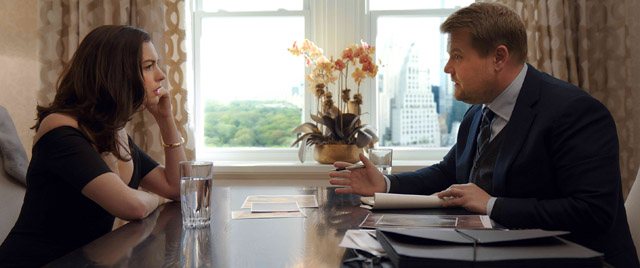 There is so much potential here, and the film leaves you wanting more—this is both a good and bad thing. Good because it leaves you curious for a sequel and fascinated about where this could go, but bad because it essentially feels like a goodie bag full of missed opportunities. This film's biggest crime is not giving Cate Blanchett or Sarah Paulson anything much to do. Despite this, Ocean's 8 is a good first try, and a lot of improvements could turn it into something great. Even if the film isn't going to make overt political statements about women, it creates noise by being a positive, engaging, and dazzlingly stylish film—and that's more than you need.
Rating: 3.5 out of 5 Spots.
Ocean's 8 is out in theaters on June 13, 2018.
Photos courtesy of Warner Bros. Pictures
Share this story with your friends!
---
Help us make Spot.ph better!
Take the short survey
Load More Stories