10 New Songs for Some Good Vibes
Turn a bad day around with fresh tracks by Jason Mraz, Sam Smith, Karencitta, Itchyworms, and more!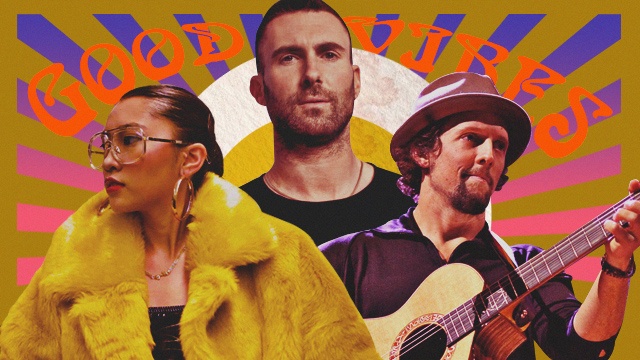 (SPOT.ph) It's a mad world we live in and sometimes, don't you just wish you could escape? If life's responsibilities won't let you go AWOL and live like a hermit, you can always turn to music to tune out all the noise. Get off your social media feeds for a sec, forget all the bad news of the day, and listen to some heartwarming songs. We've put together a playlist for when you need warm and fuzzy feelings—or even just some sass—to get through the bad days. Hear the latest from Jason Mraz, Sam Smith, Maroon 5 with Cardi B, MAGIC!, and Kodaline. Local acts Karencitta, Itchyworms, Moonwlk, Bleu Rascals, and Carousel Casualties are all set to brighten up your day, too.
ADVERTISEMENT - CONTINUE READING BELOW
Song: "Unlonely"
Artist: Jason Mraz
American singer-songwriter Jason Mraz further teases his forthcoming record with "Unlonely," a feel-good single with highly spirited lyrics and upbeat arrangement. Mraz reminds listeners of the joys of having someone special without getting too sentimental.
Fun fact: Mraz's sixth studio album (his first in over four years), Know., is out on August 10.
Song: "No Apology (Wala Akong Paki)"
Artist: Karencitta
Cebuana singing sensation Karencitta is out with an empowering dance ditty. "No Apology (Wala Akong Paki)" is an anthem of individuality, inspiring listeners to unapologetically live their truest lives. She best explained it when she wrote: "'No Apology (Wala Akong Paki)' is more than a song. It's a movement. The depression and suicidal rates are mind-boggling to me. As a responsible artist, I'm obliged to shower the world with positivity. The movement aims to help build self-awareness and the song aims to encourage society to never apologize for who they truly are."
ADVERTISEMENT - CONTINUE READING BELOW
Fun fact: Karencitta signed a record deal last March with Hollywood label Capitol Records, home to big music names like the Beatles, Dua Lipa, and Jennifer Lopez, among others.
Song: "Baby, You Make Me Crazy"
Artist: Sam Smith
Even though Sam Smith tackles heartbreak in his newest song, "Baby, You Make Me Crazy," the British crooner also sings about his ways of coping and letting go. Nursing a broken heart? Smith can teach you a thing or two about moving on.
Fun fact: The acoustic version of the song released on YouTube was recorded at a street in Verona, Italy.
Song: "'Di Na Muli"
Artist: Itchyworms
The poetic songwriting in Itchyworms' "'Di Na Muli" is sure to give you all the feels. The moving ballad about love, loss, and regret may have you feeling emotional, but watch the music video for some sweet inspiration. It's a tribute to the late Teddy Hilado, also known as the father of lighting design in Philippine theater, and features his widow Rosky Balahadia Hilado, formerly of the Bayanihan Philippine Dance Company.
ADVERTISEMENT - CONTINUE READING BELOW
Fun fact: The song was actually written and first performed in 2016, when it won the grand prize at the 5th Philippine Popular (PhilPop) Music Festival. It has been revived as a hit soundtrack for the movie Sid & Aya (Not A Love Story).
Song: "Girls Like You"
Artists: Maroon 5 feat. Cardi B
Rapper Cardi B steps in for the new version of Maroon 5's "Girls Like You." The already-catchy hit retains its original recording and adds Cardi's crisp verses for an even more radio-friendly quality.
Fun fact: The music video for "Girls Like You" features many different women, including celebrities Gal Gadot, Jennifer Lopez, Ellen DeGeneres, Sarah Silverman, and Tiffany Haddish.
Song: "Wlk Away"
Artist: Moonwlk
"Wlk Away" is a cause for celebration as Moonwlk is back after the announcement that co-founder and vocalist Gabbie Buencamino-Lejano has exited the group. Featuring the duo's new vocalist, the fresh single exudes the same fiery energy the electro-pop act has become known for.
ADVERTISEMENT - CONTINUE READING BELOW
Fun fact: Marj Rojas is the new female vocalist for Moonwlk.
Song: "Kiss Me"
Artist: MAGIC!
MAGIC! is out with another soothing hit. The catchy and carefree "Kiss Me" is an irresistible pop love song you can easily sing and dance to when you're feeling in love or just celebratory.
Fun fact: The band is reportedly working on their third studio album.
Song: "Overnight Love"
Artist: Bleu Rascals
Blues band Bleu Rascals' "Overnight Love" makes for some easy listening on a lazy day, perhaps while you're lovingly thinking of the one that got away. The charming arrangement will get you in the mood for some much-needed R&R.
Fun fact: Paul Marney (vocals and lead guitar), Allan Abdulla (drums), and Oliver Salaysay (bass) make up Bleu Rascals.
Song: "Shed a Tear"
Artist: Kodaline
Irish band Kodaline shares an uplifting track with heartfelt lyrics that will remind you that you're not alone. The mid-tempo indie-rock tune "Shed a Tear" is just what you need to listen to when you're feeling down in the dumps.
ADVERTISEMENT - CONTINUE READING BELOW
Fun fact: Kodaline's new album, Politics of Living, drops August 10.
Song: "She's a Mystery"
Artist: Carousel Casualties
Local act Carousel Casualties brings some sunshine to your rainy days with "She's a Mystery." The alternative rock tune radiates strong summer vibes with its rich guitars and chill vocals.
Fun fact: Carousel Casualties band members include Emmie Villegas (vocals and guitar), Pau Villanueva (vocals and guitar), Jot Nicanor (bass), and Xavier Lucente (drums).
Listen to these songs here:
CONTINUE READING BELOW
Recommended Videos
Share this story with your friends!
---
Help us make Spot.ph better!
Take the short survey
Load More Stories