The 15 Best Films of 2018 So Far
Superheroes, scary monsters, and great comedies-and to think we're only halfway through the year!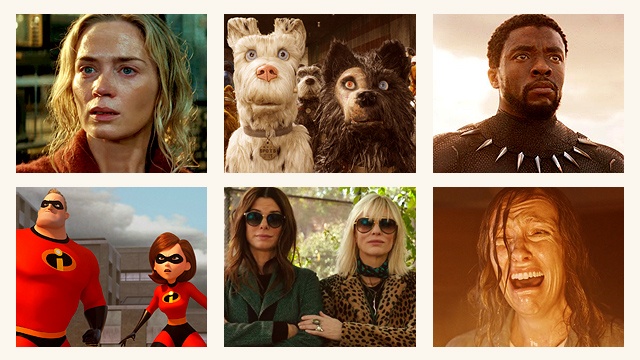 (SPOT.ph) We're only halfway through the year but "best of" lists are already getting full. From long-awaited sequels to franchise starters, from terrifying horror flicks to witty and smart comedies, from respected directors to exciting newcomers, 2018 has had a breadth of choices for every moviegoer to enjoy. With just about six more months to go before the end of the year, we've narrowed down the best from the rest. Here are the 15 best films of 2018 so far!
Note: This list is not ranked.
Annihilation
Directed by: Alex Garland
An all-star cast that includes Natalie Portman, Jennifer Jason Leigh, Tessa Thompson, Gina Rodriguez, and Oscar Isaac headline Alex Garland's Annihilation, a sci-fi horror film that's both entertaining and challenging. In this film, a team of scientists enter a mysterious area called the Shimmer, only to discover that it's not as beautiful as it looks. Garland is a modern master of the sci-fi genre, with this and Ex Machina previously, and Annihilation is a visually stunning yet brutal addition to the genre.
ADVERTISEMENT - CONTINUE READING BELOW
Avengers: Infinity War
Directed by: Anthony and Joe Russo
Have you recovered yet? The most talked-about (and most financially successful film, having crossed U.S. $2 billion worldwide) of the year so far left a lot of people absolutely shell-shocked, as the Marvel Cinematic Universe decided to up the ante in its 10th year. Character deaths, brutal fights, and heartbreaking moments characterize this spectacle of a film that serves as the beginning of the end for a lot of Marvel's first three "phases." Almost everyone is back in their superhero gear, from Iron Man (Robert Downey Jr.) to Captain America (Chris Evans), from Black Panther (Chadwick Boseman) to Black Widow (Scarlett Johansson), from Spider-Man (Tom Holland) to the Guardians' Mantis (Pom Klementieff)—these are just some of the over 20 main Marvel Cinematic Universe (MCU) characters joining the fight against supervillain Thanos (Josh Brolin), who plans to eliminate half the world with just a snap of his fingers.
ADVERTISEMENT - CONTINUE READING BELOW
Black Panther
Directed by: Ryan Coogler
There were many questions surrounding Black Panther before its release in February 2018, like whether or not it could do well at the box office, if the brand and its characters could carry its own movie, and how it would present itself as the Marvel Cinematic Universe's first film with a black lead. Black Panther shattered all expectations, from the box office to its deserved critical acclaim. The MCU's pre-Infinity War film focused on King T'Challa a.k.a. the Black Panther (Chadwick Boseman), and the fictional country of Wakanda, and the challenges they faced running the country and hiding from the world. The lovable heroes (Lupita Nyong'o, Danai Gurira, Letitia Wright, Martin Freeman), Marvel's best villain since Loki (Michael B. Jordan's Killmonger), gorgeous scenery and costumes, a terrific soundtrack, lots of action, and a poignant, important story assembled together to make one of the MCU's best films. Black Panther wasn't just a movie, it was a movement. Wakanda Forever!
ADVERTISEMENT - CONTINUE READING BELOW
Deadpool 2
Directed by: David Leitch
Everyone's favorite foul-mouthed mercenary is back for another hilariously action-packed, and surprisingly emotional adventure. This time, Deadpool (Ryan Reynolds) faces off against the time-traveling Cable (Josh Brolin) to save the life of a boy (Julian Dennison). Cable plans to kill him as he believes this boy is the reason for the terrible future he is currently living. Irreverent as always—and as nasty and shocking as the first—Deadpool 2 might have had a flair of the familiar, but it still made for a hilarious time at the theater. The post-credits scene, too, was Reynolds and Deadpool at their best.
Game Night
Directed by: John Francis Daley and Jonathan Goldstein
It's rare nowadays to find great comedies about adults just hanging out, but Game Night manages to find that sweet spot of dark humor, childish fun, and wit that makes for a very entertaining film. Jason Bateman and Rachel McAdams star as a married couple that play a game night every weekend with their friends. When a game gets a bit too real—with hitmen, murder, and kidnapping—the players (including Bateman and McAdams) don't quite know which is real and which is still part of the game. Sharp and surprising, with an incredible cast to boot, Game Night is straight-up one of the best comedies of the year.
ADVERTISEMENT - CONTINUE READING BELOW
Hereditary
Directed by: Ari Aster
Lots of things were said about how Hereditary was the scariest film of the year, and maybe the scariest since The Exorcist. While those are mighty big shoes to fill for Ari Aster's film about a family grieving the death of a grandmother, it's clear that this film had audiences talking. Haunting and unsettling, this artsy horror film doesn't go for cheap scares, but instead relies on atmosphere and creepiness over jumps and monsters. Toni Collette gives one of her best, most explosive performances on film in this masterpiece, already eliciting awards buzz.
Incredibles 2
Directed by: Brad Bird
Audiences waited 14 years for an Incredibles sequel, and boy, did we get something worth waiting for. Featuring even more exciting action sequences, gorgeous animation, a poignant story about family and traditional versus non-traditional roles, and funnier scenes (Violet in the diner is one of the most laugh-out-loud moments this year, as is Jack Jack versus the raccoon). Brad Bird and Pixar do not disappoint as they bring to life the Parr family and their friends for another super-crazy adventure that sees Holly Hunter's Elastigirl take center stage.
ADVERTISEMENT - CONTINUE READING BELOW
Isle of Dogs
Directed by: Wes Anderson
Wes Anderson's latest film is his second venture into stop-motion animation, and it only shows just how perfectly suited the animation genre is to Anderson's style and aesthetic. Isle of Dogs is a charming and winning story about a boy who goes searching for his lost dog. Yes, there's more dark humor there, like a dog-hating government that's not quite as endearing, but the central group of dogs and the young boy are Anderson through and through. A voice cast that includes Bryan Cranston, Greta Gerwig, Bill Murray, and Tilda Swinton helps too, of course. There's some necessary criticism surrounding the portrayal of Asian/Japanese characters and stereotypes, but the film also comes from a place of love and adoration, with its very detailed world and celebratory nature of Japanese culture.
Love, Simon
Directed by: Greg Berlanti
With cinemas overpopulated with traditional coming-of-age romantic comedies and love stories between straight couples, Love, Simon attempts to buck the trend. Featuring a gay teen character (played beautifully by Nick Robinson) coming to terms with his sexuality and finding love in high school, Greg Berlanti's adaptation of the hit young-adult novel, Simon vs. the Homo Sapiens Agenda is a sweet and lovely tale that stands among some of the best teen movies of the last decade, joining the ranks of Easy A and The Perks of Being a Wallflower.
ADVERTISEMENT - CONTINUE READING BELOW
Ocean's 8
Directed by: Gary Ross
Can we stop thinking of this as a good, all-female reboot now and just admit that it's a good movie, period? Ocean's 8 might just give the original Ocean's franchise (originally starring George Clooney, Brad Pitt, and Matt Damon) a run for its money, with an absolutely fantastic cast, a thrilling heist, and fun twists and turns. The film avoids the gender discussion, instead just focusing on a group of skilled thieves working towards one goal: To steal a very pricey diamond necklace. Sandra Bullock, Cate Blanchett, Sarah Paulson, Helena Bonham Carter, Rihanna, Mindy Kaling, Awkwafina and Anne Hathaway star in what looks to be a new franchise in the making.
Ang Panahon ng Halimaw
Directed by: Lav Diaz
Lav Diaz makes a movie musical and that in itself is enticing enough, just to see what kind of movie this is. But no worries, this is unequivocally Lav, with his trademark style and themes still present. Set during the Martial Law era, a poet (Piolo Pascual) joins the revolution against an unnamed local dictator who is terrorizing towns all over the provinces, including a town where his significant other (Shaina Magdayao) is working as a doctor. When he hears that trouble has befallen the town where his wife works, Pascual's Hugo investigates, only to discover more horrors. Diaz doesn't shy away from political statements through his art, and Ang Panahon ng Halimaw is chock-full of criticisms of the government, not just of those during the Martial Law era, but also of the current administration.
ADVERTISEMENT - CONTINUE READING BELOW
A Quiet Place
Directed by: John Krasinski
A Quiet Place was a film that you just had to see in the theater—there was just no better way to experience this film than sitting in a crowd trying their best not to make a sound, only to react violently when something happens. John Krasinski (of The Office fame) directs this film about a family trying to survive a world where monsters rule, and attack anything that makes a sound. With minimal spoken dialogue and score, A Quiet Place turned horror films on its head, and at the same time gave audiences a touching family drama about parenthood. Krasinski shows just how talented he is on- and off-camera, and Emily Blunt, as well as kid actors Millicent Simmonds and Noah Jupe, are excellent right alongside him.
Ready Player One
Directed by: Steven Spielberg
Steven Spielberg's latest flick is based on Ernest Cline's best-selling novel. When tech businessman James Halliday (Mark Rylance) dies, he leaves an "easter egg hunt" game for the users of his virtual-reality world called the OASIS. The winner of the hunt takes full ownership and control of the OASIS. With everyone in the world trying to crack the egg hunt, Wade Watts (Tye Sheridan) as one of Halliday's biggest fans (and the need to keep the OASIS out of the hands of major companies who want to use it for financial gain), joins the hunt. This exciting, nostalgic throwback of a film is a spectacular return to the adventure genre that made Spielberg famous.
ADVERTISEMENT - CONTINUE READING BELOW
Tully
Directed by: Jason Reitman
At this point, we'd watch Charlize Theron do anything, and that includes playing a mother struggling after giving birth to her third child. Hilarious yet deeply emotional, the film tackles parenthood, postpartum depression, and the struggles of growing up while your kids grow up too, needing to let go of the past. Theron's Marlo is a barely-getting-by mom who is gifted a "night nanny" named Tully (the always terrific Mackenzie Davis) by her brother to help her. Marlo and Tully's relationship helps Margo rediscover herself, while helping her push through this trying time in her life. It's a sweet tale that takes some surprising turns. Theron reunites with her Young Adult writer and director in Diablo Cody and Jason Reitman respectively.
Unsane
Directed by: Steven Soderbergh
Retired or not, Steven Soderbergh is still making films, and this one will make you glad that he is. In Unsane, Soderbergh brings his distinctive storytelling style to the psychological horror genre. When a woman (The Crown's Claire Foy in a role that is far from queenly) is confined into a mental institution, she starts seeing that her stalker has followed her into the institution, causing her to panic. Is she actually crazy, or is this some sort of messed-up scheme? This throwback to classic B-movie thrillers is a fantastic yet disturbing Soderbergh film that is even more impressive when you find out it's completely shot on an iPhone 7 Plus. Now that's insane.
ADVERTISEMENT - CONTINUE READING BELOW
CONTINUE READING BELOW
Recommended Videos
Share this story with your friends!
---
Help us make Spot.ph better!
Take the short survey
Load More Stories